Leaders of two Sudans meet to discuss deal on borders and oil
Presidents' meeting raises hope for a peaceful resolution of ongoing conflict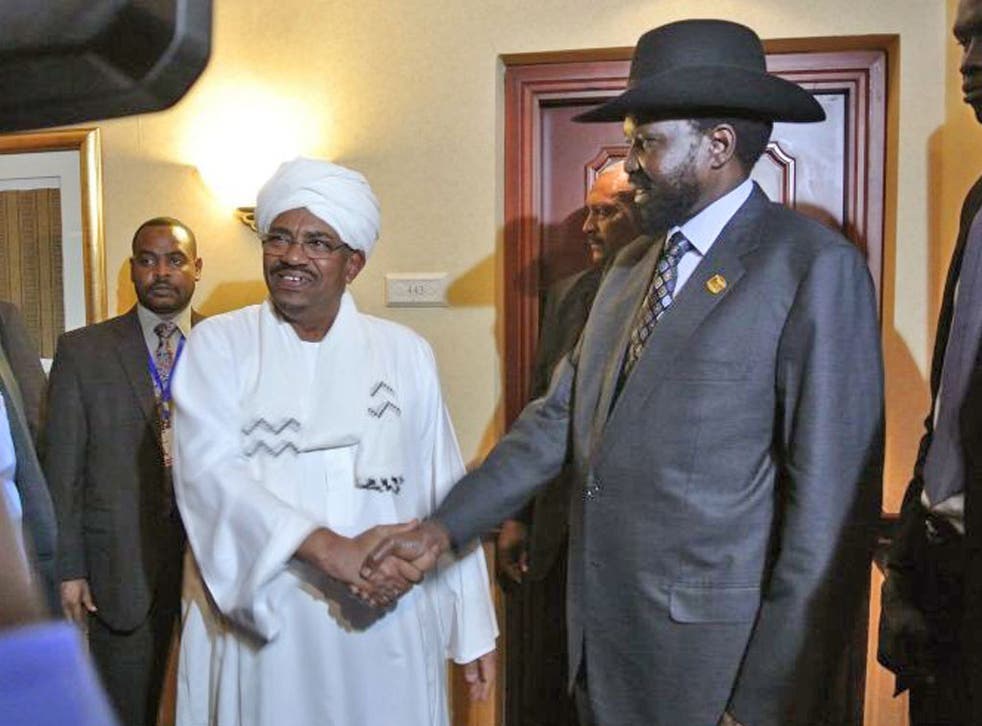 The first face-to-face meeting between the leaders of the two Sudans for six months has raised hopes of a deal to end the crisis over oil and borders between the two countries.
South Sudan's President, Salva Kiir, met his northern counterpart Omar al-Bashir on the sidelines of an African Union summit, with both men saying they were committed to peaceful negotiations to settle the conflict that has simmered since the South's secession last year. The UN Security Council has set a deadline of 2 August for the two countries to settle disputes over oil resources, borders and citizenship rights.
"The two presidents have instructed their teams to expedite negotiations and develop bold decisions in key areas as well as to reach agreements in all issues," said Pagan Amum, the South's chief negotiator.
The former foes went to the brink of another war earlier this year. The government in the northern capital, Khartoum, launched repeated bombing raids in the South, while their counterparts in Juba were criticised for briefly occupying a contested oil-producing area to the north of the interim border.
The main bone of contention remains the division of oil resources, the majority of which are in the South. South Sudan shut down oil production in January after accusing the North of stealing oil revenues and provoking a border conflict. The North, meanwhile, has demanded $10bn (£6.4bn) in reparations for letting the South go peacefully – to be paid over four years in the form of transit fees for sending the South's oil to market through northern pipelines and ports. The South has been willing to offer up to $3bn, leaving a $7bn gap which the international community is expected to try to bridge.
China had been willing to cover most of that cost by buying Sudanese oil at inflated rates but a deal fell through earlier this year with both sides blaming each other.
The oil shutdown has gravely affected the economies on both sides of the border. Inflation in the north, for instance, is nearing 40 per cent and running at double that rate in the South. The squeeze has forced the Khartoum regime into budget cuts and they have faced significant public protests in response.
In the South, the public response has been more muted. After a year of independence, the government has done little to deliver even basic services to the vast majority of its nine million population that sits at the bottom of most global development indices. Khartoum is already fighting on three fronts, with rebellions in Darfur, Southern Kordofan and the Blue Nile state. South Sudan has been accused by the UN and US of supporting the insurgencies by its former civil war allies in the North.
Sudan has faced near-constant civil war since independence from Britain more than half a century ago. The last chapter of the civil war lasted two decades and cost some two million lives.
Register for free to continue reading
Registration is a free and easy way to support our truly independent journalism
By registering, you will also enjoy limited access to Premium articles, exclusive newsletters, commenting, and virtual events with our leading journalists
Already have an account? sign in
Register for free to continue reading
Registration is a free and easy way to support our truly independent journalism
By registering, you will also enjoy limited access to Premium articles, exclusive newsletters, commenting, and virtual events with our leading journalists
Already have an account? sign in
Join our new commenting forum
Join thought-provoking conversations, follow other Independent readers and see their replies