Benghazi has been 'liberated' from Islamist militants and rebels, say Libyan forces
'Benghazi has entered into a new era of safety and peace,' says Khalifa Haftar after claiming victory over Islamist and other rebel forces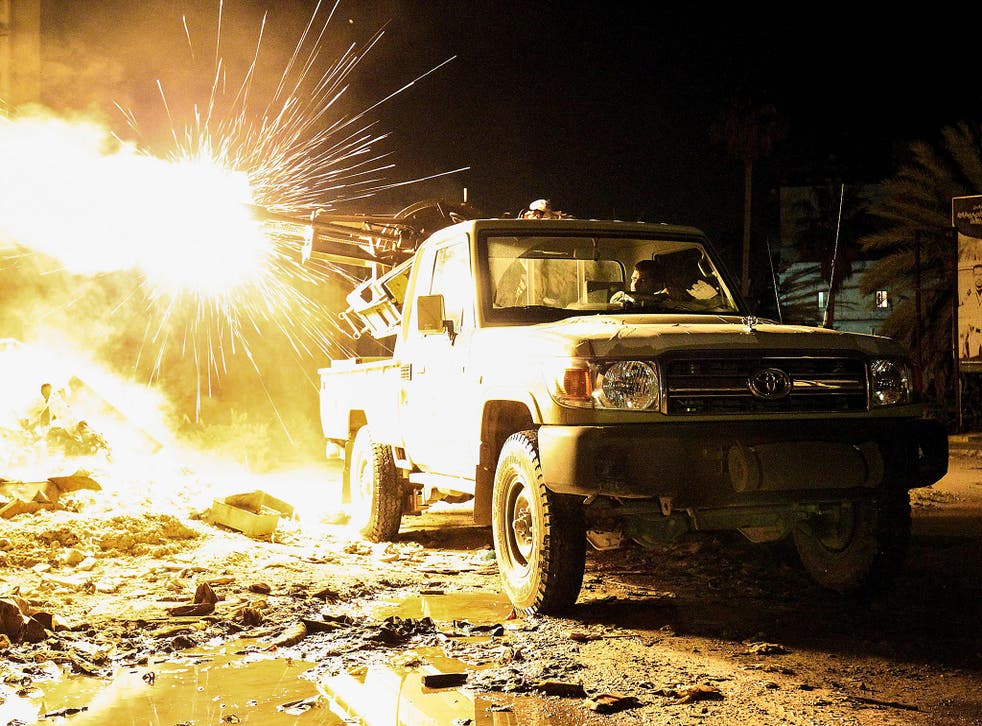 Libya's eastern commander Khalifa Haftar has said his forces have taken full control of Libya's second city Benghazi from rival armed groups after a three-year campaign.
The battle for Benghazi between Mr Haftar's self-styled Libyan National Army (LNA) and an array of Islamist militants and other fighters has been part of a broader conflict since Libya slipped into chaos following the 2011 fall of strongman Muammar Gaddafi.
Victory would mark a major advance for the former Gaddafi ally who has slowly gained ground in eastern and southern Libya in defiance of a United Nations-backed government in the west in the capital Tripoli that is struggling to extend its influence.
"Your armed forces declare to you the liberation of Benghazi from terrorism, a full liberation and a victory of dignity," Mr Haftar said, wearing a white uniform in a televised speech.
"Benghazi has entered into a new era of safety and peace."
During the three years of his "Operation Dignity," his forces suffered heavy losses in clashes with Islamist militants and former anti-Gaddafi rebels who were resisting what they saw as his military rule over the city.
Even after the end of fighting, parts of Benghazi have been wrecked by heavy shelling and airstrikes and, as they have after past retreats in the battle for the city, rival armed groups may fall back on using guerrilla tactics against Haftar's forces.
Haftar, who has made little secret of ambitions to enter Tripoli against rivals there he portrays as Islamist militants, has backing from foreign powers, including Egypt and the United Arab Emirates, and has cultivated closer ties with Moscow.
Although weakened, the unity government in Tripoli enjoys the support of most Western powers as the only institution capable of halting the OPEC state's slide into further chaos and conflict.
Reuters
Join our new commenting forum
Join thought-provoking conversations, follow other Independent readers and see their replies