Flood-ravaged Libya city of Derna faces health crisis from thousands of corpses
'We should be afraid of an epidemic' says worried survivor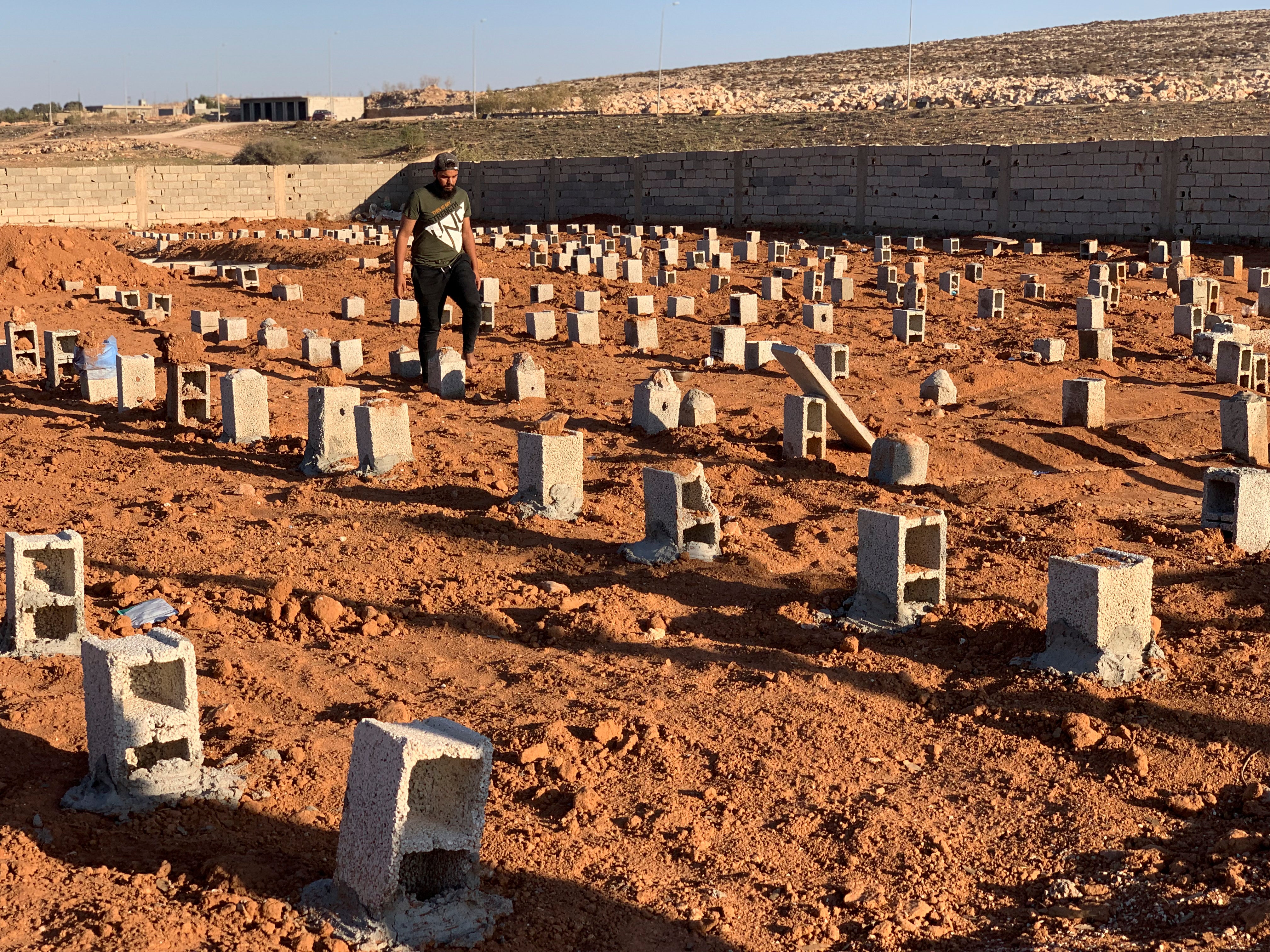 Residents and rescue workers in the devastated Libyan city of Derna were struggling to cope with the thousands of corpses washing up or decaying under rubble, after a flood that smashed down buildings and swept people out to sea.
The World Health Organisation and other aid groups called on authorities in Libya to stop burying flood victims in mass graves, saying these could cause health risks if located near water.
The aid agencies spoke after a UN report showed more than 1,000 victims had so far been buried in mass graves since Libya was hit by torrential rain from a Mediterranean storm.
Thousands were killed and thousands more are missing.
"Bodies are littering the streets, washing back on shore and are buried under collapsed buildings and debris. In just two hours, one of my colleagues counted over 200 bodies on the beach near Derna," Bilal Sablouh, the ICRC's regional forensics manager for Africa, told a briefing in Geneva.
Ibrahim al-Arabi, health minister in Libya's Tripoli-based government in the west, told Reuters he was certain groundwater was polluted with water mixed up with corpses of people, dead animals, refuse and chemical substances. "We urge people not to approach the wells in Derna," he said.
Mohammad al-Qabisi, head of Derna's Wahda Hospital, said a field hospital was treating people with chronic illnesses needing regular attention. He said there were fears waterborne diseases would spread but no cholera cases had been recorded so far.
Swathes of Derna, the focus of the destruction in Libya's east, were obliterated when stormwater swept down a usually dry riverbed, smashed two dams above the city and brought down whole buildings while families were asleep.
The International Organisation for Migration mission in Libya said on Friday that more than 5,000 people were presumed dead, with 3,922 deaths registered in hospitals, and over 38,640 were displaced in the flood-stricken northeastern region.
The death toll could be far higher, officials say.
"We should be afraid of an epidemic," said Nouri Mohamed, 60, said at a bakery that was offering free loaves to help Derna's shattered community. "There are still bodies underground ... Now there are corpses starting to smell."
The UN health agency together with the International Committee of the Red Cross and International Federation of the Red Cross and Red Crescent Societies called for better managed burials.
"We urge authorities in communities touched by tragedy to not rush forward with mass burials or mass cremations," Kazunobu Kojima, medical officer for biosafety and biosecurity in the WHO's health emergencies programme, said in the statement.
It called for demarcated and documented individual graves, saying hasty interments could lead to mental anguish for families as well as social and legal problems.
A doctor in Derna said photos were taken of unidentified bodies before burial, in case relatives could identify them later on.
The ICRC sent a cargo flight to Benghazi, eastern Libya's largest city, on Friday with 5,000 body bags. Other aid has also been coming in from abroad.
The Norwegian Refugee Council, which has a team of 100 in Libya, said dead body management was the most pressing concern.
"I've heard from my team that there are mass graves where rescue workers were appealing: 'Don't bring us food, don't bring us water, bring us body bags'," the NRC's Ahmed Bayram said.
The Danish Refugee Council said it is sending a team specialised in explosive ordnance disposal because of the risk of landmines being dislodged by flooding and moving around.
Join our commenting forum
Join thought-provoking conversations, follow other Independent readers and see their replies