Libya in talks over cash for IRA victims
Tripoli says it may compensate families for its role in supplying arms to terrorists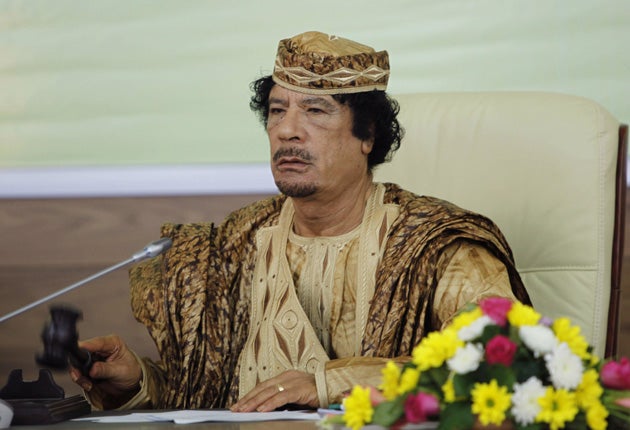 Libya has hinted for the first time that it is considering compensating the families of IRA victims in recognition that it armed the terrorists. Colonel Muammar Gaddafi supplied arms and explosives to Irish republican paramilitaries during the Troubles and the recent release of the Lockerbie bomber, Abdelbaset Ali al-Megrahi, has seen renewed calls for an apology and compensation from Tripoli for its role in the IRA killings.
In a rare interview with a top Libyan official yesterday, the deputy minister for foreign affairs indicated that the IRA compensation claims were part of on-going discussions between Tripoli and London and that they could be approaching some form of agreement.
Asked what was happening with the claims, Mohammed Siala, the Secretary for International Co-operation, said: "It is a special case. We have a good understanding with the UK."
However, Mr Siala suggested that families may still have a wait ahead of them, adding: "Things have not matured yet."
Last week's release of Megrahi has sparked a storm of protest in the US and UK, with the British Government fending off accusations that it handed him over in return for lucrative oil and gas deals from Libya. Both sides have denied any deal. However, the revelation that the Government had declared Megrahi's release to be in the UK's "overwhelming interest" two years ago has heaped pressure on London.
The Libyan minister also said that any prospect of progress in bringing the killer of WPC Yvonne Fletcher to justice would depend on co-operation from the British Government over allegations that MI6 endorsed an assassination attempt on Col Gaddafi.
Asked about repeated attempts to extradite Libyan suspects in Ms Fletcher's killing, Mr Siala replied by insisting that Britain "had tried to kill Gaddafi" in a botched bombing in 1996. "These two cases are linked together," said Mr Siala, who added there could be no progress on the investigation into the killing without new information on the alleged UK plot. "We're waiting for information from the UK," he said.
The constable was shot dead while policing a demonstration outside the Libyan embassy in London in 1984. The killing remains one of the biggest pieces of unfinished business between the two trading partners since diplomatic ties were restored.
Allegations that Britain funded a failed attempt by a Libyan Islamic extremist group on the Libyan leader's life were first made by a former MI5 agent, David Shayler, in 1998. The renegade spy alleged that a wing of MI6 endorsed a plot to kill Col Gaddafi but that agents placed explosives under the wrong car in the Libyan leader's motorcade in February 1996, killing six bystanders.
The then foreign secretary Malcolm Rifkind dismissed the claims and his Labour successor Robin Cook also denied the rogue agent's allegations.
A British diplomat in Tripoli said yesterday that the matter had been thoroughly investigated already: "The Metropolitan Police found the claims to be baseless," he said. The Foreign Office (FCO) said in a statement: "We have assured Col Gaddafi that there was no British plot to assassinate him."
The Crown Prosecution Service shelved claims against two British agents in 2001 after a two-year investigation. The FCO also appealed to the Libyan leader to allow British police to return to the country for a fourth time to continue their inquiries into the Fletcher murder. It is understood that a chief suspect has been identified and has been the subject of "high-level talks" between the two countries.
In the 1970s and 1980s, Col Gaddafi became an international pariah with his sponsorship of terrorist organisations, whom he refers to as freedom fighters. During this period Libya sent several shipments of weapons and ammunition to the IRA which were used in a number of attacks in the UK.
Gordon Brown assured victims of Libyan-sponsored IRA attacks that he would do everything in his power to support the campaign for compensation at a meeting in Westminster in December last year.
In 2003 Libya paid out $2.7bn (£1.6bn) in compensation to the families of those killed on Pan Am flight 103 when it exploded over Lockerbie.
Since its recent return to the international fold, Libya has been involved in a series of complex compensation settlements both for its role in acts of terrorism and for crimes committed against it during the colonial era as well as losses sustained during US bombing raids in the 1980s. Italy has agreed to fund a €5bn (£4.4bn) North Africa highway, in part, as an apology for its colonial legacy in Libya.
Col Gaddafi's son, and his possible successor Saif al-Islam, who led several of these negotiations, has admitted that deals were cut to bring an end to painful economic sanctions.
However, the deputy foreign minister, Mr Siala, denied that a similar deal had been done to secure the release on compassionate grounds of Megrahi in return for lucrative oil and gas exploration rights on and off shore in Libya.
"It makes me laugh when people say a deal was done," he said. "The release has removed an obstacle that will help the further development of good relations between Libya and the UK. There is a difference between doing a deal with pre-arranged terms and developing relations," he added.
Mr Siala blamed the media for creating a storm over Megrahi's noisy reception when he returned to Libya last week which he described as "low-profile" by local standards. "To us it's very strange that you are so angry. He's a Libyan national who could die in a couple of days. He's now in hospital, where do you want him to be?"
Shelling out: How Gaddafi helped the IRA
*During the 1970s and the 1980s, the IRA was one of a number of causes that received support from Libya. Other groups backed by Colonel Gaddafi included Eta and the Baader-Meinhof gang.
The supply of arms by Libya to the IRA was first discovered in 1973, when a merchant ship named the Claudia was seized. Its cargo contained 500 hand-grenades and 5,000lb of explosives.
Altogether at least four shiploads of eastern European weapons were delivered to the IRA. The Libyan regime claims shipments then ceased, but resumed again in 1986 after the Americans took off from British soil to bomb Tripoli (Colonel Gaddafi's adopted daughter was one of those killed in the attacks). In 1987 another consignment of weapons was captured on its way to the IRA from Libya, this time by the French authorities.
Join our commenting forum
Join thought-provoking conversations, follow other Independent readers and see their replies