The battle for Sirte: Photojournalist captures Libyan forces' struggle to reclaim Isis stronghold
Goran Tomasevic has been shooting unrest in Libya since the 2011 revolution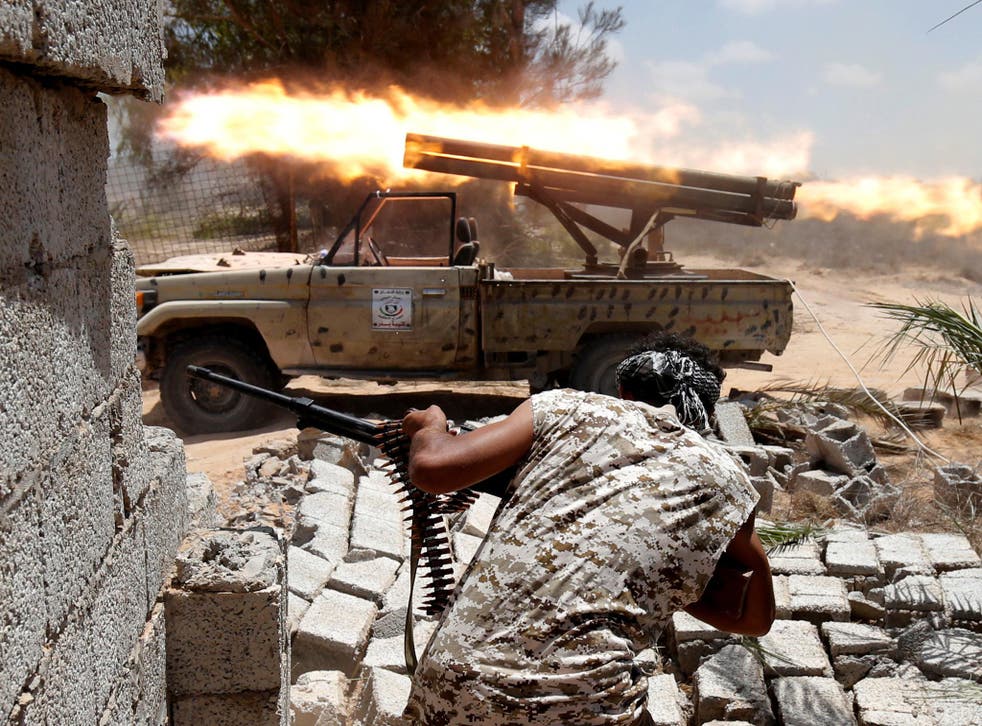 "When everyone shouts 'Allahu Akbar' (God is Great) I know that a tank or a cannon will fire."
So says Reuters photographer Goran Tomasevic, who has been travelling to Libya since the 2011 revolution, seeking to capture the pain and politics of a country at war with itself.
His latest photographs, from the coastal city of Sirte, can be seen in this article.
Since early May, Libyan fighters have been waging a stop-start battle to recapture Sirte from Isis.
After advancing rapidly to the edge of the town, for the past few weeks they have been struggling to break down the resistance of militants encircled in the city centre.
The force is mainly composed of brigades from Misrata, a port city about 250km (155 miles) north west of Sirte. Misrata gained fighting experience and power from its prominent role in the 2011 uprising against Muammar Gaddafi.
"I am constantly following the Libya story and I am in touch with few friends in Misrata since 2011 – they keep me updated," Tomasevic says. "My goal is to cover the final battle for Sirte."
Isis took control of Sirte – Gaddafi's hometown – last year. The militant group turned the city into its North African stronghold, extending its control along Libya's coastline.
Libyan officials say a few hundred militants are left in the city, including highly trained snipers who have inflicted heavy casualties on the Misrata-led forces, some of whom come to the front in flip-flops or jeans.
Tomasevic says capturing the battle requires "more and less constant running and shooting pictures with small breaks between. If one group of fighters slows down I would go to check another group."
"It is very difficult for me to communicate with the fighters because I don't speak Arabic and most of them they don't speak English. Most of the communication is by gesturing or shouting when the accurate IS fighters start firing."
The latest surge by the Misrata-led brigades, which are aligned with Libya's UN-backed government, came on Thursday. They said they took ground on several fronts, but at a cost of at least 25 dead and 200 wounded.
"After sending the pictures I went straight to bed. All day running in the sun made me sick," said Tomasevic.
Like the fighters, he has to compete with temperatures well over 30C (86F), though food and water are delivered into the thick of the battle.
"It was challenging to shoot the pictures, I pushed very hard and I did not get what I really want, but I am still happy because I am covering such important story," he says.
© Reuters
Join our new commenting forum
Join thought-provoking conversations, follow other Independent readers and see their replies