Libya: 30 migrants killed in revenge attack by family of murdered smuggler
European prosecutors meanwhile launch initiative against migrant smuggling networks
Borzou Daragahi
International Correspondent Comments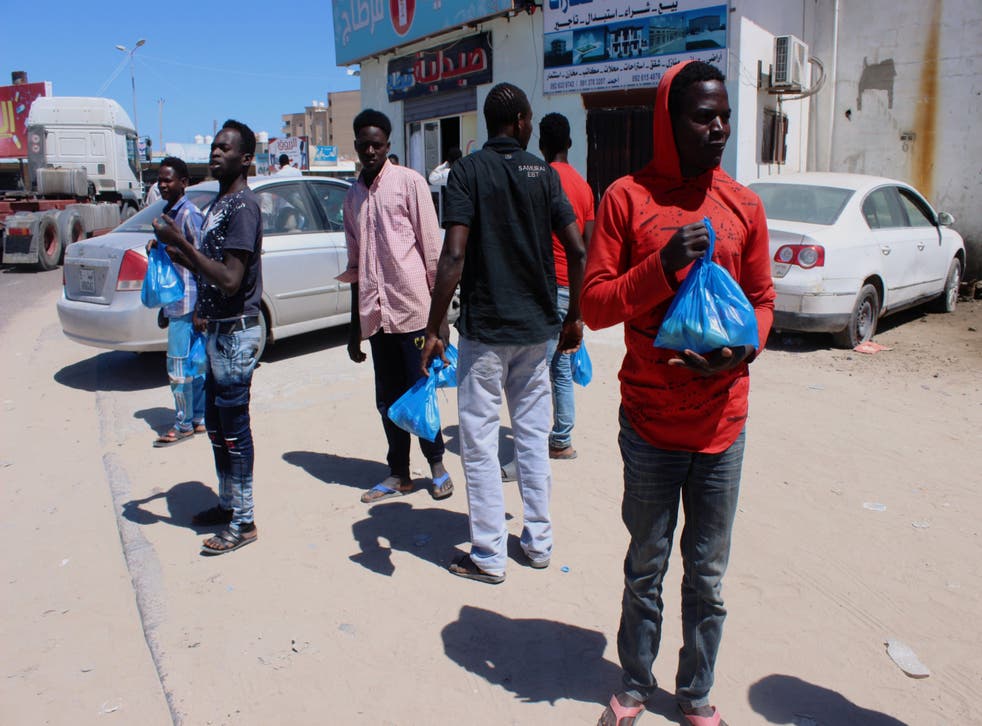 The family of an alleged human smuggler in Libya killed at least 30 migrants in a vengeful rampage following his death.
The 26 Bangladeshi and four sub-Saharan African migrants killed were believed by the family to have murdered a man trying to arrange their illegal passage through Libya to the coast, where they would presumably be taken by boat into European waters. Another 11 migrants were also reportedly wounded.
The violence took place in or around Mizdah, a town 110 miles south of Tripoli in the Nafousa Mountains, a statement from the internationally recognised Government of National Accord said on Thursday .
According to a report in the Bengali daily Dainik Jugantor, a survivor of the incident said a human trafficking gang was torturing them for more money when the captives revolted.
Mohammed Abdul-Rahman, the alleged migrant smuggler, was killed in a "mutiny" by those he was holding, the Libyan news website al-Wasat reported.
Afterward, his family sought revenge and, surrounding the building, retrieved the man's body and convinced 100 migrants to surrender. They then attacked them with armoured vehicles and rockets, according to the news website.
News of the incident emerged after one of the migrants who escaped and was sheltering with a sympathetic Libyan family managed to phone the Bangladeshi embassy.
Libya is in the midst of a brutal civil war pitting forces loyal to the government in Tripoli against warlord Khalifa Haftar and his Arabian Peninsula patrons. It is also grappling with the coronavirus pandemic which has spread towards southern Libya in recent days.
The country has long been a transit point for migrants from Africa and elsewhere seeking to make their way to Europe. They often pay smugglers exorbitant fees to get them across through Libya and onto rickety rafts bound for southern Italian islands. The International Organisation for Migration estimates that there are more than 650,000 migrants from 40 countries in Libya.
Smugglers often warehouse the migrants in hangars or farm buildings before packing them onto trucks bound for the Mediterranean coast. Tensions sometimes flare between migrants and their handlers over money and living conditions.
Libya's interior ministry said it had ordered local authorities in Mizdah to issue warrants for those allegedly behind the killings. Bangladeshi officials also said they were struggling to glean more information about the incident, dispatching local employees to consult with wounded migrants recovering at hospital.
On Friday, Eurojust, the Netherlands-based European agency that combines the efforts of prosecutors, launched a new initiative to tackle migrant smuggling criminal networks which operate across countries and continents.
"Smuggling of migrants is not only a crime against international conventions and the interest of the states to control and protect their borders, but also a crime against human dignity, because smugglers exploit vulnerable individuals and their expectations for a better life," Filippo Spiezia, vice-president of Eurojust, said in a statement.
Register for free to continue reading
Registration is a free and easy way to support our truly independent journalism
By registering, you will also enjoy limited access to Premium articles, exclusive newsletters, commenting, and virtual events with our leading journalists
Already have an account? sign in
Join our new commenting forum
Join thought-provoking conversations, follow other Independent readers and see their replies