How David Cameron's intervention in Libya is fuelling war and terror around the world
Collapse of country after Gadaffi's removal triggered war in Mali and strengthened militant groups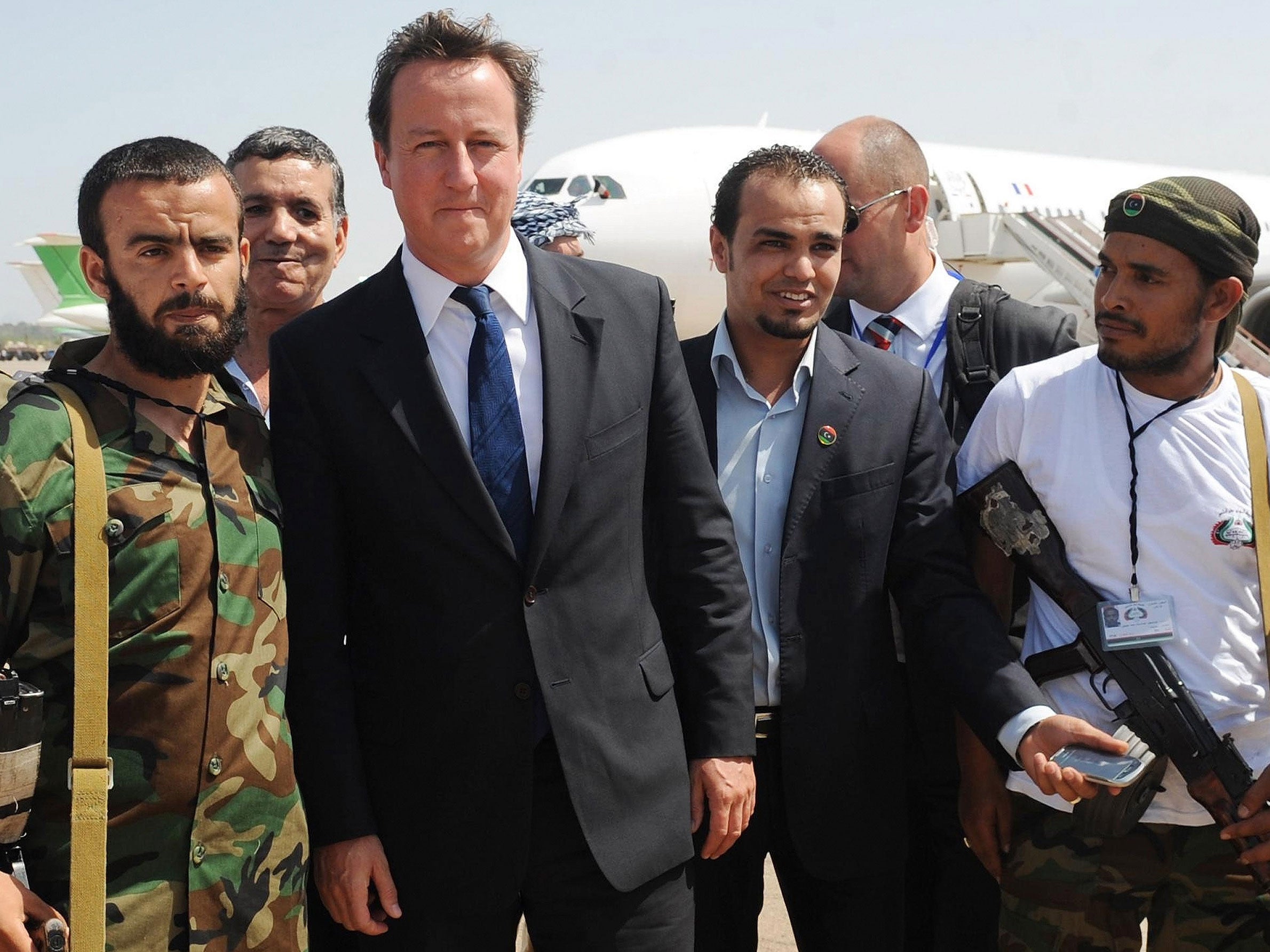 Britain's intervention in Libya and the chaos and bloodshed that ensued sparked a "violent reaction" fuelling conflicts across Africa and the Middle East, as well as strengthening Isis and al-Qaeda, experts have said.
A scathing report released by the Foreign Affairs Committee this week held David Cameron "ultimately responsible" for failing to stabilise Libya after the death of Muammar Gaddafi.
The regime's fall at the hands of internationally-armed rebels and Nato air strikes in 2011 generated further violence, with opposition rebels and Islamists refusing to lay down their arms or accept new state security forces.
Decision to intervene in Libya in 2011 was based on a 'blood-curdling assessment'
Bloody competition for territory spawned a second civil war that continues, leaving a state of lawlessness in parts of Libya allowing the smuggling of militants, weapons and refugees sent across the Mediterranean Sea.
But analysts say the consequences of the power vacuum left by Nato's intervention has stretched far beyond Libya's borders.
Libyan weapons have been found in more than 20 countries, while its conflict has fuelled war, insurgencies and terrorism in at least 10 other nations.
Perhaps the most direct outcome was the conflict in northern Mali, where the United Nations is currently operating the deadliest peacekeeping operation in the world.
Paul Melly, an associate fellow in the Africa department at Chatham House, described how members of the Tuareg ethnic group serving in Gaddafi's army fled Libya after his downfall with "huge volumes" of weapons they then used to start a separatist insurgency in Mali.
The Tuareg MNLA's campaign prompted a coup d'état as the rebels overran northern parts of the country, later being ousted by al-Qaeda backed Islamist groups that enforced Sharia law in their territory.
Jihadist groups were pushed back by a French-led intervention in 2013 but continue to launch assaults and terror attacks, while fighting the Tuareg separatists they once supported.
"Although intervention by French and African forces ended the jihadist control of the north, the region remains highly unstable, despite the presence of more than 10,000 UN peacekeepers," Mr Melly said.
"The disintegration of a stable state in Libya has created a vast mostly ungoverned space in the south of the country where jihadist groups are able to rest and resource themselves largely untroubled by external interference."
Marty Reardon, Senior Vice President of US-based security consultancy The Soufan Group, said a "spill-over" effect quickly spread throughout the region.
He told The Independent Libya's collapse contributed to the rise of "well-armed criminal and militant groups" in Tunisia, Algeria, Niger, Chad, Sudan and Egypt.
Several terror attacks in Tunisia have originated in Libya, Mr Reardon said, while militants who crossed the border to fight in the civil war "will eventually find their way home [to Tunisia] more radicalised and better trained than when they went."
"Continued fighting in Libya created safe havens for fighters and seemingly unending supplies of weapons for Islamist movements in neighbouring countries and the region at large," he added.
Al-Qaeda in the Islamic Maghreb (AQIM) is the largest group in the region, operating and funding a network of groups launching terror attacks and fighting insurgencies in nations including Mali, Algeria, Mauritania, Niger, Tunisia and Morocco.
Katherine Zimmerman, a research fellow at the American Enterprise Institute (AEI), said al-Qaeda had "benefited significantly" from the destabilisation of Libya.
"AQIM still runs training camps in southwest Libya and the group uses its sanctuaries inside the country to support efforts elsewhere in the Maghreb and Sahel region," she said.
Some of al-Qaeda's training camps are also believed to be supplying foreign fighters to allies in Syria, including the group formerly known as Jabhat al-Nusra.
Another beneficiary of the chaos has been Isis, which has established a vital outpost from its Iraqi and Syrian strongholds in Libya.
While it is currently battling to hold the city of Sirte, Isis' territories along the Mediterranean have allowed the group access to ports, large stores of weapons and established trans-Saharan smuggling routes, as well as a fertile recruiting ground for foreign fighters.
Emily Estelle, an analyst at the AEI's Critical Threats Project, said a "Tunisia-focused" Isis cell operating out of Libya has been linked to the attacks on the Bardo Museum in Tunis and in Sousse, where 38 people including 30 British tourists were massacred in June last year.
"Isis may have also used Libya as an alternate jumping-off point to Europe," she added. "Isis in Sirte may have links to a cell in Milan, for example."
In pictures: Isis' Libyan stronghold of Sirte
Show all 10
Dr Amir Kamel, a lecturer in the Defence Studies Department at King's College London, said the Libyan conflict has allowed the so-called Islamic State to extend its colonial ambitions beyond the Middle East.
"Daesh [Isis] has been able to regroup, garnish support and continue to spread its message and violent acts in the Middle East, Europe and beyond," he told The Independent.
"The removal of Gaddafi created an environment where any actor could benefit."
Dr Kamel said the end of the Brotherly Leader's oppressive management of tribal, regional and ethnic divisions in Libya sparked a "violent reaction" between a myriad of competing factions.
The Foreign Affairs Committee report came to a similar conclusion, saying the rise of militant extremist groups "should not have been the preserve of hindsight" for Britain and its allies.
But Elham Saudi, an associate fellow at Chatham House's International Law Programme and Director of Lawyers for Justice in Libya, said attributing the rise of Isis solely to the overthrow of Gaddafi would be an oversimplification.
"The bigger issue here is the void of the rule of law and the culture of the impunity prevalent in Libya," he told The Independent.
"There are 150 militias reportedly operating in Tripoli alone. The political links that some of these militias have, and even governmental endorsement in some instances, only serves to undermine the rule of law further."
Libyan-purchased weapons have been found in more than 20 countries in the Middle East and Africa and the United Nations Security Council will soon consider a resolution to lift an arms embargo on sales to the fragile Government of National Accord.
The union was formed in December last year but its constituent groups, the elected Council of Deputies and Islamist-backed General National Congress, are still backed by rival armed groups controlling swathes of the country.
With thousands killed, 425,000 Libyans displaced and 1 million fleeing the country, the instability and its ramifications look set to continue.
Mr Melly suggested that catastrophic policy failures may be partly attributable to Western governments' perception of Libya as an "Arab country" without proper consideration of its relationship with surrounding African nations.
"One has the impression that its crisis was viewed through the prism of policy towards the Middle East and the Arab Spring," he added.
"As a result, policymakers in London, Paris and Washington perhaps paid less attention to the potential fallout for countries in Sub-Saharan Africa."
Crispin Blunt, chair of the Foreign Affairs Committee, said the UK's 2011 intervention was based on "erroneous assumptions and an incomplete understanding of the country".
"Having led the intervention with France, we had a responsibility to support Libyan economic and political reconstruction," he added.
"But our lack of understanding of the institutional capacity of the country stymied Libya's progress in establishing security on the ground and absorbing financial and other resources from the international community.
"The UK's actions in Libya were part of an ill-conceived intervention, the results of which are still playing out today."
Join our commenting forum
Join thought-provoking conversations, follow other Independent readers and see their replies