'Lost golden city' from 3,000 years ago unearthed in Egypt is 'biggest discovery since King Tut's tomb'
Archaeologists find city with intact walls, bakery with ovens, and tools for daily use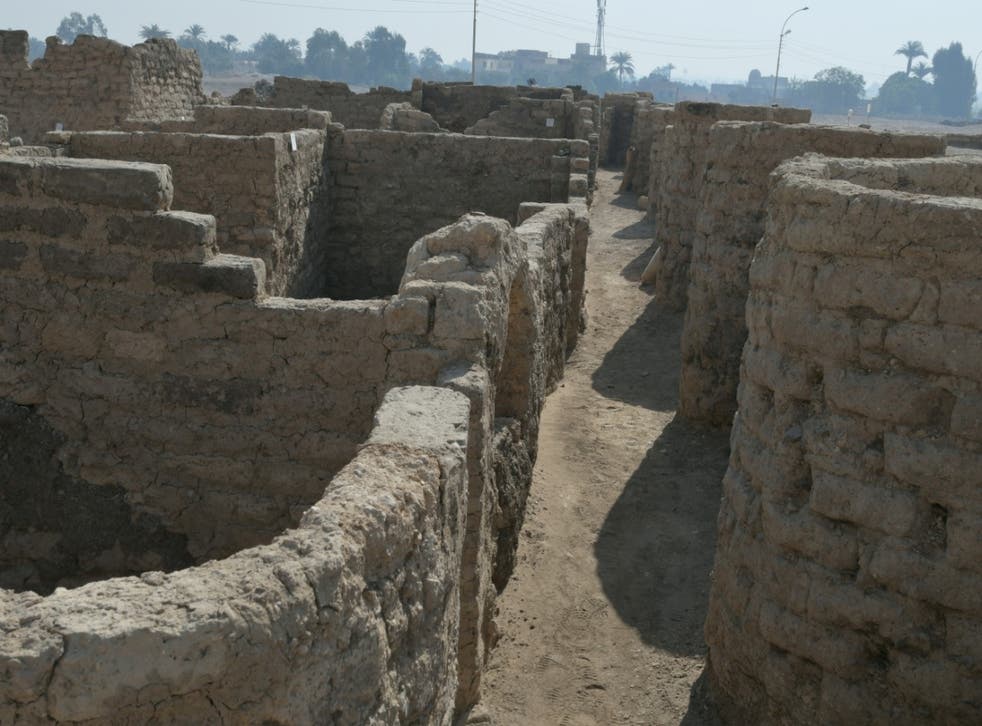 Leer en Español
Egypt has announced the discovery of what is believed to be a large ancient city in an archaeological breakthrough experts have called the most important since finding Tutankhamun's tomb.
Egyptologist Dr Zahi Hawass announced the discovery of what he called a "lost golden city", saying the site was uncovered in the southern province of Luxor.
"The Egyptian mission under Dr Zahi Hawass found the city that was lost under the sands," a statement from the archaeology team said. "The city is 3,000 years old, dates to the reign of Amenhotep III, and continued to be used by Tutankhamun and Ay."
Archaeologists unearthed what looked like a well-preserved city that had intact walls, a bakery with ovens, and rooms filled with tools used in daily life. They also unearthed jewellery including rings, scarabs, coloured pottery vessels and seals of Amenhotep's cartouche, according to the Luxor Times.
Within just weeks of excavation, the team uncovered "mud-brick formations in every direction", Dr Hawass said in a statement.
"Many foreign missions searched for this city and never found it," he added.
"The city's streets are flanked by houses... some of their walls are up to three metres high."
The city, which is also being referred to as "The Rise of Aten", dates back to the reign of Amenhotep III, which began around 1390BC, and was later used by successors including Tutankhamun, according to a statement on Thursday from the Egyptian mission.
"The discovery of this lost city is the second most important archaeological discovery since the tomb of Tutankhamun," Betsy Bryan, professor of Egyptian art and archeology at Johns Hopkins University in Baltimore, said in the statement.
It offers "a rare glimpse into the life of the ancient Egyptians at the time when the empire was at its wealthiest," she said.
Luxor, known in ancient times as Thebes, is among the oldest inhabited cities in the world and is famous for its ancient Egyptian sites, along with being home to the Valley of Kings.
Join our new commenting forum
Join thought-provoking conversations, follow other Independent readers and see their replies