Mali manuscripts: An inspiring tale of how ancient books were saved from destruction
Citizens in Timbuktu spirited the priceless manuscripts away before they were burnt by jihadists
Kim Sengupta
Bamako
Thursday 26 November 2015 21:27 Comments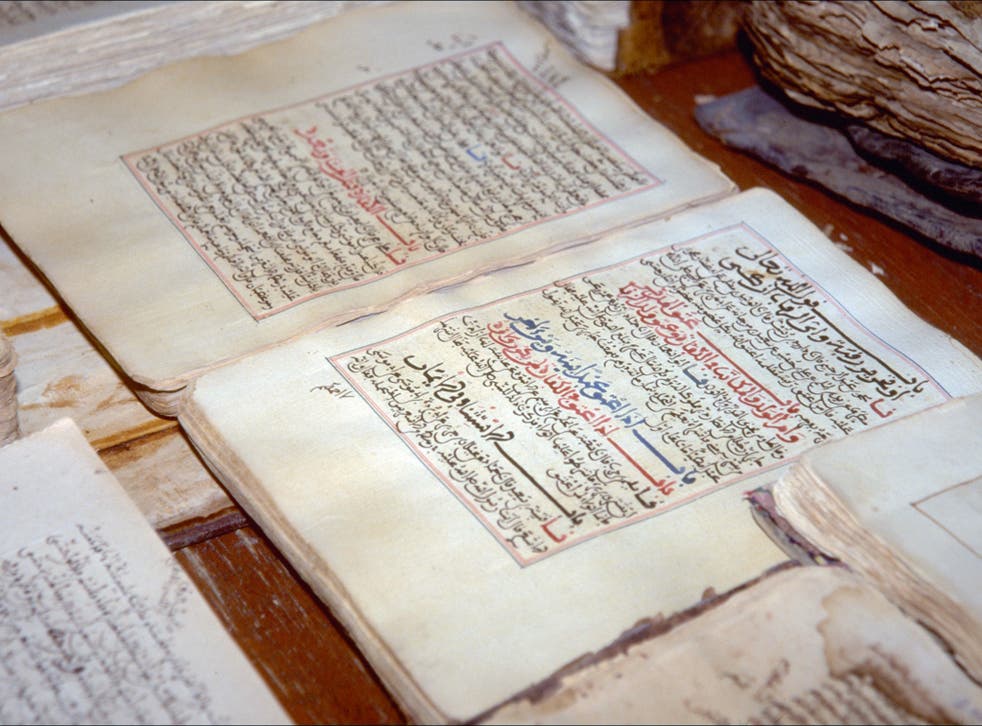 Dramane Maulvi Haidara held up a book of Hadiths, sayings of the Prophet Mohamed, in exquisite calligraphy, produced in the 16th century, and wondered: "Why would they want to destroy this? That would have been terrible."
This was in February 2013. The reason the book was saved was because Mr Haidara and other citizens of Timbuktu had spirited it away, along with thousands of other priceless manuscripts, from the city's Ahmed Baba Library, just ahead of jihadists who had started burning the collection.
While there were widespread expressions of shock from the international community at the destruction, it was ordinary Malians who had carried out an elaborate secret operation saving what was not just their cultural legacy, but that of the Sahel, at great personal risk to themselves.
I had followed the fighting from Bamako up to Timbuktu and many of my colleagues and I had been fascinated by the city. The tale of how they had outwitted the book-burners, taking the manuscripts while the Salafists were sleeping or praying, leaving empty folders to disguise what they had done, was hugely uplifting.
The manuscripts were being stored by around 30 families in the city, most of them religious scholars. Mr Haidara kept the ones he had been asked to look after in a trunk in a dark windowless room, the coolest in his house, to try to stop any damage to the fragile pages.
There had been enticements from the insurgents to reveal the whereabouts of the missing documents. A neighbour of Mr Haidara had been offered a reward for information by a Salafist preacher along with a warning that failure to do so would result in whipping. "Our community has guarded these books for hundreds of years. We were not going to betray our community, our history," he said.
The saved heritage was sent on to Bamako. Although the jihadists had been forced out of Timbuktu by French forces, a victory celebrated with a visit amid great acclamation by François Hollande, the local people feared that the vengeful fanatics would try to return. "If they come back, we will leave and hide in villages of our clan," said Mr Haidara. "But we would not be able to take these books with us, so we have decided they would be safer in Bamako. One day, inshallah, the books will return here."
Judging by what is going on now, that day may be a long time in coming. The jihadists are not only back around Timbuktu and other northern cities; they have started striking at the capital. But although there may be a long struggle ahead, the saving of the manuscripts was an example of how the Malians will do their utmost to resist the imposition of a vicious and nihilistic rule.
Register for free to continue reading
Registration is a free and easy way to support our truly independent journalism
By registering, you will also enjoy limited access to Premium articles, exclusive newsletters, commenting, and virtual events with our leading journalists
Already have an account? sign in
Join our new commenting forum
Join thought-provoking conversations, follow other Independent readers and see their replies