Mali attack: At least two killed at luxury holiday resort near Bamako but gunmen release hostages
Security forces battling militants following series of attacks by Islamist groups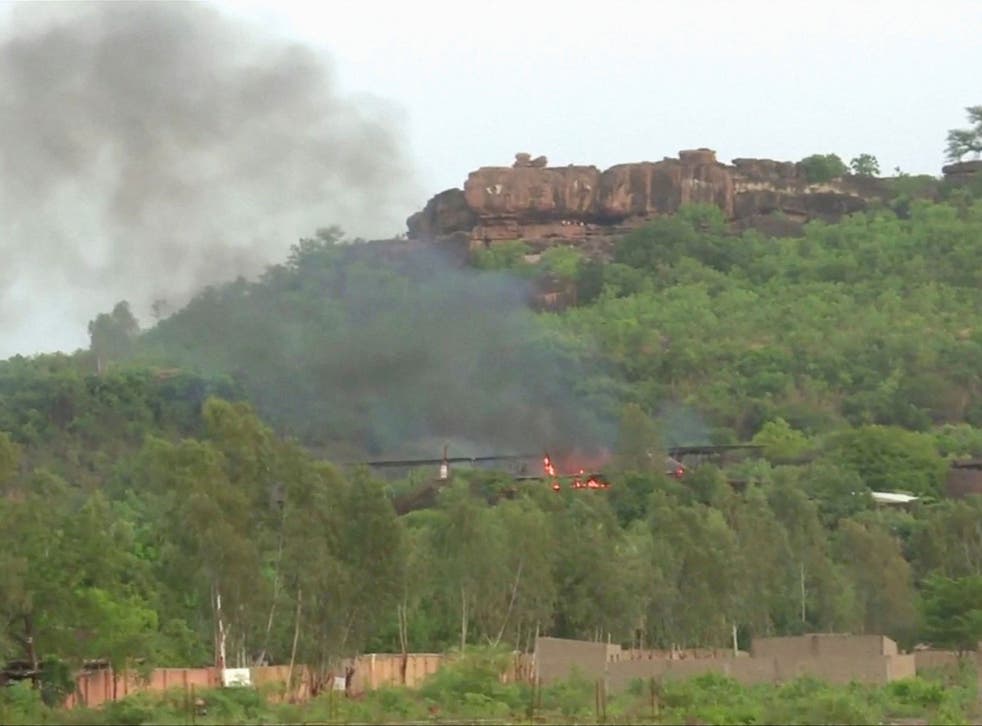 At least two people have been killed in a terror attack at a luxury resort frequented by expats in Mali, with further casualties reported.
Security forces said operations were ongoing at Le Campement, outside the capital Bamako, after three of the gunmen were shot dead but a fourth escaped.
Officials confirmed a French-Gabonese citizen had been killed and another person whose nationality was not immediately known, while 36 hostages have been rescued .
Moussa Ag Infahi, director of the national police, told Associated Press that three of the assailants had been killed while a fourth escaped.
Mahamadou Doumbia, a security guard, said a militant on a motorcycle entered the area around 3.40pm local time and cried "Allah Akbar" before jumping off and running toward the pool area.
"Then a car with three jihadists entered the resort and they started to fire their weapons," he added. "A French soldier who had come for the weekend but had his gun shot and wounded a jihadi."
Released guests, many still only wearing their swimsuits, also reported that the gunmen shouted "Allahu akbar", meaning "God is great" in Arabic, during the assault.
Baba Cisse, a spokesman for the security ministry, said a civilian and a police officer had been wounded.
The attacker who fled was injured, leaving a sub-machine gun and six bottles of explosives behind, he added.
"I heard gunfire coming from the camp and I saw people running out of the site," said Modibo Diarra, another witness who lives nearby.
Malian security forces said the resort was surrounded by local troops, French soldiers and UN peacekeepers as a helicopter flew overhead.
As night fell, witnesses could see smoke rising from Le Campement, although it was not immediately clear what was burning.
There was no immediate claim of responsibility for the attack, which comes amid the final week of the Muslim holy month of Ramadan.
A spokesperson for the government described the attackers as "suspected jihadis", while the EU Training Mission in Mali described the incident as a terror attack and said it was assisting local forces.
The rural resort - popular with Western tourists, expats and locals - offers luxury accommodation, a spa and three swimming pools, as well as running excursions and sports for guests.
Like the majority if hotels around Bamako, visitors undergo mandatory security checks by guards upon entry, according to online reviews.
Le Campement sits in Dougourakoro on the outskirts of the city, where the Radisson Blu hotel was the target of a previous terror attack that left more than 20 people dead in November 2015.
In pictures: Mali Radisson hotel attack

Show all 20
It was one of a series of shootings and bombings to sweep the country as part of an ongoing insurgency by Islamist militants in the north, which has worsened in recent months.
The US Embassy in Mali released a warning over an "increased threat of attacks" in Mali last week, listing diplomatic missions, places of worship and "other other locations in Bamako where Westerners frequent" among potential targets.
"Avoid vulnerable locations with poor security measures in place, including hotels, restaurants, and churches," said a statement released on 9 June.
The US warns its citizens against all travel to Mali, while the British Government advises against all travel to northern areas and "all but essential travel" to Bamako and the south.
French troops are supporting Malian government forces, while the violence has made the UN peacekeeping mission in the country the deadliest in the world.
Emmanuel Macron visited the northern former militant stronghold of Gao during his first foreign trip as President in May.
He reaffirmed France's commitment to supporting its former colony, saying his government would be "uncompromising" in the fight against terrorists.
Mr Macron is expected to return to Mali in July for the G5 Sahel summit, and was "following developments" very closely according to his office.
Despite the deployment of 11,000 peacekeepers since France's first intervention in 2013 and an ongoing state of emergency, Islamist groups have been re-gaining strength in recent months, launching a series of attacks on the military as they push south.
Monitors have warned of a deteriorating situation for civilians living under the brutal rule of extremist militias, carrying out stonings, executions and violently enforcing Sharia law amid continued struggles with poverty and starvation.
Al-Qaeda linked jihadi factions hold large swathes of desert in northern Mali, after hijacking an uprising by ethnic Tuareg rebels who launched an advance in 2012, bolstered by the free flow of militants and weapons from the Libyan civil war.
The latest alliance to form is Jama'at Nusrat al-Islam wal-Muslimin (Group for the Support of Islam and Muslims or al-Qaeda in Mali), which incorporates al-Qaeda in the Islamic Maghreb (AQIM), al-Mourabitoun, Ansar Dine and the Macina Liberation Front.
Among its leading figures is Mokhtar Belmokhtar, the Algerian leader of al-Mourabitoun and AQIM's former military commander, who has been linked to terror attacks in Mali, Algeria, Niger and Burkina Faso.
The terrorist commander has been the target of numerous military operations and foreign air strikes, but has not been confirmed dead.
Additional reporting by agencies
Register for free to continue reading
Registration is a free and easy way to support our truly independent journalism
By registering, you will also enjoy limited access to Premium articles, exclusive newsletters, commenting, and virtual events with our leading journalists
Already have an account? sign in
Register for free to continue reading
Registration is a free and easy way to support our truly independent journalism
By registering, you will also enjoy limited access to Premium articles, exclusive newsletters, commenting, and virtual events with our leading journalists
Already have an account? sign in
Join our new commenting forum
Join thought-provoking conversations, follow other Independent readers and see their replies