Malians take up arms to drive out al-Qa'ida
Defence groups angry at army inaction are training people to go into battle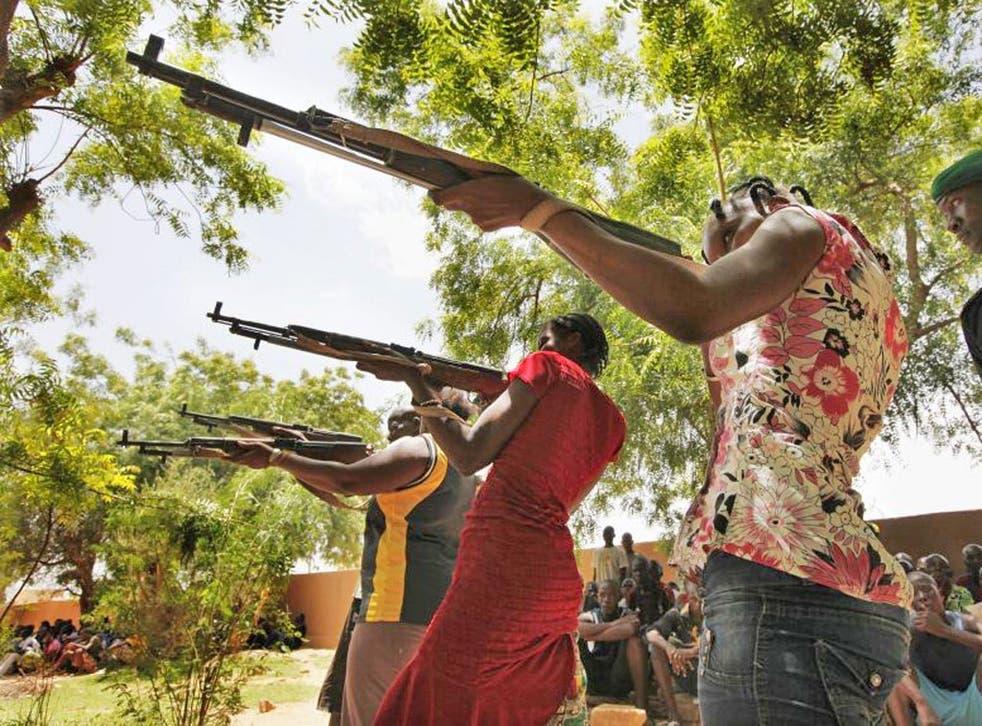 On a sandy football field in the outer suburbs of the Malian capital Bamako, 300 men and women train daily in military techniques that they vow to use to fight hardline Islamist rebels who have occupied the vast desert region of the West African nation.
"The dignity of Mali depends on our army," said Mahamadou Dioura, president of a militia group called Bouyan Ba Hawi or "Better Death Than Shame". "If the (Malian) army reacts, we will fight alongside them. But if the army is slow to react, we will fight without them." Bouyan Ba Hawi is one of a number of self-defence groups which have sprung up in response to the perceived lack of action in fighting Ansar Dine and other al-Qa'ida-linked rebels who have occupied the north and imposed a strict form of Islam. They have also kidnapped foreigners and destroyed ancient Sufi shrines in the fabled city of Timbuktu.
The presence of the Islamist groups has raised fears that the Sahara is becoming the latest training base for jihadists and a staging post for terror attacks in the region and beyond.
At the end of July, Mali's interim President, Diouncounda Traore, who spent two months in France after being beaten by pro-coup protesters, returned to put in place a shaky government of national unity. Ecowas, the regional block which has the power to impose sanctions and close Mali's landlocked borders, has said it is ready to offer a military force as soon as the government in Bamako requests it.
The French Defence Minister, Jean-Yves Le Drian, said at the weekend that France would not lead any military action in Mali, but was ready to back any African-led force sent to fight the rebels. So far, the call hasn't come.
In the meantime, inhabitants of northern Mali, which encompasses two-thirds of the country, are facing strict Islamic law in which women are beaten for not covering their heads and smokers and drinkers are whipped. Last month, an unmarried couple were stoned to death in the country's first reported Sharia killing. About 380,000 have fled to neighbouring countries or to the south, according to official government figures, though aid groups say the numbers could be greater.
"We don't want to negotiate with Ansar Dine," said Makan Kamoute, a 32-year-old taxi driver in Bamako. "They have perpetrated violence against women and men, destroyed our tombs. We need a war against them led by the Malian army. Our army can liberate the north, we can fight."
While Islamic extremism threatens the north of the country, in the south – where the majority of people live – the population is steadfastly against puritanical Islam.
"Islam has been here for centuries and they want to impose it on us by force? We won't adhere to it, we won't even listen to them," said Karim Sidibe, a photographer in Bamako.
The Islamic High Council, a powerful group which acts as an interface between the population and the Islamic community, has said it is talking with politicians in Bamako and the militants. "We are looking for a space for dialogue," said Mahmoud Dicko, the Council's President.
"All of Mali together should decide what becomes of it." He could not rule out, however, an armed conflict. "If we do not understand each other, there will be war in our country. We know when that will start, but we do not know when it will end."
In Bamako – and beyond – there are fears that a war in the north is inevitable. But a report by the Brussels-based International Crisis Group asserts that an intervention by Ecowas troops "would turn Mali into a new frontline of the war on terror... and expose West Africa to reprisals in the form of terrorist activities it is not equipped to respond to".
The report also warned of "tribal settling of scores that would result from external military intervention".
Terror threat: al Qa'ida in Mali
The takeover of northern Mali began as a separatist movement by armed ethnic Tuaregs, many of whom had returned home after fighting against Gaddafi in Libya. Mali's President, Amadou Toumani Toure, was in part ousted because of his failure to tackle the rebellion by the Movement for the Liberation of Azawad (MNLA). But since the coup al-Qa'ida-linked groups such as Ansar Dine and the Movement for Oneness and Jihad in West Africa have been breaking their alliances with the MNLA and moving to fill the power vacuum.
Register for free to continue reading
Registration is a free and easy way to support our truly independent journalism
By registering, you will also enjoy limited access to Premium articles, exclusive newsletters, commenting, and virtual events with our leading journalists
Already have an account? sign in
Register for free to continue reading
Registration is a free and easy way to support our truly independent journalism
By registering, you will also enjoy limited access to Premium articles, exclusive newsletters, commenting, and virtual events with our leading journalists
Already have an account? sign in
Join our new commenting forum
Join thought-provoking conversations, follow other Independent readers and see their replies