Mau Mau uprising: Kenyans still waiting for justice join class action over Britain's role in the emergency
Thousands of elderly people claim mistreatment, rape and torture by colonial forces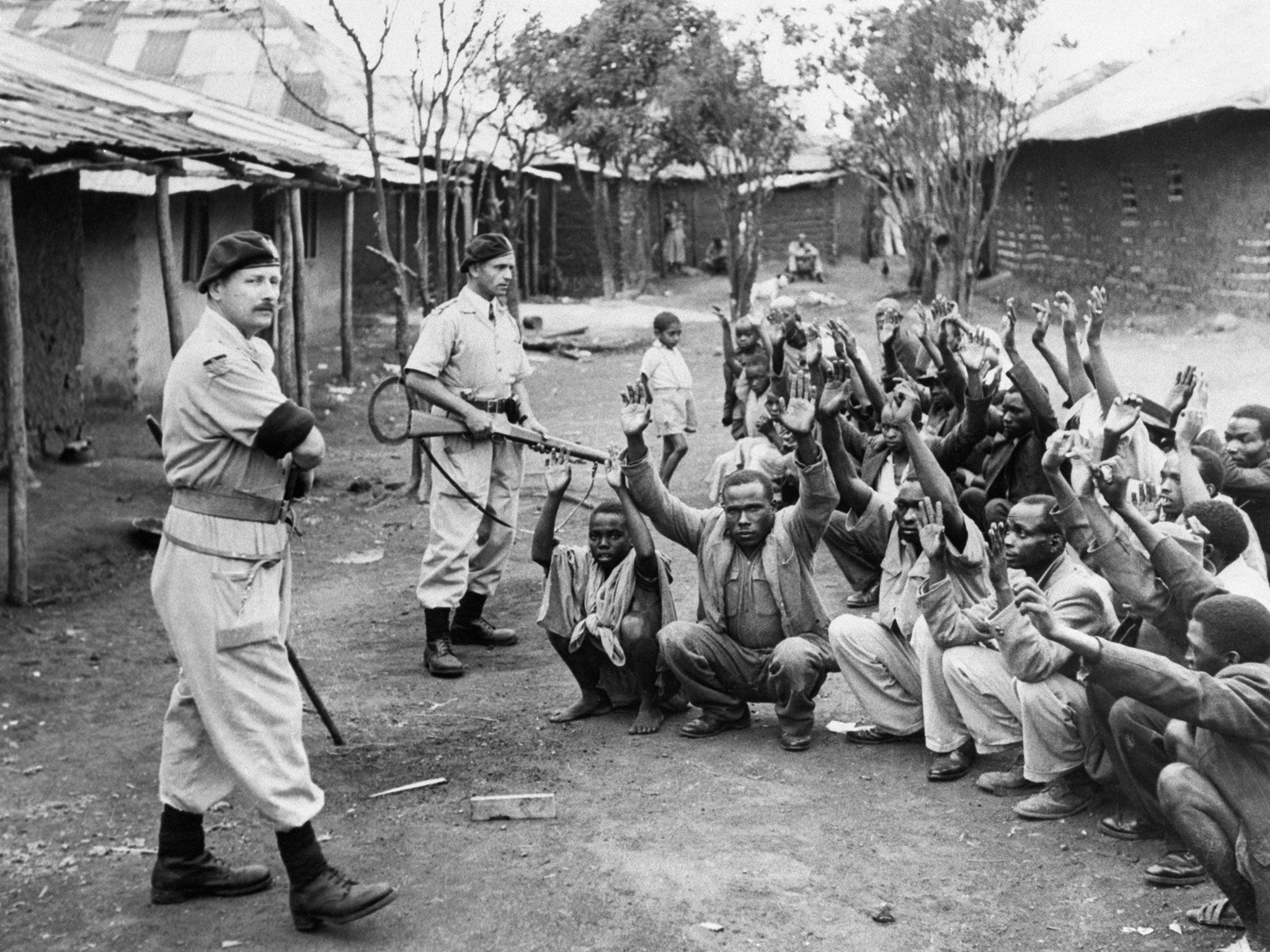 Kenya's Mau Mau emergency is still raging more than 50 years since hostilities ceased. The full breadth of the misdeeds inflicted on countless Kenyan men and women suspected of subversive activities against the white settlers and colonial forces still remains the subject of contentious struggle. Thousands of elderly Kenyans, who claim mistreatment, rape and torture by British colonial forces during the Mau Mau uprising, have launched a £200m damages claim against the UK Government.
The High Court action represents the final chance for justice for some 40,000 Kenyans, many of whom are in their seventies and eighties, and will dwarf a case settled last year by 5,000 victims of torture under British rule for £19.9m.
The proceedings will seek, for the first time, to secure compensation for the full breadth of misdeeds during the eight-year emergency, ranging from the forcible removal of more than a million Kenyans from their homes to allegations of systematic torture and serious sexual assault.
Witness statements allege that there was extreme and depraved violence against claimants, who are members of the Kikuyu tribe that was at the heart of the Mau Mau uprising between 1952 and 1960.
The testimonies, made by claimants who will not be test cases in the proceedings, include:
* A woman, now 76, who details how, as a 14-year-old girl she and her family were brutalised during a raid by colonial police before two white soldiers forced her to have sex with her own father while they looked on.
* A man, now aged 79, who describes how he was placed above a metal drum of burning charcoal, known as the "hat of death", and beaten until he defecated over himself, before then being beaten unconscious with a hammer.
* Another man, now 83, who suffered regular torture including a punishment which involved being made to dig a hole with his index finger by constantly turning his crouched body in a circle, causing dizziness punished by further beatings.
The legal claim is being strongly contested by the Government, despite a formal admission last year by William Hague, the then Foreign Secretary, that Kenyans suffered "torture and other forms of ill-treatment" at the hands of a colonial dministration put in place by London.
The statement, made following the settlement of the separate case brought by 5,228 survivors of the operations to crush the rebellion, added that the Government "sincerely regrets" that the abuses took place.
But in the face of the current litigation, the Foreign & Commonwealth Office is denying all liability, arguing it cannot be held responsible in law for the actions of Kenya's colonial government and its agents.
Lawyers bringing the new case, which has taken three years to put in place, this weekend expressed concern at the Government's approach, warning that the advanced age of the claimants, the oldest of whom is 97, means many could die before having their day in court. The trial is currently scheduled to begin in 2016.
Simon Myerson QC, who is acting for solicitors Tandem Law, representing around half of the claimants, said: "There are a vast number of people here who are waiting for somebody to say that what happened was wrong, and we are going to give you recompense.
"That is hugely important to them and time is running out. These are completely admirable people. They are not grasping, they are dignified.
"This is a test of whether the system of international law and the law of this country can offer recompense once it is established that something done was wrong."
The suppression of the Mau Mau rebellion, which had its roots in the economic deprivation suffered by generations of Kikuyu after they were forced from their rich agricultural homelands by Kenya's colonial government and white settlers, remains one of the darkest episodes of Britain's imperial era.
In a bid to isolate rebels, who were also guilty of multiple atrocities, the Kenyan authorities declared a state of emergency in consultation with London in 1952. More than a million Kikuyu were placed in camps and "protected villages", since described as little better than gulags or concentration camps designed to punish the ethnic group as a whole.
The group litigation, which will proceed using 40 test cases selected from among the 41,000 registered claimants, alleges that the measures put in place – including mass destruction of homes and forced labour – amounted to a secret "system" designed or permitted by Britain's colonial regime in Nairobi, with the knowledge or tacit approval of officials in London.
Among the material offered in support of the case is a memo from June 1957 written by Kenya's Attorney General, Eric Griffith-Jones, who stated that "if we are going to sin, we must sin quietly". In the same document, he acknowledged that the abuses being committed were "distressingly reminiscent of conditions in Nazi Germany or communist Russia".
The class action, which will also argue that the victims should have enjoyed protection from the European Convention on Human Rights, signed by Britain in 1951, will seek to establish compensation not only for extreme acts but also loss of income, family life and education caused by the enforced mass relocations.
It is understood that the size of the eventual settlement, if the case is proven, could be as much as £200m, amounting to an average compensation payment of about £4,900.
The case will also look at the issue of withheld colonial-era documents, including some 189 files formerly held at the Foreign Office's secret Hanslope Park archive, which those representing the Kenyans believe could contain fresh evidence about the purpose and management of the state of emergency.
In documents before the court, the FCO denies that any historical documents have been wrongly withheld and argues that all relevant records are now in the public domain. Asked by the Independent on Sunday to respond to criticism that it was not treating the Kenyan claim with sufficient urgency, a spokesman said: "In the light of on-going legal proceedings it would not be appropriate to comment."
In the meantime, the Kenyan claimants will continue to ponder what they consider to be lives robbed of opportunity by the British state. As one put it: "My troubles are psychological but there is little I can do about it. I did not have the capacity to give my children a good life."
Case studies
'They would strip naked detainees and place red-hot metal springs on their skin'
"Gatimu", 79 (not his real name).
Account of torture at the Gechia Post detention camp in 1953.
"A Mau Mau fighter was arrested and brought to the post. They brought in a new torture method where they lit a charcoal fire inside the cell and burned big metallic springs until they were red hot. They would then strip naked a detainee and place the springs on their skin.
"We were lined up and the Mau Mau detainee was stripped and laid down. He was burnt several times and finally the spring was placed on his lower back and left to burn in his internal organs till he died.
"I was next in line but an officer came into the room, whispered something and they all left. That experience that day has psychologically affected me to date. I have nightmares and flashbacks."
'My father was forced to sleep with me. The two white men were watching'
"Mwara", 74 (not her real name).
Account of a paramilitary raid in 1952 when claimant was aged 14.
"A white officer stabbed me with a bayonet in my knee. He did it to try to force me into the hut. My father was collared into the house and I followed.
"My father and I were forced to remove all our clothes … My father was forced to sleep with me. The ordeal did not work because he had his inhibitions and I had my inhibitions. It took about 30 minutes. The two white men were inside the house, watching.
"Then my mother and brother were brought … I heard orders to open legs. I did not see them being forced to have sex but I think that is what happened. I was being beaten outside when this was happening.
"It was common knowledge that I had slept with my father. Among Kikuyu traditions, that is not tolerated, no matter what the circumstances were. It has been the main cause of my misery."
Join our commenting forum
Join thought-provoking conversations, follow other Independent readers and see their replies