Melania Trump's Africa visit criticised in light of recent US policies
The nature of the first lady's itinerary is said to clash with the Trump administration's policies for the African continent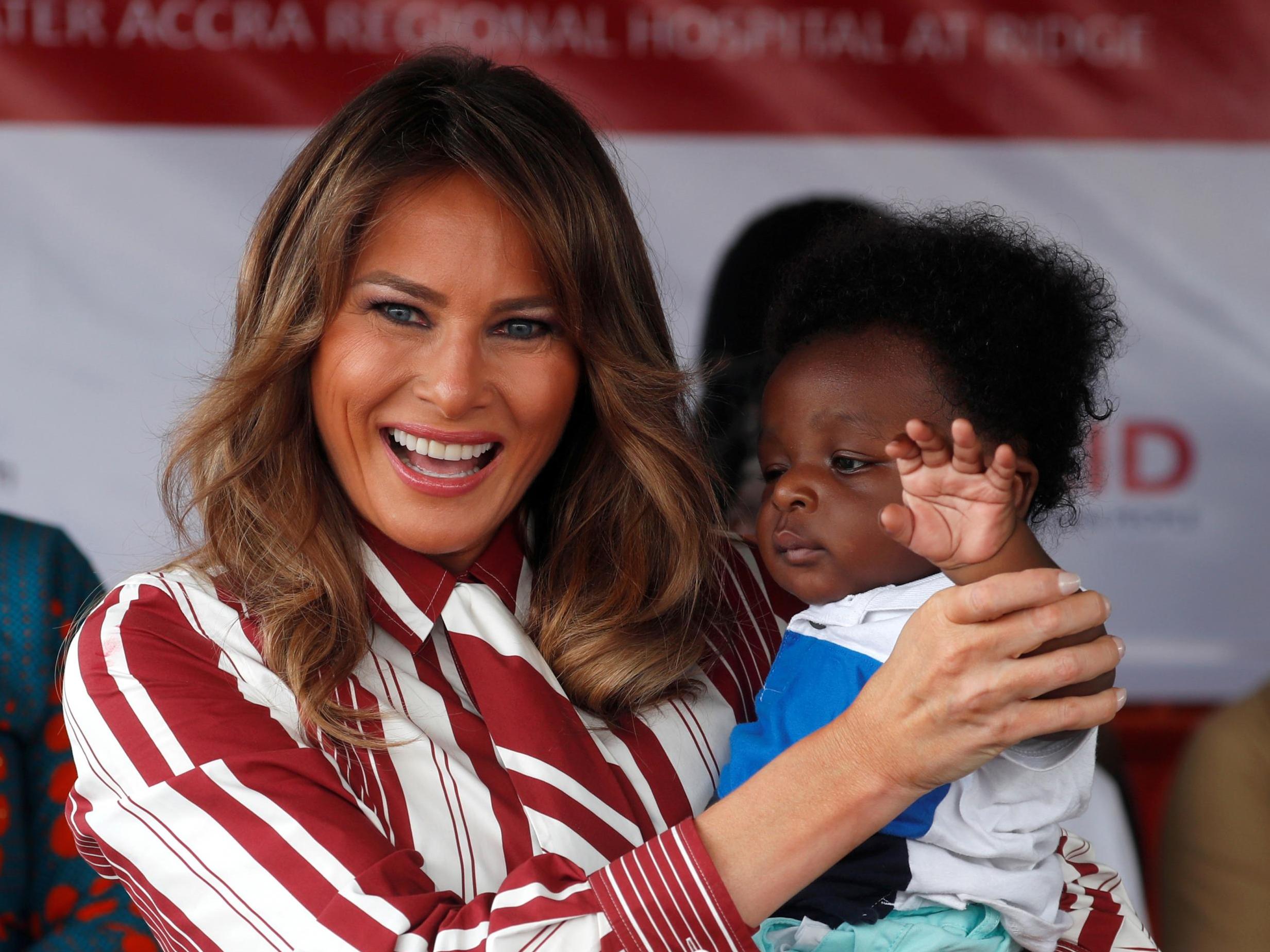 Melania Trump began her week-long sojourn to Africa in Accra, Ghana. Landing on Tuesday morning, the first lady was greeted on the tarmac by Ghanaian first lady Rebecca Akufo-Addo and a bouquet of flowers wrapped in kente cloth followed by a dancing-and-drumming performance.
From Ghana, Ms Trump will travel to Malawi, then Kenya, and finally to Egypt, an itinerary that places the typically private first lady half a world away from her headline-dominating husband – and into the global spotlight.
Though the first lady's trip is seen as a gesture of goodwill, it also appears to some critics of the Trump administration as out of step with her husband's policies. Her stops will largely highlight programmes funded by the US Agency for International Development, even as the Trump administration has proposed massive cuts to USAID's budget.
Later this week, the first lady is also expected to tour an elephant and rhino conservatory in Kenya, even though the Trump administration loosened regulations on trophy hunting and the import of elephant tusks and other animal parts. In addition, prominent members of the Trump family are big-game hunters.
As she greets dignitaries in the four countries, Ms Trump is expected to engage in the kind of "soft diplomacy" expected of first ladies. Unlike her predecessors, she has to contend with the baggage of her husband's belittling comments about African nations that made headlines across the continent.
But USAID administrator Mark Green, who will accompany the first lady in Ghana, sees value in the trip. It serves to "symbolise American values and engagement. It spotlights and raises the profile of American programmes in action." And he said Ms Trump's focus on children drew her to the region. "She had genuine interest in youth," he said.
The median age of Africa's more than one billion people is only 19.
Stephanie Grisham, the first lady's spokeswoman, said the trip is consistent with both the first lady's platform and Trump administration policy, noting that the president has said: "The US is the world's largest giver of foreign aid."
World news in pictures
Show all 50
"Africa remains a priority for this administration and I believe the first lady's trip through the continent will showcase just that," she said.
In the countries that the first lady plans to visit, there's been little buzz about the trip, in part because details have been tightly held, except for some social-media muttering about Ms Trump coming to take selfies with children and animals. Animal conservationists also have been discussing the Kenya leg of the trip, especially since Donald Trump Jr. and Eric Trump are avid game hunters. A photograph of Mr Trump Jr. holding a knife and a dead elephant's tail after a hunt in Zimbabwe in 2011 went viral on social media.
"The policies set by the United States have significant impact on our ability to manage our wildlife sustainably," said Kaddu Sebunya, president of the African Wildlife Foundation in Nairobi. "We hope that the first lady's visit will illuminate the enormous benefit conservation provides to our continent, people and economies ... [and] will result in a reversal of some of the funding cuts to biodiversity conservation."
A first lady's goals on such a trip are typically twofold, said Myra Gutin, a communication professor at Rider University who studies first ladies. They highlight their initiatives – in Ms Trump's case, that is her "Be Best" campaign aimed at improving the well-being of children. And then there is the diplomatic mission. On that front, Ms Trump may have a harder task than previous first ladies, Ms Gutin said.
Ms Trump had long planned this trip. "This was her idea," Ms Grisham said. "In fact, she has always envisioned Africa for her first solo international swing. She is eager to educate herself about each country – history, culture, challenges, successes."
What does Ms Trump hope to accomplish on her first solo trip abroad? Those goals are not completely clear, said J Peter Pham, director of the Atlantic Council's Africa Center.
"It's incumbent on her to describe what her objectives are, and then we can assess whether it's a success," Mr Pham said.
During the first leg of her journey, Ms Trump will tour a Ghanaian-run hospital that has had success in reducing child mortality.
The Trump administration has sought to drastically reduce the USAID funding to the continent, slashing it by as much as 30 per cent in its proposed budgets. That generated alarm among many in humanitarian circles that it would close US developmental and health programmes and diminish efforts to combat Aids and malaria. Congress ultimately voted to restore the funding.
USAID, which worked with the first lady's office on the trip, has spent over $47bn (£36bn) on Aids, malaria and other health programmes over the last decade.
In Malawi, her second stop, Ms Trump is expected to focus on children's literacy efforts.
Join our commenting forum
Join thought-provoking conversations, follow other Independent readers and see their replies