Minya bus shooting: Isis claims responsibility for attack which left 29 Coptic Christians dead
Egyptian military carried out air strikes against suspected militant training camps in Libya in response to the 'brutal terrorism'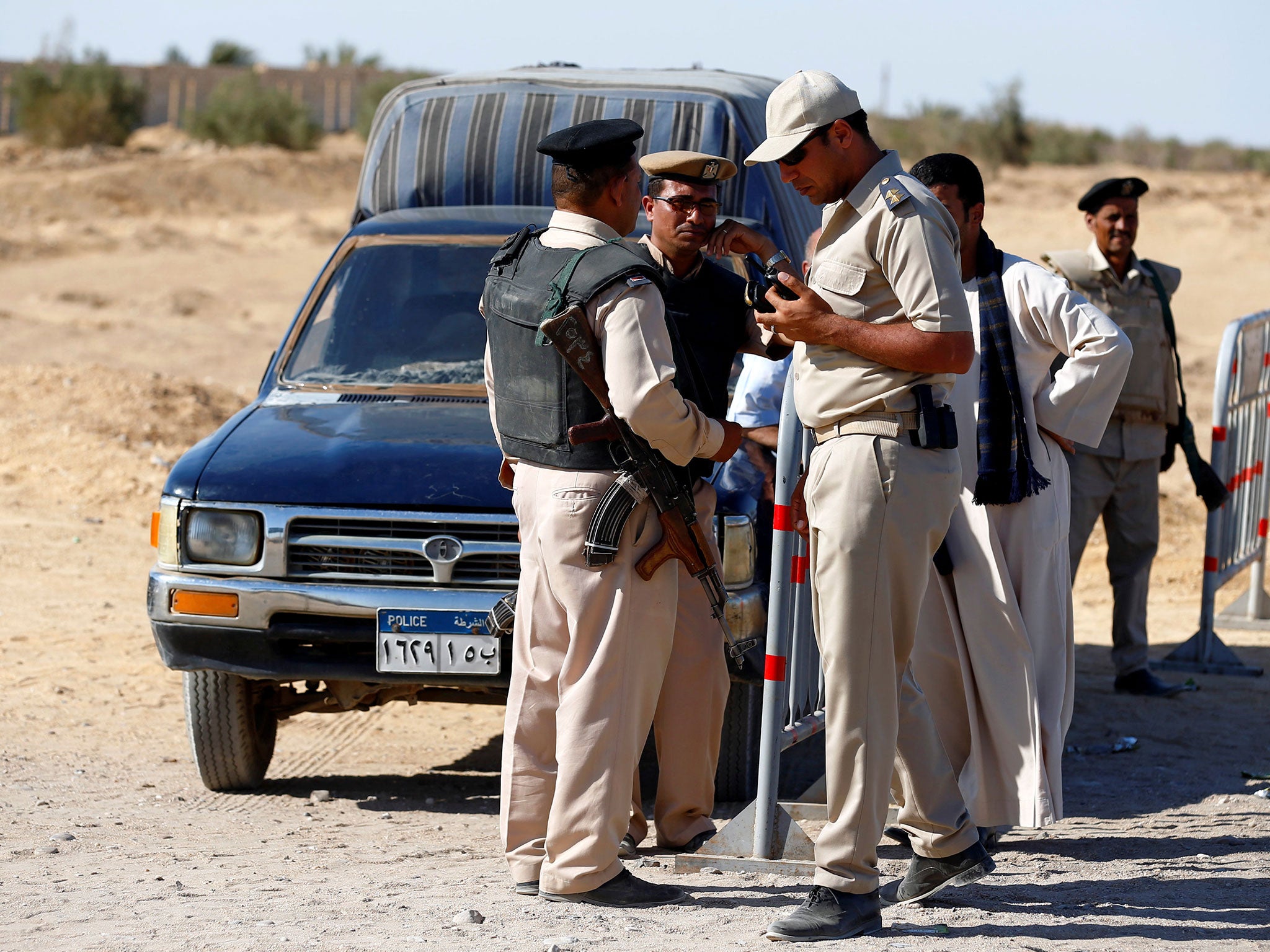 Isis has claimed responsibility for an attack on a bus carrying Coptic Christians which left 29 people, including children, dead.
Egyptian authorities said the victims were travelling through the Minya region towards Maghagha in the north west of the country when they were surrounded by eight to 10 attackers wearing military uniforms and masks who then opened fire, on Friday.
The Christians had been on a pilgrimage to the St Samuel the Confessor monastery when the attack took place.
Television footage at the scene showed a bus raked with bullets and windows smashed and surrounded by bodies covered in black plastic sheets.
A further 24 people were also wounded in the spree. Local media reported that only three children survived the attack.
The Egyptian military launched several air strikes on suspected militant training camps in Libya in response to the atrocities.
A statement from a military spokesperson did not specify precisely where the strikes were conducted but state television said on Friday that operations were focused on the eastern Libyan city of Derna.
The spokesperson said: "The air force has conducted several intensive day and night-time strikes. They targeted several gatherings of terrorist elements within Libyan territory after coordinating and fully verifying all information.
In pictures: Coptic Christians mourn victims of Isis beheadings
Show all 15
"The strikes led to the destruction of the planned targets, which included concentrated areas for the training of terrorist elements that participated in the planning and implementation of the Minya attack," he added.
In an address to the nation on Friday following the Minya shooting, President Abdel Fattah el-Sisi said Egypt would not hesitate to carry out further strikes against camps that trained people to carry out operations against Egypt, whether those camps were inside or outside the country.
Muslim leaders, including the Grand Mufti of Egypt and the Grand Imam of al-Azhar – Egypt's 1,000-year-old centre of Islamic learning – condemned what they called an act of "brutal terrorism".
The Coptic church said it had received news of the killing of its "martyrs" with pain and sorrow.
The attack is the second time Isis has targeted the beleaguered Christian minority in Egypt in recent months following twin bombings that killed at least 44 people in churches in Tanta and Alexandria on Palm Sunday last month.
Isis has targeted numerous religious minorities including Coptic Christians – who have been beheaded in Libya – and Sufi and Shia Muslims, who have been massacred across the Middle East.
It has also particularly persecuted the Yazidi communities in Iraq – men were murdered and women were sold into sex slavery when the group declared its "caliphate" in 2014.
Additional reporting by agencies
Join our commenting forum
Join thought-provoking conversations, follow other Independent readers and see their replies