MH370 search: Debris possibly belonging to missing Boeing 777 'found off coast of Mozambique'
The words 'No Step' on the debris show it could be the tail end of a plane
Jess Staufenberg
Wednesday 02 March 2016 14:41 Comments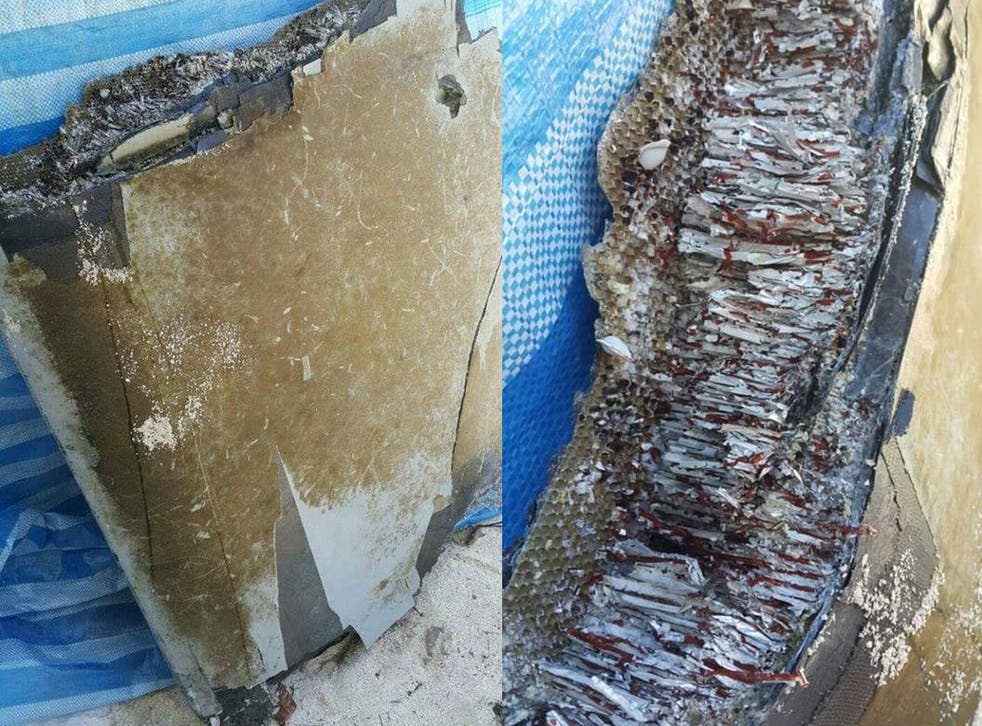 Investigators searching for missing Malaysia Airlines Flight MH370 are studying photographs of debris that has washed up in Mozambique.
An object that could be from a Boeing 777 was found on a sandbank off the eastern African country days ahead of the second anniversary of the jet's disappearance in March 2014.
The flight disappeared on 8 March with 239 people on board en route from Kuala Lumpur to Beijing.
Photographs of the debris have now been seen by investigators in Malaysia, Australia and the US, and say there is a good chance it comes from a Boeing 777, according to NBC News.
It has also been found in the same part of the southern Indian Ocean where the only other confirmed piece of debris from the flight, a flaperon, was found on Reunion Island in July 2015.
"NO STEP" is written on the object, which makes it likely it is from wing-like parts of the plane attached to the tail, which are called horizontal stabilisers.
MH370 debris - in pictures

Show all 7
Until now, about three-quarters of the 46,000-square-mile search zone for the Malayasia Airlines Flight has been scoured without success by the Australian Transport Safety Bureau (ATSB).
Several false alarms have occurred during the course of the investigation, including a six-foot-long metal item in the eastern state of Terengganu, and a sonar search which turned up a 19th century shipwreck.
The ATSB has said it knows of the discovery and will be conducting a thorough examination of the object, according to NBC News.
Until now, it had been conducting its searches on the assumption that the aircraft crashed when its fuel ran out after cruising on autopilot as a "ghost flight" with the pilots incapacitated or dead.
Last month, it was claimed investigators are preparing to revive theories that the plane may have been brought down deliberately.
The disappearance cost Malaysia Airlines a quarterly net loss of £83 million over two years as passengers shunned the company.
Relatives of the passengers on the missing jetliner, meanwhile, were further angered and saddened after the event by a perceived lack of information from Malaysian officials over the situation, with many refusing to accept the explanation that the plane simply crashed.
Register for free to continue reading
Registration is a free and easy way to support our truly independent journalism
By registering, you will also enjoy limited access to Premium articles, exclusive newsletters, commenting, and virtual events with our leading journalists
Already have an account? sign in
Join our new commenting forum
Join thought-provoking conversations, follow other Independent readers and see their replies