Missing Nigerian schoolgirls: A year on from Boko Haram kidnapping, despairing parents say, 'We can't do anything but hope'
A year after Islamic extremists Boko Haram kidnapped 220 girls from a girls boarding school in Nigeria, most of the girls are still missing. Will McBain reports on the parents' campaign and the new president's vow to find them
Will McBain
Tuesday 14 April 2015 07:18 Comments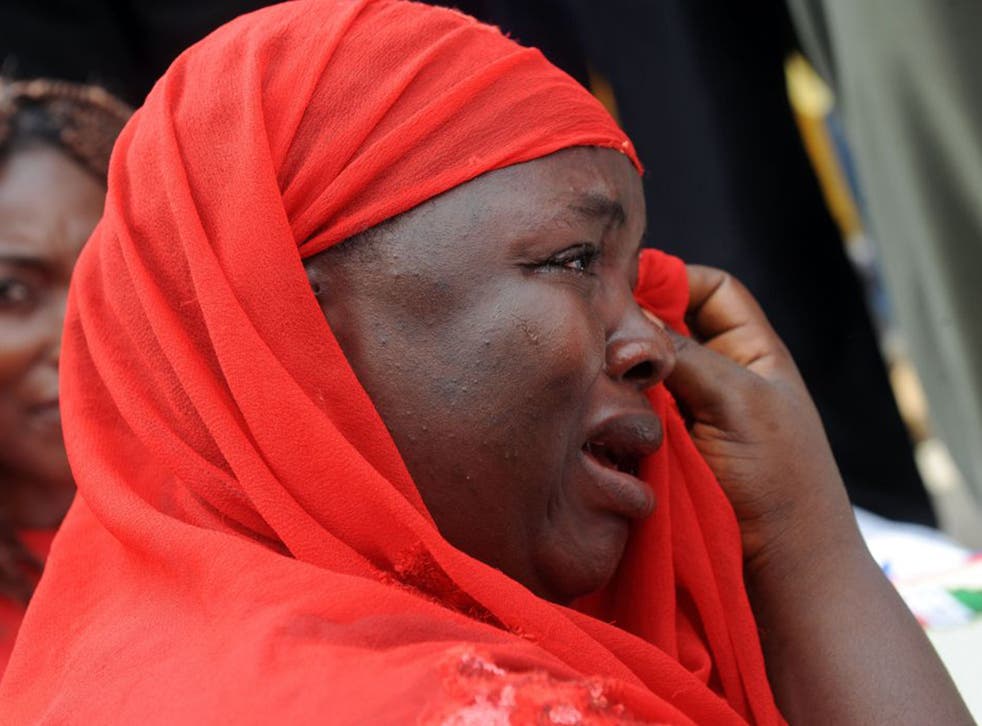 A year ago today, Jonah Bulama took his 13-year-old daughter Amina to her boarding school as he did every Monday. Unbeknown to him that fateful day – 14 April 2014 – would be his last sight of her.
Hours later, Boko Haram jihadists stormed the school, loaded his daughter and more than 200 classmates on to buses and drove them into the bush. Some 50 escaped on the night of the attack, but other than a brief appearance in a propaganda film, most of them have not been seen since.
"Every day we look at a photo of Amina and are bitter that we're alive but can't do anything to help our daughter," Mr Bulama told The Independent. "We can't do anything but hope."
His pain is exacerbated by the haunting words of the Boko Haram leader, Abubakar Shekau, who later vowed that the girls would be married to fighters or sold as slaves. "God instructed me to sell them, they are his properties and I will carry out his instructions," he said in a chilling message, adding that anyone who hoped for their release was "daydreaming".
In pictures: Nigeria kidnapped schoolgirls

Show all 35
This grim sequence of events will be remembered across Nigeria today and has taken a heavy toll on the parents of the missing Chibok girls and the psyche of Nigeria at large. Seventeen parents of the victims have died since the abduction a year ago, while Boko Haram's attacks upon surrounding schools have forced many to withdraw their children from education altogether. That has proved a particularly effective fear tactic by a group whose name translates as "Western education is forbidden".
The result has been to exacerbate an already critical situation in a country that already had the highest number of children not attending school in the world – 10.5 million, according to a Unesco report from 2012. That number is likely to have increased substantially over the past year. Unicef estimates that Nigeria has an illiteracy rate above 51 per cent – significantly higher in the north – stunting economic progress in one of West Africa's poorest regions. Nigeria's National Bureau of Statistics indicates that more than 76 per cent of people live in poverty in the north-east.
The plight of the girls remains widely debated. Even with the help of Western military spy planes and hostage negotiation experts, finding them appears to remain well beyond the capability of the Nigerian authorities. Yesterday a woman claimed to the BBC that she had seen 50 of the missing girls alive three weeks ago, in the north-eastern town of Gwoza, shortly before Boko Haram fighters were defeated and driven out.
Raad Zeid al Hussein, the current United Nations Commissioner for Human Rights, fears they may have been slaughtered by the terrorists before they fled from Bama, in Borno State, hours before the Nigerian army retook the territory. "The recent recovery of territories in north-eastern Nigeria has brought to light macabre scenes of mass graves and more obvious signs of killings by Boko Haram," he said in Nigeria. "These reports include the murder of the wives of combatants, women and girls held in slavery."
Their plight drew an international response last year, thanks in part to the BringBackOurGirls social media campaign endorsed by Michelle Obama and numerous celebrities. It was started when President Goodluck Jonathan failed to acknowledge the girls abduction publicly for three weeks, causing outrage across Nigeria. "We have a government that has been irresponsibly silent over this issue," said Bukola Shonibare, a spokesperson for the campaign.
Street protests have repeatedly been broken up by police but one of the campaign's founders said she was determined to continue its activism. "We understand that no matter what situation we find ourselves in, for as long as... the girls are not rescued we have to keep the hope for the families alive," said Hadiza Bala Usman. "We have to sustain the voice of 219 girls that have been in captivity for a year now."
Many Nigerians hope that their new President-elect, Muhammadu Buhari, due to take office on 29 May after defeating President Jonathan at the polls last month, will accelerate the search for the girls. Advisers said he intends to boost the army's capabilities and resume military training contracts with Britain and the US.
"Since independence, I do not think we have been reduced to such a position as a nation as the disappearance of 220 girls between the ages 14 and 18, for almost a year, and the government could not do anything about it," Mr Buhari, a former general who ruled Nigeria as a dictator in the 1980s, said on the campaign trail. In his first post-election address he declared: "We should spare no effort in tackling the insurgency – we have a tough and urgent job to do."
Meanwhile, Mr Bulama was making his way to commemorative protests in Abuja today. "If it was up to the parents we would already have got our daughters back," he said. "But it is the responsibility of the security forces to do this." Asked what he would like to see of the new government, his response is likely to reflect the sentiment of more than 200 parents who were dealt such a cruel blow a year ago: "I only want my daughter."
Register for free to continue reading
Registration is a free and easy way to support our truly independent journalism
By registering, you will also enjoy limited access to Premium articles, exclusive newsletters, commenting, and virtual events with our leading journalists
Already have an account? sign in
Join our new commenting forum
Join thought-provoking conversations, follow other Independent readers and see their replies