Morgan Tsvangirai: Zimbabwe opposition leader dies aged 65 after fighting cancer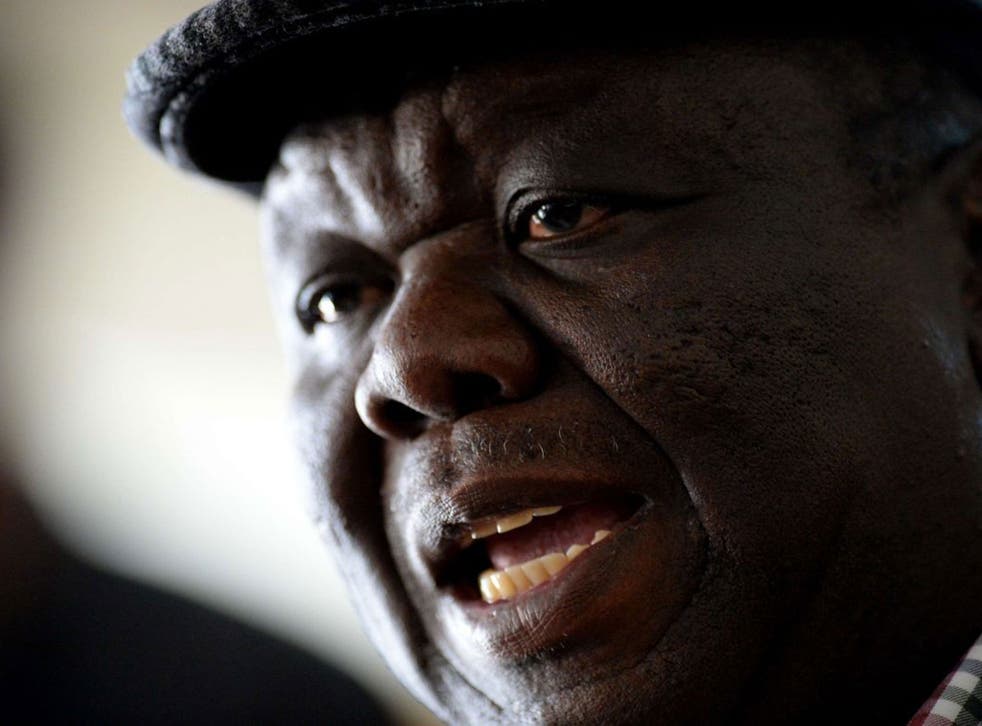 Zimbabwe opposition leader Morgan Tsvangirai has dies aged 65, the vice president of his Movement for Democratic Change (MDC) party has said.
Mr Tsvangirai, a former prime minister, had reportedly been suffering from colon cancer.
"He died this evening. The family communicated this to me," MDC vice president Elias Mudzuri said.
Arguably Zimbabwe's most popular politician, the mining union leader's career was ultimately defined by his tussles - bother literal and figurative - with 93-year-old former President Robert Mugabe, who resigned after a de facto coup in December.
Elections are due within the next six months and Mr Tsvangirai's illness and now death leaves his party in disarray, to the advantage of the ruling ZANU-PF party, now led by former Mugabe deputy Emmerson Mnangagwa.
Although Mr Tsvangirai suffered serious physical abuse at the hands of security forces, including serious head injuries in police custody in 2007, he went on to form an uneasy working relationship with Mr Mugabe in a 2009 to 2013 coalition government.
Standing as the peak of his career, the self-taught son of a brick-layer served as prime minister to Mr Mugabe's president in the unity governmen whicht cobbled together after a disputed and violent election in which scores of his supporters were killed.
World news in pictures

Show all 50
His presence helped stabilise an economy in freefall but Mr Mugabe reneged on pledges to overhaul the former British colony's partisan security forces and Mr Tsvangirai was shunted back into his familiar role as opposition gadfly.
A hefty electoral defeat in 2013, blamed in part on Mr Tsvangirai's involvement in a number of scandals, put paid to his dreams of one day leading the southern African nation and three years later he revealed he was being treated for colon cancer.
Despite their rivalry, Mr Mugabe harboured grudging respect for an opponent. During their time in power together, the two men developed an uneasy working relationship, squabbling frequently but also taking afternoon tea every Monday and even joking about their frequent head-butting.
"I've got my fair share of criticisms and also dealt back rights and lefts and upper cuts. But that's the game," Mr Mugabe said on the eve of the 2013 vote, mimicking the movements of a boxer.
"Although we boxed each other, it's not as hostile as before. It's all over now. We can shake hands."
In the coalition's early days, Mr Tsvangirai even said he found Mr Mugabe to be "very accommodative, very charming".
As a young man, Mr Tsvangirai worked in a rural mine to support his family - he had six children with his first wife, Susan - and cut his political teeth in the labour movement as a mine foreman.
In 1988, he became full-time secretary general of the Zimbabwe Congress of Trade Unions, which broke ranks under his leadership with Mr Mugabe's ZANU-PF party, a bold step less than a decade after independence.
Mr Tsvangirai led paralysing strikes against tax increases in 1997 and twice forced Mr Mugabe to withdraw announced hikes, a rare setback for the former guerrilla leader who enjoyed almost total political control of Zimbabwe.
Buoyed by his union successes, Mr Tsvangirai helped found the MDC in 1999 and quickly became Zimbabwe's most visible opposition figure, harnessing the frustrations of urban workers bearing the brunt of a struggling economy.
In February 2000, the MDC engineered Mr Mugabe's first poll defeat - the rejection in a national referendum of a draft constitution that would have entrenched his presidential powers.
That June, the MDC endured killings and police intimidation to stun ZANU-PF by winning 57 of the 120 seats in parliament after Mr Tsvangirai captivated the public with his combative and compelling pro-poor rhetoric.
As he would do on two other occasions, Mr Tsvangirai claimed to have been cheated by a mixture of cunning and violence meted out by Mr Mugabe, who ruled for 37 years until forced to step down after a de facto coup in November 2017.
In March 2008, he came closest to unseating Mr Mugabe. Still bearing the scars of his treatment by police - an outrage that bolstered his popularity - Mr Tsvangirai beat Mr Mugabe in a first round vote but was forced to pull out of a run-off in part due to a campaign of violence against his supporters.
His undoubted personal courage and political obduracy earned him plaudits in the West, with Australian Prime Minister Julia Gillard likening him in 2012 to pro-democracy figureheads such as South Africa's Nelson Mandela or Burma's Aung San Suu Kyi.
Those who knew him better described a headstrong man ill-equipped to take on a figure as entrenched and ruthless as Mr Mugabe.
"Tsvangirai is a flawed figure, not readily open to advice, indecisive and with questionable judgment," former US ambassador Christopher Dell said in a diplomatic cable published by Wikileaks in 2009.
"He is an indispensable element for opposition success... but possibly an albatross around their necks once in power."
Mr Dell's misgivings proved correct when, in 2013, voters failed to credit Mr Tsvangirai with Zimbabwe's economic turn-around under the coalition government and handed him his biggest electoral defeat.
Mr Tsvangirai, whose colourful love life had been laid bare in Zimbabwe's tabloids and the courts over the previous two years, dismissed the result as "monumental fraud".
After the defeat, the MDC split for the second time in less than a decade as loyalists led by former finance minister Tendai Biti laid the blame squarely at his door. As age and illness crept up, Mr Tsvangirai never had a chance to prove him wrong.
Reuters
Join our new commenting forum
Join thought-provoking conversations, follow other Independent readers and see their replies