Mozambique army retakes town attacked by Isis insurgents as city overwhelmed by people fleeing violence
Footage shows soldier covering body lying in street among burning buildings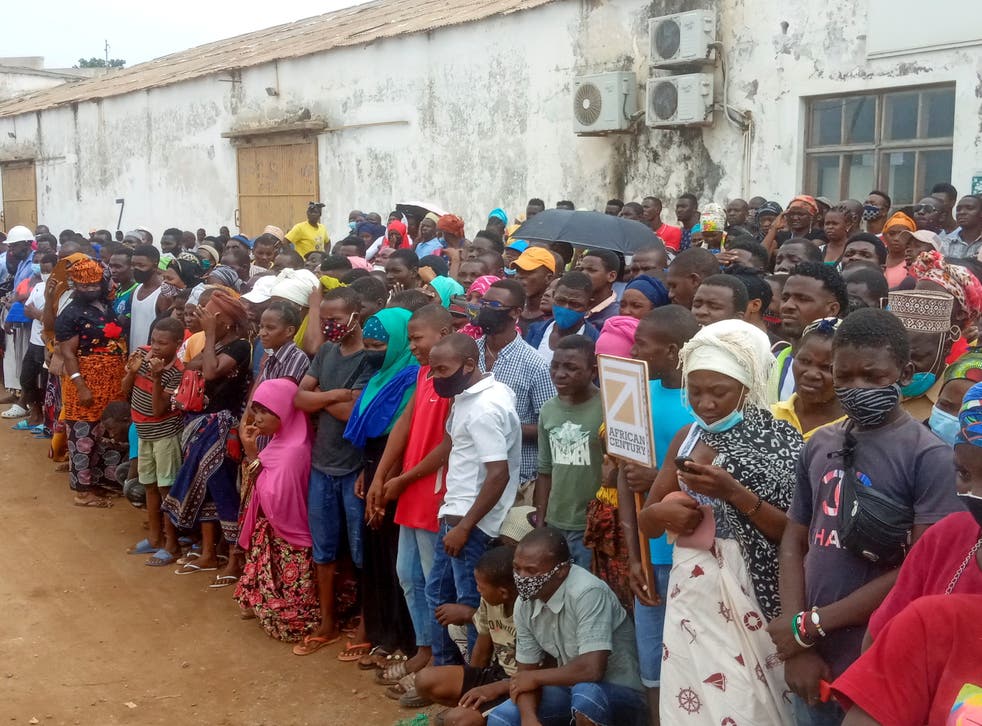 A town in northern Mozambique that was attacked by Isis-linked insurgents last month has been secured after the military killed a number of militants and secured a final area, the army has said.
Meanwhile, hundreds of people fleeing the hostilities in Palma have been pouring into Pemba, a port city around 250km to the south already bursting with those displaced by previous Islamist violence and a deadly cyclone in 2019.
"We have completed the clearing (of the town). It was the only sensitive area that we needed to clear. ... It is completely safe," army spokesman Chongo Vidigal said in comments broadcast by state TV channel TVM late on Sunday.
Armindo Ngunga, secretary of state for the Cabo Delgado province, told Reuters on Monday that the town of Palma was "under the control of the state".
"There was significant loss of human life, infrastructure destroyed. But people are safe now," Mr Ngunga added.
Read more:
Should the UK intervene in Mozambique? If it does, exit strategies will be difficult to find
On 24 March, insurgents attacked the coastal town of Palma, which sits near natural gas projects worth $60bn that are intended to transform Mozambique's economy. The government has said dozens died in the assault.
Footage taken by TVM showed a soldier covering a body lying in the street and burned buildings.
Isis-linked insurgents have been increasingly active in Cabo Delgado since 2017, although it is unclear whether they have a unified aim.
Aid groups believe the latest attack displaced tens of thousands of people, many of whom fled into dense forest or escaped by boat. But the extent of the death and displacement is not yet clear and many remain unaccounted for.
Survivors have recounted seeing the bodies of others who died of hunger or dehydration while trying to escape.
Join our new commenting forum
Join thought-provoking conversations, follow other Independent readers and see their replies