More than 100 hippos dead after suspected 'anthrax outbreak' in Namibia
Shocking images show dozens of the lifeless, upturned creatures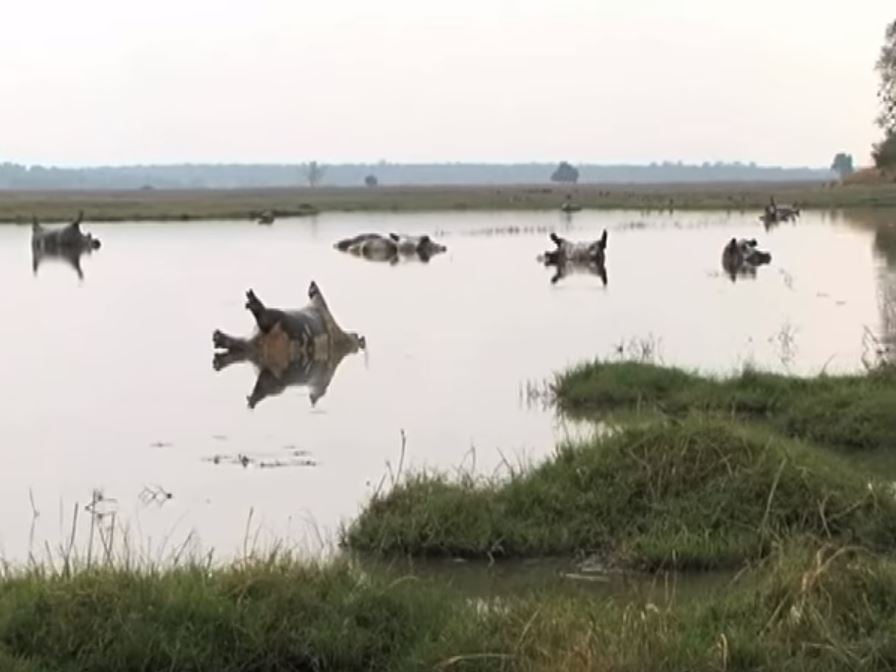 More than 100 hippos have died from a suspected anthrax outbreak in Namibia.
Shocking images show dozens of the lifeless creatures, many flat on their back, at the Bwabwata National Park in the north-east of the country.
Namibia's entire hippo population stood at around 1,300 before last weekend, so the outbreak is likely to have killed off 10 per cent the southern African nation's population.
Apollinaris Kannyinga, deputy director of parks in the country's north east region said that around 10 hippos were initially found dead over the weekend, but that number had increased tenfold in the following days.
"The other mortalities are dispersed over the river, and the crocodiles and vultures are feeding on them," he told The Namibian newspaper.
He added that there had been 109 recorded hippo deaths, but he said outbreaks of the disease are common and the population "usually recovers".
"We will just sensitise the community not to try and get the meat of these dead hippos for consumption," he said.
Pohamba Shifeta, Namibia's environment minister, said the death toll could be higher due to rangers missing carcasses already eaten by crocodiles.
"Our veterinary services are currently working at the area to determine the cause of death. Once we have the results of the cause of death than we can decide on the way forward," Mr Shifeta told the Agence France Presse (AFP) news agency.
Anthrax is an infection caused by the spores of a bacteria which can lie untouched in the soil for years. It needs rapid antibiotic treatment and can often be fatal for both animals and humans.
Mr Kanniyinga said the latest outbreak was caused by the low waters of the Kavango river.
Join our commenting forum
Join thought-provoking conversations, follow other Independent readers and see their replies