Nato accused of war crimes in Libya
New report criticises Western forces for bombing civilian targets in Sirte during conflict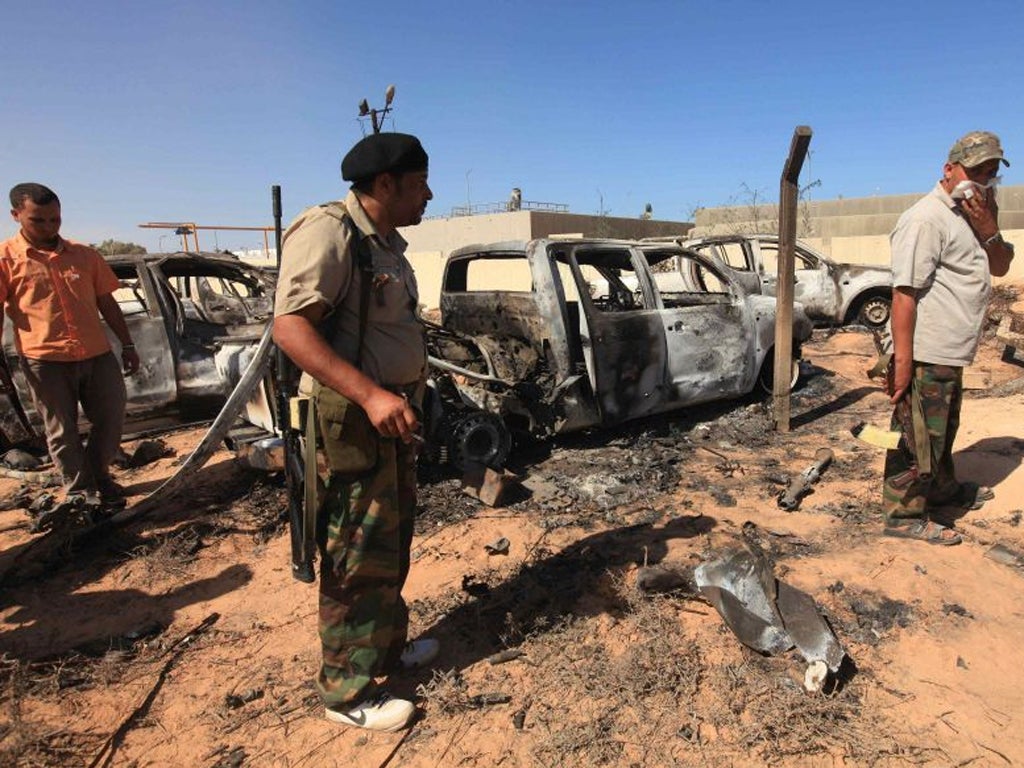 An independent report published by Middle Eastern human rights groups says there is evidence that war crimes and human rights violations were committed by all the participants – Nato, rebel forces and those loyal to Colonel Gaddafi – in last year's Libyan uprising.
The report, published today by the Arab Organisation for Human Rights together and the Palestinian Centre for Human Rights with the International Legal Assistance Consortium, follows extensive fact-finding work carried out by law and war crimes experts. While the document stresses that findings are not conclusive, it adds weight to growing concerns about violations committed by all sides in the conflict.
After interviews with eye-witnesses and victims of attacks, and after visiting areas targeted by Nato, the Independent Civil Society Mission to Libya report highlights the issue of Nato classifying some civilian sites as military targets during its operations.
Nato was authorised by the UN Security Council to protect civilians in Libya from attacks by the Gaddafi regime during the uprising of last year, but drew criticism for what many described as going further than the terms of the mandate.
Raji Sourani, the head of the Palestinian Centre for Human Rights who took part in the Libya mission, said: "We are not making judgements – that is not the mission mandate. But we have reason to think that there were some war crimes perpetrated.
"We are asking questions, especially about what happened in Sirte," referring to Nato strikes in that city last September, when 47 civilians were killed. Eye-witnesses in the city told report investigators that civilians converged at the site of Nato strikes on two trucks, and were subsequently killed by a third missile.
Whether or not this amounts to a war crime, the revelation, if proved, will serve as an embarrassment to the Alliance, which stressed its efforts to avoid civilian deaths. Separately, the International Criminal Court's chief prosecutor, Luis Moreno-Ocampo, said last November that Nato forces would be investigated along with the two Libyan sides of the conflict for breaches of the laws of war.
Late last year, Nato's Secretary-General, Anders Fogh Rasmussen, said: "We have carried out this operation very carefully, without confirmed civilian casualties."
A Nato official said yesterday that, despite the Alliance's best efforts – including the cancellation of two-thirds of intended strikes because of the risk of casualties – its "goal of zero civilian casualties is highly unlikely".
The official added: "Nato is working closely with the UN and with Libyan counterparts – they are the best place to have these concerns looked at and we have already started to provide information to help with that. If anyone else presents these concerns to us, we will do the same. We would like the opportunity to work with them and go through our data, to see if that can help allay concerns and determine what actually did happen."
Today's report observes that establishing what happened in Nato strikes in Libya was potentially hindered by the "apparent desire" among those interviewed on the ground "to protect Nato, or avoid any direct or indirect criticism".
The UN Secretary-General, Ban Ki-moon, last year rejected claims that Nato had exceeded its mandate in Libya: "Security Council resolution 1973, I believe, was strictly enforced within the limit, within the mandate," he said.
The investigation also set out to probe alleged violations committed by former opposition forces allied to the National Transitional Council. As well as evidence of killing, torturing, detention and ill-treatment of individuals who may have been loyal to the former regime, the mission examines the forced displacement of suspected "enemies of the revolution" – especially in Tawergha.
Reports described Tawergha, near Misrata, as a "ghost town" – 30,000 residents had been driven out of their homes in what looked like an act of revenge and collective punishment carried out by anti-Gaddafi fighters.
Addressing such violations, the report quotes a senior military commander in Tripoli, who says: "What I fear most now are the revolutionaries themselves." The group's plan to follow up today's report with similar investigations in Syria and Yemen.
Join our commenting forum
Join thought-provoking conversations, follow other Independent readers and see their replies