Neil Hamilton and the club that wants 'civilised rule' restored in South Africa
PICTURE EXCLUSIVE The year is 1998. The venue is a Springbok Club meeting. The flag is a symbol for white supremacists in South Africa. And the speaker is Ukip's deputy chairman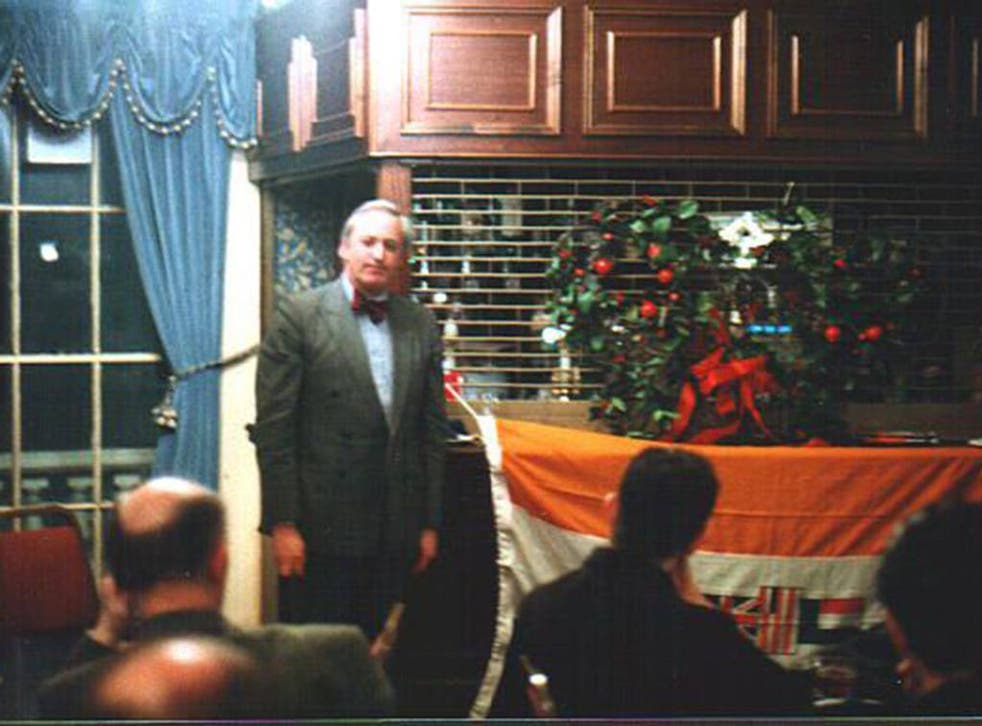 It is a photo that its subject might prefer to forget. Neil Hamilton, the Ukip deputy chairman and would-be election candidate, stands by a flag that ripples with racist symbolism.
Revealed here for the first time, the image shows the disgraced former Tory MP speaking, as guest of honour, to an expatriate club that calls for a return of "civilised rule" to South Africa.
Taken just four years after Nelson Mandela's election ended decades of brutal apartheid, the photo of the meeting of the Springbok Club - which flies the apartheid-era flag - emerges at a time when Mr Hamilton's past threatens to divide Ukip and thwart his attempts to return to parliament 17 years after the "cash-for-questions" scandal forced him out.
A report of the 1998 meeting written by the club's founder has been deleted from its website, but survives in a digital archive seen by The Independent.
Alan Harvey, who is still secretary of the club, is a former National Front member from Kent whose Facebook account said the day after Mandela's death last year: "That Mandela creature was an evil terrorist. May his soul rot in hell".
His report of the 1998 meeting reads: "Mr. Hamilton gave a riveting keynote speech in which he recalled his own fond memories of South Africa during the era of civilised rule. He also expressed great pleasure at seeing the true South African flag proudly on display… and expressed the hope that one day it would be seen flying in Cape Town and Pretoria once again."
Mr Hamilton admitted delivering a speech at the club's annual "day of the vow" meeting, but said he had no memory of what he said, or of Mr Harvey. "The quotation is his not mine," he told The Independent.
In the early 1970s, Mr Hamilton was active in the Federation of Conservative Students. The party's youth arm later became notorious for its "Hang Nelson Mandela" posters and was shut down by head office.
In 1990, while he was MP for Tatton, Mr Hamilton worked for a lobbying firm linked to a group of mining companies under the apartheid regime. Strategy Network International sought to lift sanctions on South Africa, and paid for trips for several Conservative MPs. His failure to register the consultancy emerged during the cash-for-questions enquiry that led to his defeat in the 1997 election (he claimed that, at three weeks, the work was too brief to declare).
The apartheid flag, first flown in 1928, combined colonial symbols including the Dutch and Union flags. Since its replacement in 1994, "white supremacists in South Africa and elsewhere… have adopted [it] as a symbol," the Anti-Defamation League claims. Peter Hain, the Labour MP and former anti-apartheid campaigner, said the flag "symbolises evil and horror, and the worst racial tyranny that the world has seen," adding: "I find it obscene that now, in the 20th anniversary year of South African democracy, a leading Ukip figure should ever have been part of seeking to reverse history and take South Africa back to its white-rule past."
Asked if the passage of 16 years since the meeting changed his view, Mr Hain, a former cabinet minister who grew up in South Africa, added: "It is even more objectionable. Now it would be seen as eccentric but then, only four years into South Africa's first democracy, it was grotesque."
The photo emerges after a difficult period for Mr Hamilton and Ukip. Leaked questions about the former MP's expenses compelled him to withdraw his bid to become a Ukip candidate in Essex last week. Kerry Smith, the man lined up to replace him, resigned on Sunday after being exposed using racist and homophobic language in a recorded phone call from two years ago. He blamed painkillers.
Mr Hamilton is now rumoured to be targeting a seat in Portsmouth. Nigel Farage has described him as a "hugely divisive figure" but last week Stuart Wheeler, the spreadbetting tycoon and Ukip's second-largest donor, reportedly threatened to withdraw his funding if Mr Hamilton could not be found a seat.
Mr Harvey, who emigrated to South Africa in 1976 and returned to Britain in 1990, the year of Mandela's release from prison, founded the The Springbok Club in 1996 as a merger of the White Rhino Club and the Rhodesian Forum.
He explained the club's purpose in an undated speech still recorded on its website: "Our policy can be summed up in one sentence: we want our countries back, and believe this can now only come about by the re-establishment of civilised European rule throughout the African continent."
In 2000, the British High Commission in Johannesburg said that "the spread of hate literature such as appears to exist on the Springbok Club website has no place [in a] racially tolerant society".
When shown the report of Mr Hamilton's speech, Mr Harvey, who also runs a genealogical research company, told The Independent: "I certainly can't remember Mr Hamilton saying anything controversial in any way, and indeed his subject matter was never really political."
He added: "The Springbok Club has furthermore moved on quite significantly from those days, developing into a far more socially-orientated home for expatriate Southern Africans, without any real political aspects in any way."
Denying that the club was racist, he defined "civilised rule" as a return to order. "Since the advent of ANC terrorist rule the country has descended from being an advanced first-world nation to being a disintegrating third-world basket-case," he said.
Mr Hamilton declined to answer questions about the apartheid flag, what he knew about the Springbok Club, or whether he regretted giving the speech. "I have no recollection of what I spoke about - I presume about my previous visits to S. Africa as an MP," he said. "I supported the policy of [the Government] - 'constructive engagement', encouraging realistic political change without replicating the mistakes which wrecked the economies of the kleptocracies to the north, especially that nice Mr Mugabe's Zimbabwe."
Mr Hamilton claimed to have "no idea who Mr Harvey is," but Mr Harvey wrote in a 2000 blogpost that the club had sent the former MP "a letter of support and solidarity following the unbelievable verdict in his libel action [against Mohamed al-Fayed] and we are happy to be able to report that we've received a very pleasant and encouraging reply from Christine and him".