Armed men kidnap 15 girls in southeastern Niger after 44 soldiers killed
Village mayor says some 50 unidentified armed men kidnapped the girls in a village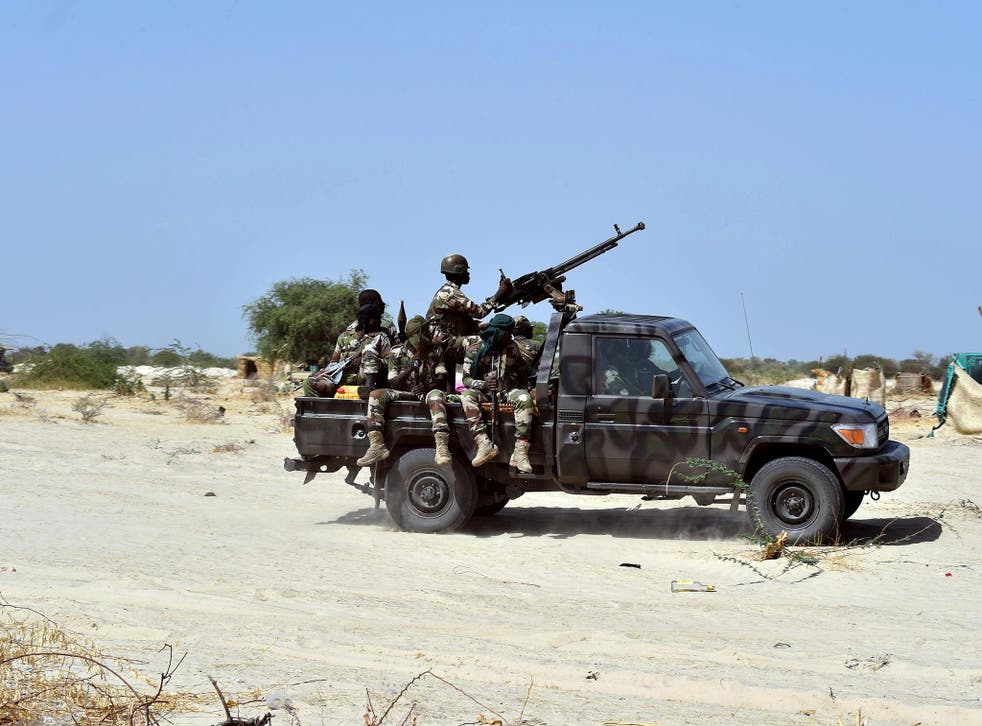 Armed men abducted 15 girls overnight from a village in southeastern Niger, the local mayor said on Saturday.
Boukar Mani Orthe, the mayor of Toumour in the Diffa region of Niger close to the border with Nigeria, said about 50 unidentified armed men kidnapped the girls in a village around six miles from the town centre.
Some reports suggest the kidnapping was carried out by suspected members of Nigerian Islamist group Boko Haram.
On Thursday, fighters suspected of belonging to Boko Haram killed eight people working at a water well site in Toumour operated by French drilling company Foraco.
World news in pictures

Show all 50
"At 2am local time, a group of terrorists attacked the small building where a Foraco team was sleeping and killed seven of them, plus one civil servant," the company said in a statement.
It said five other employees were wounded – with two left in a serious condition. The workers were drilling two deep water wells for the water ministry in southeastern Niger's Diffa region.
A security source said the assailants were believed to belong to Nigerian jihadist group Boko Haram, which is active near the border with Nigeria.
Since 2009, Boko Haram has been trying to establish an Islamic state in northeast Nigeria and has launched repeated attacks into the neighbouring countries of Niger, Chad and Cameroon. Thousands of civilians have died in the violence.
Nigeria's military on Saturday acknowledged a major attack against it by Islamic extremists in the northeastern town of Metele on 18 November.
Opposition lawmakers previously claimed 44 soldiers were killed as public pressure on president Muhammadu Buhari grows over his failed promise to beat Boko Haram.
The military statement did not confirm how many were killed in the attack, but dismissed media reports citing even higher tolls and said the situation was under control. Nigeria is often disinclined to expose the number of casualties after such attacks.
As Mr Buhari faces growing pressure over insecurity ahead of next year's presidential elections, an aide said the president had summoned military chiefs and sent the defence minister to neighbouring Chad for an "urgent meeting" with its president, Idriss Déby. A multinational force to combat Boko Haram is based in Chad.
Nigeria's leader was "worried by Boko Haram's renewed attacks on military bases", aide Bashir Ahmad tweeted.
The Islamic State West Africa Province, the largest Isis-linked extremist group in Africa and a recent offshoot of Boko Haram, claimed responsibility for the 18 November attack, according to the SITE Intelligence Group that monitors extremist messaging.
The group last month caused outrage by killing an abducted health worker despite an urgent plea from the International Committee of the Red Cross to spare her life.
Additional reporting by agencies
Register for free to continue reading
Registration is a free and easy way to support our truly independent journalism
By registering, you will also enjoy limited access to Premium articles, exclusive newsletters, commenting, and virtual events with our leading journalists
Already have an account? sign in
Register for free to continue reading
Registration is a free and easy way to support our truly independent journalism
By registering, you will also enjoy limited access to Premium articles, exclusive newsletters, commenting, and virtual events with our leading journalists
Already have an account? sign in
Join our new commenting forum
Join thought-provoking conversations, follow other Independent readers and see their replies