Dozens of Nigerian schoolgirls reunited with their families after three years in Boko Haram capitivity
The group were released as part of a prisoner exchange with terror group Boko Haram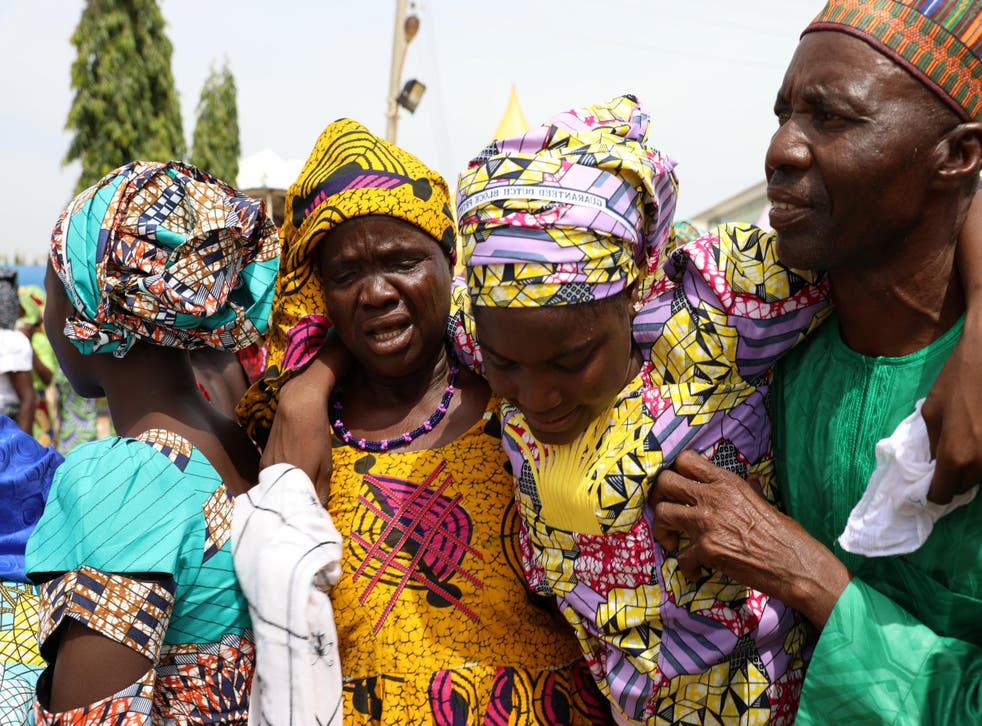 Dozens of Nigerian schoolgirls have been reunited with their families more than three years after they were kidnapped by Boko Haram extremists.
The 82 were among the 276 girls who were taken from their boarding school in in the northeastern town of Chibok in 2014 by the militant group, sparking an international campaign to ensure their safe return.
Many parents travelled through the night to meet their daughters in the Nigerian capital city, Abuja. The freed girls danced and sang with their families in the street in an emotional reunion ceremony.
"I am really happy today. It is Christmas and new year, I am very happy and I thank God," Godiya Joshua, whose daughter Esther was among those freed, told NPR.
The freed girls will remain in government care for the time being, while authorities conduct psychological and medical assessments.
It is unclear when the girls will be returned to the families for good as 21 Chibok girls who were freed in an earlier release have remained in government care since October last year.
Despite the jubilant celebrations, 113 are still being held by the terrorist group.
Five Boko Haram commanders were released in exchange for the girls and negotiations to free the rest of the group are ongoing.
While the Chibok girls' have received international attention, including support from former first lady Michelle Obama, hundreds of other children remain in Boko Haram captivity.
As many as five hundred children may be missing in Damasak, north east Nigeria, after a separate raid on a primary school, according to Human Rights Watch.
Beyond Chibok: Report shows alarming trends in countries affected by Boko Haram

Show all 16
Boko Haram has carried out a wave of suicide bombings, assassinations and abductions in Nigeria, and captured large swathes of territory in the north-east of the country since the beginning of the crisis in 2009.
However, the Nigerian military has recently recaptured much of this ground.
The group, which is affiliated with Isis, promotes a version of Islam which makes it "haram", or forbidden, for Muslims to take part in a number of activities which its leaders associate with Western society.
According to the United Nations, 2.1 million people have fled their homes as a result of the insurgency.
Register for free to continue reading
Registration is a free and easy way to support our truly independent journalism
By registering, you will also enjoy limited access to Premium articles, exclusive newsletters, commenting, and virtual events with our leading journalists
Already have an account? sign in
Register for free to continue reading
Registration is a free and easy way to support our truly independent journalism
By registering, you will also enjoy limited access to Premium articles, exclusive newsletters, commenting, and virtual events with our leading journalists
Already have an account? sign in
Join our new commenting forum
Join thought-provoking conversations, follow other Independent readers and see their replies