Nigeria kidnapped schoolgirls: Michelle Obama condemns abduction in Mother's Day presidential address
Michelle Obama replaces her husband in presidential weekly address demanding justice for missing Nigerian schoolgirls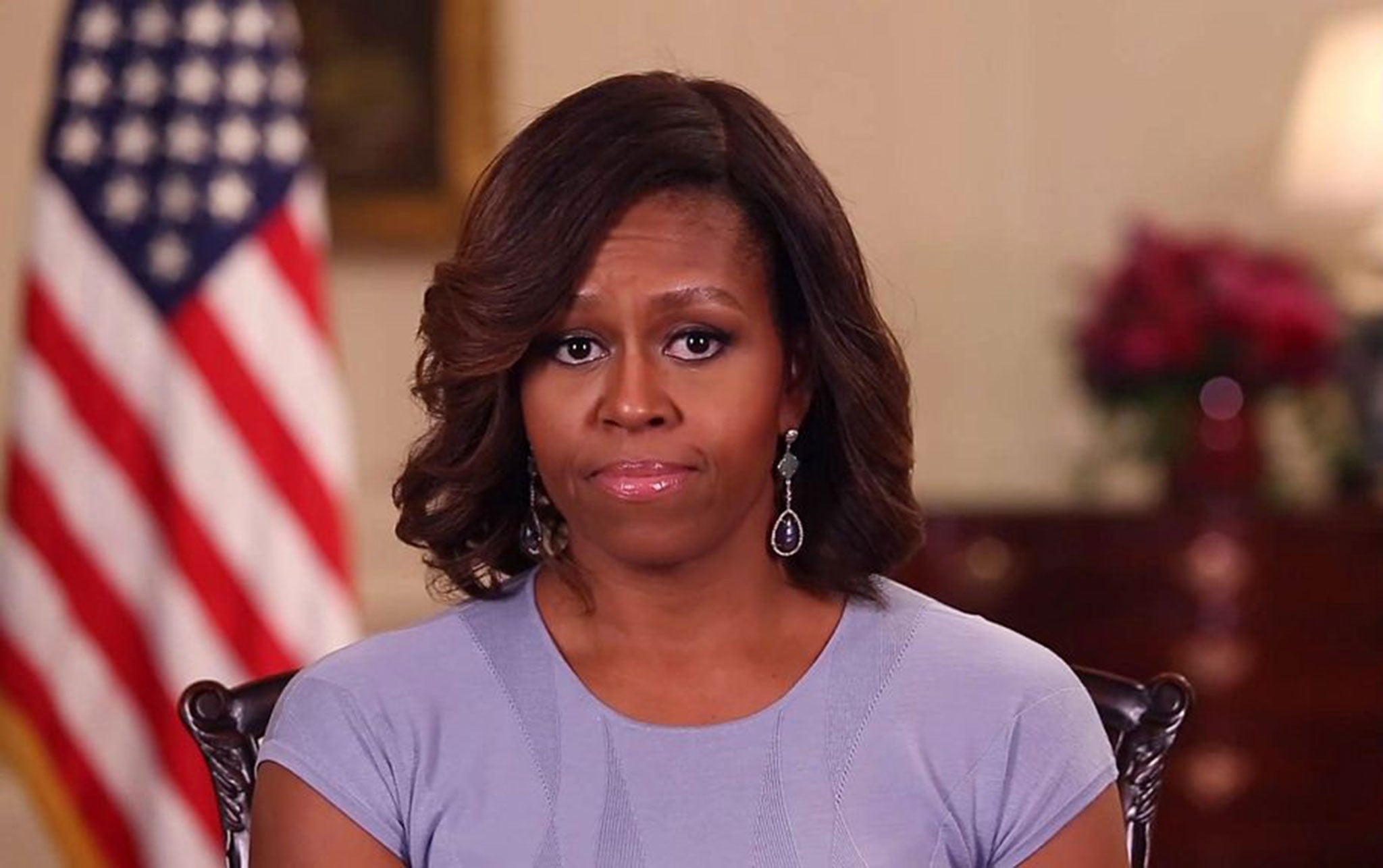 The American First Lady Michelle Obama has condemned the kidnapping of more than 200 schoolgirls in Nigeria as an "unconscionable act" led by a group of men "attempting to snuff out the aspirations of young girls".
Taking over the President's weekly radio address ahead of Mother's Day in the US, the First Lady said she and Mr Obama are "outraged and heartbroken" over the kidnapping of more than 250 Nigerian schoolgirls taken from their dormitories in the town of Chibok.
"In these girls, Barack and I see our own daughters," Mrs Obama said, referring to Malia, 15, and Sasha, 12. "We see their hopes, their dreams and we can only imagine the anguish their parents are feeling right now."
Mrs Obama praised the girls and their determination to continue their education, build careers of their own and make their families and community proud knowing full well their lives could be in danger.
"Their school had recently been closed due to terrorist threats, but these girls insisted on returning to take their exams," she said. "They were so determined to move to the next level of their education, so determined to one day build careers of their own."
Mrs Obama insisted the mass kidnapping in Nigeria is not an isolated incident, but "a story we see every day as girls around the world risk their lives to pursue their ambitions", citing the case of Malala Yousafzai, a Pakistani girl who survived a Taliban attack after being shot in the head as she traveled to school in 2012.
The First Lady also expressed hope that the incident in Nigeria will inspire boys and girls across the United States to continue their education and take their studies seriously, noting that 65 millions girls do not attend school even though educated women earn more money and have healthier lives.
"I hope that any young people in America who take school for granted, any young people who are slacking off or thinking of dropping out, I hope they will learn the story of these girls and recommit themselves to their education," she said.
Mrs Obama, an advocate for women's rights, ended her address asking the nation to pray for the Nigerian girls' safe return home, adding: "Let us hold their families in our hearts during this very difficult time, and let us show just a fraction of their courage in fighting to give every girl on this planet the education that is her birthright."
The Islamist militant group Boko Haram has claimed responsibility for kidnapping more than 250 girls from the secondary school in Chibok, northeastern Nigeria, on 14 April and has threatened to "sell them" into slavery.
Boko Haram, whose name loosely translates as "Western education is forbidden", aims to revive a medieval Islamic caliphate in Nigeria, whose population is split between Christians and Muslims.
The United States, Britain, China and France have offered to help in the search for the missing schoolgirls, which has sparked global outrage and international condemnation.
On Friday, the United Nations Security Council called for the "immediate and unconditional" release of the abducted schoolgirls and said it would take "the appropriate measures" against Boko Haram, hinting at potential sanctions against members of the group.
Join our commenting forum
Join thought-provoking conversations, follow other Independent readers and see their replies