Nightmare is over for gay Briton Bernard Randall put on trial in Uganda after images of him having sex were stolen by thieves and used against him in 'blackmail plot'
65-year-old, who faced up to two years in jail, will be deported back to UK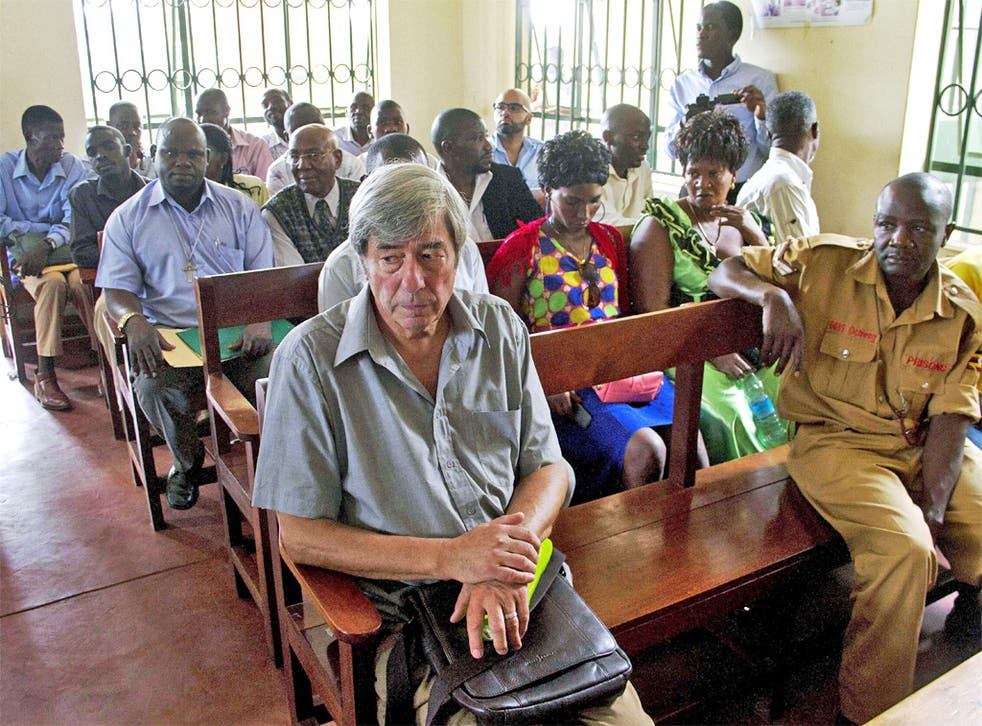 Bernard Randall, the gay British man who is being prosecuted in Uganda after images of him having sex were stolen and used against him in an alleged blackmail plot is to be deported back to Britain next week, The Independent can reveal.
Mr Randall, who was arrested last month after his laptop was stolen by thieves and pictures from it published in a newspaper, was told this week that he had been refused an extension to his visa - originally demanded of him so he could stand trial - and will be returned to the UK on 6 December.
The 65-year-old, from Faversham, Kent, told The Independent that he believed the visa issue was being used by the Ugandan authorities to avoid being seen as persecuting homosexuals and that while he wished for the criminal case against to be formally dropped he was also glad "to escape this nightmare".
The retired banking industry computer analyst, who lost his wife of nearly 40 years in 2011 and subsequently came out as homosexual, had been facing up to two years in jail after he was charged with trafficking obscene material following the theft of his computer from his holiday home in Entebbe in September.
His Ugandan partner, Albert Cheptoyek, 33, faces a more serious charge of up to seven years' imprisonment for "acts of gross indecency" under Ugandan law, which outlaws homosexuality. Both men have denied the charges.
But while Mr Cheptoyek's future remains uncertain, it now seems Mr Randall, whose friends and supporters within the gay rights movement have held protests in London, is to be allowed to return - with reluctance and anger - to Britain. His departure date will be the same as he had booked when he arrived in Uganda in September.
He told The Independent: "For the sake of my family and friends my wish is to be able to leave as originally planned on 6 December to spend Christmas with them. I want no bar on me returning at some time in the future but I see that now as a forlorn hope. I want to escape this nightmare.
"I want the robbers and blackmailers to be found guilty of their crimes and punished accordingly and I want us to be found not guilty of the false charges against us or for the charges to be struck down. But I see no sign of fair justice in this country."
He added: "I also see this as a move by the Ugandan authorities at the highest level to get me deported without it being seen as an anti-homosexuality related action."
To add insult to injury, Mr Randall has been told that now his visa extension has been refused he is liable to a fine of £18 per day for every day he remains in Uganda until his planned deportation.
It will be a grim end to an adventure born out of grief for the Briton, who first visited Uganda two years ago when a close friend booked a trip to help sort out a visa for his new wife and suggested the retiree accompany him.
Mr Randall's friend suggested a trip to Uganda would help with the bereavement process. With its lush countryside and gleaming Lake Victoria, it wasn't long before he had found a home away from home.
He said: "I was here for a fortnight and I liked the place. It's so green and you've got the lake and friendly people."
After spending April this year in the "Pearl of Africa" Randall returned to Britain and then came back to Uganda in September and it was his intention to spend three months here, have a white Christmas back in Britan and then return to Africa.
Now his tropical dreams lie in tatters after his computer, which contained a video of him having sex with another man in Morocco, thousands of miles away, was stolen.
Mr Randall said the charges against him had come about after four people stole computers and money from him and Cheptoyek, targeting them because they suspected they were gay.
In Uganda homosexual acts are illegal and punishable by incarceration in prison for up to 14 years. Nearly a year ago the country's Parliamentary speaker vowed to have the "kill the gays Bill", introduced in 2009 and seeking the death penalty for some offences, passed by the end of 2012 as a "Christmas gift". She failed and the Bill has been shelved, although it's still on the Parliamentary Order Paper.
Randall said the robbery occurred on 28 September, just over a week after he had arrived back in Uganda.
"The intention in the first instance was them to find something incriminating that they could blackmail me with," he said.
Having failed he claims the alleged thieves and their associates contacted Pastors Moses Solomon Male, who leads Uganda's "anti-homosexuality crusade" with one saying Randall wanted to sodomise him.
Randall said his charge related to the claim that he was
distributing CDs to recruit people into homosexuality.
"I really can't see how the pictures published or really anything in the videos would lure a young boy into being homosexual but that's why they're bringing the case, because I bought it in to distribute, in their eyes," he said.
He said Pastor Male was an "evil person" who was "whipping up hatred" against gays,
Speaking at his home on the weekend, Pastor Male alleged Randall had given the video to Wasswa Sentamu Jonadh, who he claimed wanted to travel abroad and get a better job. Randall, Pastor Male claimed, said he would help him however Wasswa and Eric Bugembe, who he said had been a driver for Randall, were charged with theft after they "refused sodomy".
Male said he was alerted about the matter by a concerned person. Wasswa had kept a second copy of the sex video, which Male admitted to passing onto Red Pepper who he'd worked with before on "complicated cases which need investigations".
He branded Randall a "persona non grata".
"We have Ugandan homosexuals who we cannot send to any other country, even as they abuse," Pastor Male said.
"If we have Randall who can be deported, he goes back to his country and continues enjoying sodomoy, then I think we'll be saving many young lives in this country."
However he stressed "we are against the practice called homosexuality, not individuals called homosexuals".
Bugembe and Wasswa appeared in court last Thursday charged with theft. They are due back on December 2.
Randall and Cheptoyek appeared in court last Monday, when their case was adjourned to December 4.
A married Ugandan mother of two young boys, who asked not to be identified, turned up to support the pair. She said she'd known Cheptoyek for a decade through buying clothes from him through his business.
"Everybody's (going) crazy about it but this is who they are," she said.
"I'm conflicted a little bit (about homosexuality) but I also understand that there are people who are born like this. With the amount of hate and how they're treated when somebody finds out that somebody's gay, why would you choose, how can you choose to live that kind of lifestyle?"
Randall said he appreciated the support from Ugandans and people in Britain including Stephen Fry and human rights campaigner Peter Tatchell.
"It's terrific isn't it?"
When asked how he was feeling Randall said "up and down".
"I haven't yet, since the problems started, gone out on my own and gotten a taxi from our place up to town, things like that," he said. "But I don't in actual fact think it would be a problem."
He said his two adult daughters in the UK were struggling to deal with the situation.
"The older one is more levelheaded about it but obviously very worried," said Randall. "The other one is much more emotional and she's having a difficult time with it."
Meanwhile Cheptoyek has been ostracized by some family and may apply for asylum abroad if the case is dropped.
"The worry (is) can he get a visa to go to the UK, would he want to stay in the UK forever, would he need to go and seek refugee status? He doesn't want to leave Uganda and I want to be able to come back."
Speaking himself Cheptoyek said "We don't know if we are going to be killed because we're already in the newspaper so everyone knows I'm gay and we're scared for our lives because in Uganda it's not allowed."
Longjones (alias - not real name), a Ugandan trying to start a travel business specializing in gay safaris, stood as surety for David Cecil, the British theatre producer deported from Uganda in January after staging a play ending with a gay character being killed. Cecil is in the process of appealing his case. This time Longjones stood as surety for Randall.
"What the police have failed to understand is that people blackmail homosexuals to extort money," he said.
Register for free to continue reading
Registration is a free and easy way to support our truly independent journalism
By registering, you will also enjoy limited access to Premium articles, exclusive newsletters, commenting, and virtual events with our leading journalists
Already have an account? sign in
Register for free to continue reading
Registration is a free and easy way to support our truly independent journalism
By registering, you will also enjoy limited access to Premium articles, exclusive newsletters, commenting, and virtual events with our leading journalists
Already have an account? sign in
Join our new commenting forum
Join thought-provoking conversations, follow other Independent readers and see their replies