Sudan agrees to send toppled leader Omar al-Bashir to ICC to face war crimes charges
Former president is wanted for war crimes, crimes against humanity and committing genocide in Sudan's war-torn region of Darfur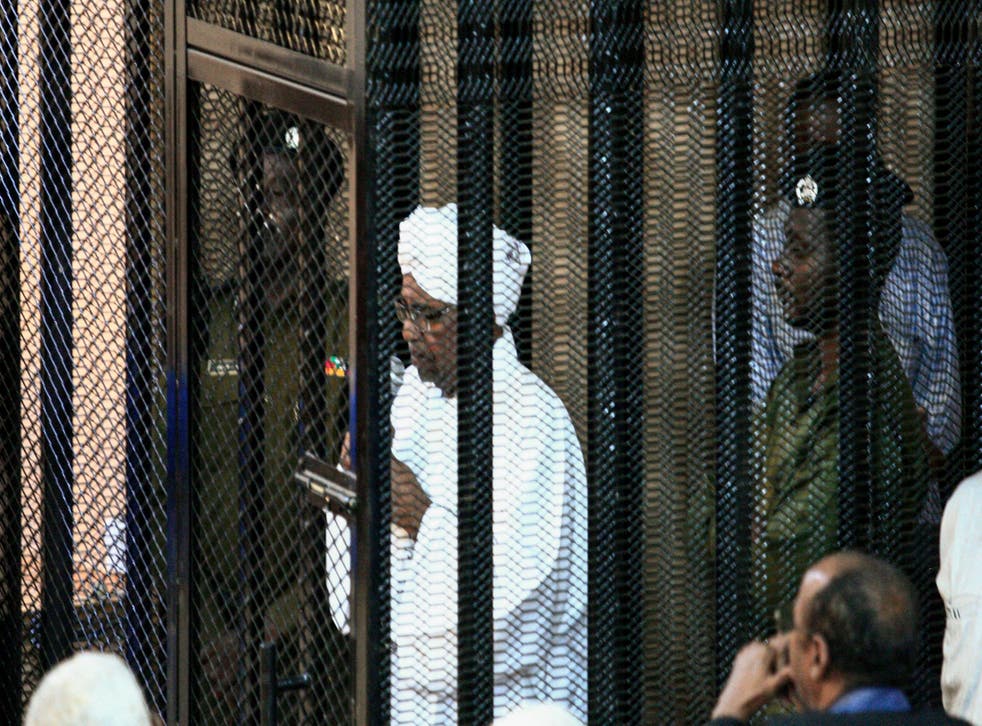 Members of Sudan's ruling council have announced they will hand ousted president Omar al-Bashir to the International Criminal Court in The Hague where he is wanted for war crimes and genocide.
The former leader was indicted by the ICC on charges of war crimes, crimes against humanity and committing genocide in Sudan's war-torn region of Darfur. Two arrest warrants were issued in 2009 and 2010.
He has repeatedly denied the allegations.
Bashir was forced from office in April last year by the military after nationwide protests against his 30-year rule.
He has stood trial in Sudan on corruption charges and was sentenced to two years in jail in December, a ruling many said was too lenient.
However, the country's joint military and civilian council were reluctant to send the leader to the Hague.
On Tuesday the government and rebel groups in Darfur agreed that those wanted by the ICC would be presented to the tribunal, according to the country's information minister Faisal Saleh and Mohammed Hassan al-Taishi, a member of the Sovereign Council and a government negotiator.
Neither mentioned Bashir by name. They did not say when the former president, or the others wanted by the ICC, would be transferred.
Mr Taishi also said that the two sides agreed to create a Darfur special court to investigate and hear cases including those investigated by the ICC.
A spokesman from the ICC declined to comment.
Bashir's lawyers said the former leader has refused to deal with the ICC dismissing it as a "political court". He has repeatedly insisted Sudan's judiciary is able to deal with any case.
The decision was made during peace talks held in the South Sudanese capital Juba.
Darfur, located on Sudan's most western edge, has witnessed horrific violence since a civil war erupted in 2003 when rebel groups took up arms against Bashir's government that they accused of oppressing Sudan's non-Arab population.
Bashir furnished loyal, mostly Arab tribes and militias with weapons, forming a sprawling proxy army called the Janjaweed. This began a campaign of ethnic cleansing of the predominantly African origin communities from which the rebels heralded.
Rights groups said that Bashir used these forces to launch ground, air and even chemical weapon attacks on civilians, prompting wave after wave of displacement.
No one knows exactly how many people have been killed since 2003, but estimates range from 300,000 to half a million dead. Nearly three million have been driven from their homes.
Inside war-ravaged Darfur where deadly violence is killing the revolution
The ICC issued arrest warrants against Bashir in 2009 and 2010.
The court has also indicted two other senior figures in his regime: Abdel-Rahim Muhammad Hussein, who was interior and defence minister during much of the conflict, and Ahmed Haroun, a senior security chief at the time who last month was named by Bashir to run the ruling National Congress Party.
Displaced residents of Darfur told The Independent they were "delighted to finally see justice" when the news broke on Tuesday.
"It is a key step towards a comprehensive peace agreement here and a way to start addressing the roots of the nation's problems," said Osman Adam, a community leader at Abu Shuk camp for the displaced in northern Darfur. He was forced to flee his home in Kab Kabiya a few years ago, when Bashir's forces raided his village.
"We IDPs are victims of horrific violence and so today we are happy. What the Sudanese government did in Juba at the negotiating table is a wonderful thing."
He added: "We also want to thank the international community for the pressure it has exerted over the years in trying to ensure those who have committed crimes against the Darfurian people are handed to the ICC."
Agencies contributed to this report
Register for free to continue reading
Registration is a free and easy way to support our truly independent journalism
By registering, you will also enjoy limited access to Premium articles, exclusive newsletters, commenting, and virtual events with our leading journalists
Already have an account? sign in
Register for free to continue reading
Registration is a free and easy way to support our truly independent journalism
By registering, you will also enjoy limited access to Premium articles, exclusive newsletters, commenting, and virtual events with our leading journalists
Already have an account? sign in
Join our new commenting forum
Join thought-provoking conversations, follow other Independent readers and see their replies