Oscar Pistorius trial: Crime scene photographs reveal extent of Reeva Steenkamp's brutal shooting
Murder trial resumes next week with athlete's defence set to launch their case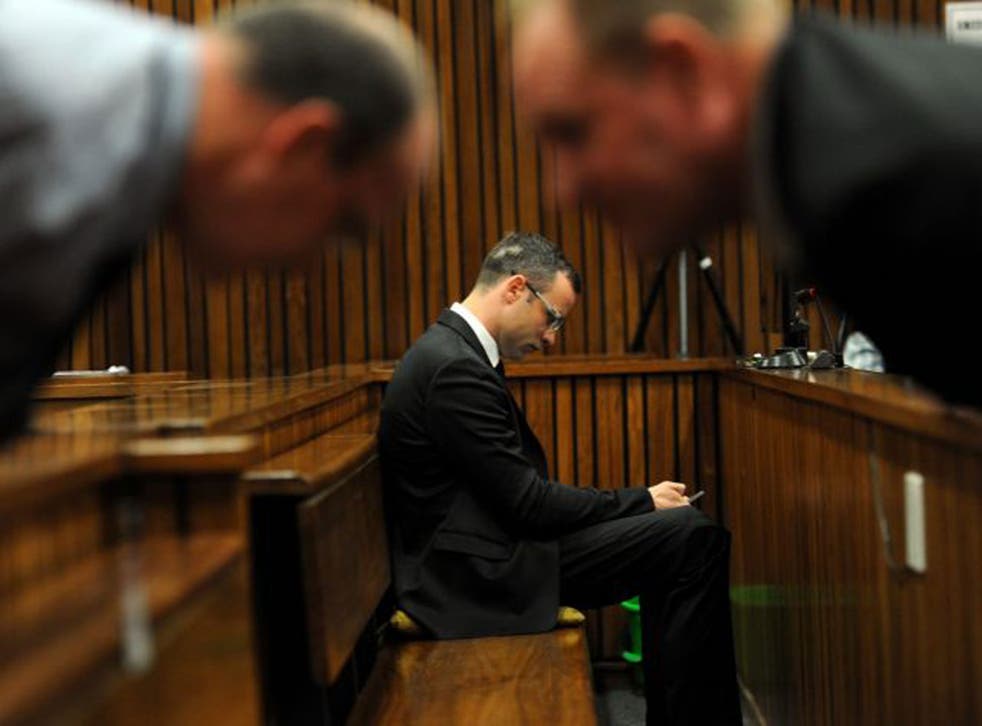 Photographs of Oscar Pistorius's blood-soaked bathroom have emerged showing the scene police encountered the night Reeva Steenkamp was shot dead on Valentine's Day last year.
The images show a pool of blood inside the toilet cubicle where the 29-year old model was shot, and Pistorius's 9mm gun lying on a bathroom mat with blood marks on it next to the cricket bat he used to smash down the door.
Ms Steenkmap was shot three times by 'Black Talon' bullets, designed to "mushroom on impact" with human flesh, causing extensive damage on her body.
The athlete claims he used the cricket bat to smash down the door after he realised Ms Steenkmap was inside.
Police ballistic expert Captain Christiaan Mangena told Pretoria's High Court the model and law graduate was standing in the toilet cubicle when she was hit in the right hip by the first of four bullets.
She then fell back and was struck in the right arm and the head as she tried to cross arms to protect herself from the bullets. She was facing the door when boyfriend Pistorius opened fire.
The double-amputee Olympian is expected to be called to the witness stand to give evidence as early as next Monday when his murder trial resumes in Pretoria.
Last week, Judge Thokozile Masipa postponed proceedings for more than a week due to the illness of one of the legal assistants who has been sitting at her side throughout the trial in Pretoria.
The defence for the athlete will now open on 7 April. The trial has already heard 15 days of prosecution-led testimony from neighbours, forensics, specialist ballistic and evidence taken from mobile phones.
Pistorius has pleaded not guilty to murdering Ms Steenkamp, claiming he shot the model by mistake thinking she was an intruder in his home. Prosecutors argue he intentionally shot and killed the 29-year old model following a domestic dispute.
In a rare comment, the Paralympian told reporters he is going through a "difficult time" and there is "a lot of stuff ahead of us" as his defence team prepares to launch their case next week.
So far, state prosecutors have painted a picture of a gun-loving, possessive and jealous boyfriend who often snapped at Ms Steenkamp and accused her of flirting with other men.
In a text message sent on 27 January, Ms Steenkamp wrote: "I'm scared of you sometimes and how you snap at me". The model said she felt "picked on" and "attacked" by the one person she deserved protection from - referring to the athlete.
There are no juries at trials in South Africa and Pistorius's fate will ultimately be decided by Judge Masipa, assisted by two assessors.
The case continues.
Register for free to continue reading
Registration is a free and easy way to support our truly independent journalism
By registering, you will also enjoy limited access to Premium articles, exclusive newsletters, commenting, and virtual events with our leading journalists
Already have an account? sign in