Oscar Pistorius trial: Court shown texts sent by Steenkamp and CCTV footage of couple kissing at store
Athlete sobs in court as loving text messages between the couple are shown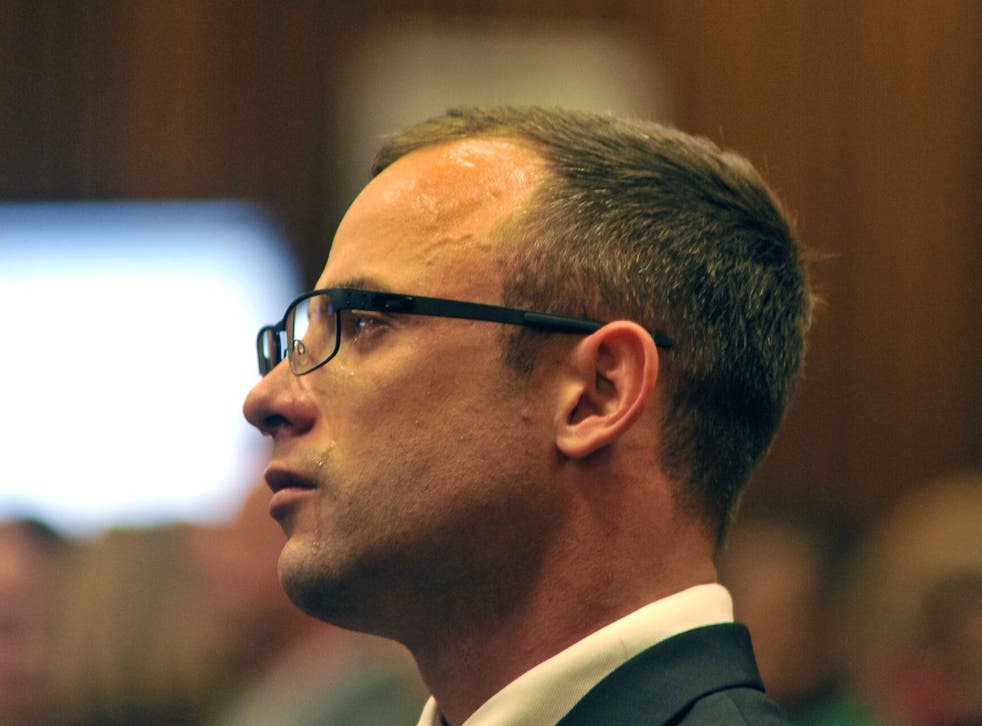 Footage of Oscar Pistorius kissing girlfriend Reeva Steenkamp was shown in court as the prosecution ended its murder case against the athlete.
Pistorius's defence sought to show the couple were in a loving relationship, noting they often exchanged compliments, messages of affection and said they missed each other.
In a conversation where the couple discussed their plans for Valentine's Day, Ms Steenkamp wrote: "Baby can I cook for you on Thursday?"
On 13 February, the athlete asked Ms Steenkamp to stay the night if "you want to".
Ms Steenkamp told him she planned on meeting a former boyfriend for coffee on 12 February. The Paralympian told her to "go see him" and meet him afterwards.
Pistorius often referred to the model as his "baby" and "angel". He told a friend she made "his heart happy" just two days before the shooting on Valentine's Day last year.
He was also concerned about her safety and would often text her to make sure she was OK.
Defence counsel Barry Roux showed Pretoria's High Court a photograph of the model wearing a hoodie and blowing a kiss to the athlete just a month before her death.
At the time, she wrote: "Do you like it?", to which he replied: "I love it."
Mr Roux was also granted permission to show CCTV footage of the couple kissing at a convenience store in Pretoria.
Chief prosecutor Gerrie Nel questioned the relevance of the footage and signalled the messages of affection were short, compared to their longer, emotional arguments.
Yesterday, text messages shown in court painted a picture of a jealous and possessive boyfriend who often "snapped" at Ms Steenkamp and accused her of flirting with other men.
In pictures: Oscar Pistorius trial

Show all 90
In a message sent on 27 January, Ms Steenkamp wrote: "I'm scared of you sometimes and how you snap at me."
The model said she felt "picked on" and "attacked" by the one person she deserved protection from- referring to the athlete.
Ms Steenkamp insisted she was trying "everything" to make him proud and happy, and avoid saying "things to rock the boat with you".
Pistorius sobbed in court as the messages were read out.
Police IT expert Captain Francois Moller accessed more than 1,000 exchanges between the couple on Whatsapp and other phone messaging applications. He said 90 per cent of them were loving.
He said he received as evidence two Blackberrys, two iPhones, two iPads and a Mac computer from Pistorius's house.
Pistorius has pleaded not guilty to murder, claiming he shot Ms Steenkamp three times through a locked toilet door in a case of mistaken identity, thinking she was an intruder.
There are no juries at trials in South Africa and the fate of the Blade Runner will ultimately be decided by judge Masipa, assisted by two assessors.
If Pistorius is found guilty, he could face life imprisonment.