Oscar Pistorius trial: Paralympic champion 'told security guard everything was fine' after shooting girlfriend Reeva Steenkamp'
Leaked court documents suggest Pistorius was 'most likely on his stumps' when he shot his girlfriend on Valentine's Day 2013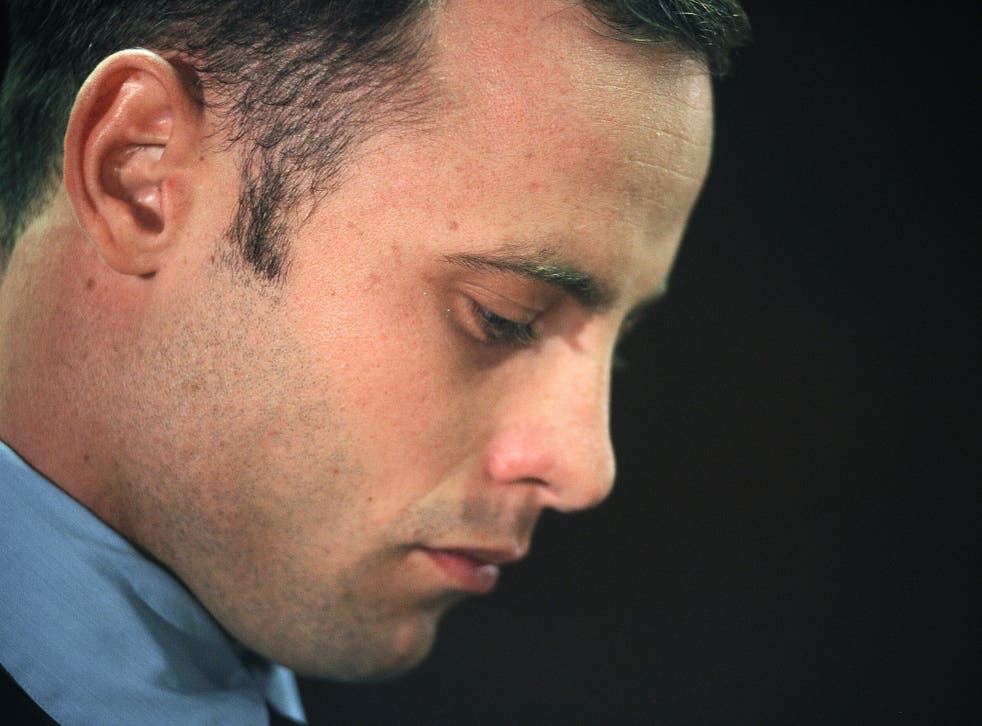 Court documents detailing the case against Oscar Pistorius have reportedly emerged ahead of next month's trial that could see the Paralympic athlete convicted of murder.
A legal document filed by prosecutors in South Africa claims Pistorius told concerned security outside his home that he was "fine" after the shooting last year.
Prosecution documents revealed the gold medallist was "most likely on his stumps" when he shot his girlfriend Reeva Steenkamp through a locked toilet door on Valentine's Day last year, South African television channel ENCA reported, citing court papers.
The prosecution's own ballistic experts now back the athlete's claims that he was not wearing his prosthetic legs and fired at the bathroom door from a greater distance than the 60cm initially reported by police.
The documents contradict earlier claims that Pistorius, 27, took the time to put on his prosthetic legs, suggesting that he did not panic about the prospect of an intruder breaking into his gated community villa. The athlete said he shot her in a case of mistaken identity.
Prosecutors said he intentionally shot and killed Steenkamp , 29, through the locked door of his bathroom following a domestic dispute. If convicted of premeditated murder, he could face life imprisonment with a minimum of 25 years before parole.
Oscar Pistorius: Career in pictures

Show all 34
Prosecutors insist they have a strong case against Pistorius; including a testimony from neighbours saying they heard someone screaming and a security guard who allegedly claims Pistorius said the situation was "fine" when asked if everything was OK, ENCA reported.
South Africa's National Prosecuting Authority said it did not leaked the documents.
NPA spokesperson Nathi Mncube tweeted: "The document currently being circulated by the media is not a public document… It is not a public document as it has not been signed by any NPA officials particularly the prosecution team… As such will not comment on the contents thereof."
Earlier this month, Pistorius broke his silence to reveal he is "consumed" with "pain and sadness" in a statement released to mark the first anniversary of Steenkamp's death.
He said: "No words can adequately capture my feelings about the devastating accident that has caused such heartache for everyone who truly loved - and continues to love Reeva.
"The pain and sadness – especially for Reeva's parents, family and friends consumes me with sorrow. The loss of Reeva and the complete trauma of that day, I will carry with me for the rest of my life."
Steenkamp's parents, June and Barry, said the family is looking for closure ahead of the trial and confirmed the model's mother will attend the trial in Pretoria next month.
In a statement, they said: "All we are looking for is closure and to know that our daughter did not suffer on that tragic Valentine's Day."
More than 100 witnesses are expected to appear in court; including Pistorius' sister, Aimee, former girlfriends Melissa Rom and Samantha Taylor, residents of gated community Silver Woods in Pretoria and a team of medical, ballistic and forensic experts. The trial is due to start on 3 March.
Read more:
Join our new commenting forum
Join thought-provoking conversations, follow other Independent readers and see their replies