Oscar Pistorius verdict: Athlete guilty of firing gun in restaurant but cleared of other firearm charges
He was found guilty of culpable homicide for killing Reeva Steenkamp
Lizzie Dearden
Friday 12 September 2014 10:16 Comments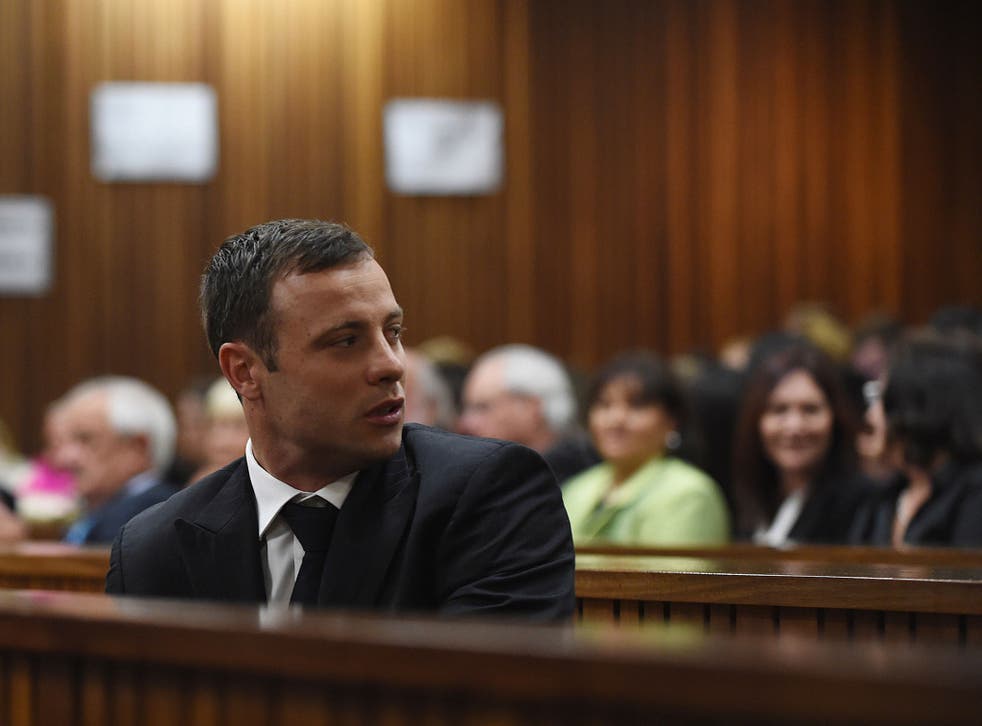 Oscar Pistorius has been found guilty of firing a gun in a restaurant in 2013 but acquitted of other firearm charges ahead of the final ruling on the death of Reeva Steenkamp.
The court in Pretoria heard the bullet flew through the restaurant at lunchtime, when more than 200 people were present, although no one was seriously injured.
Pistorius denied he was the one to pull the Glock's trigger but Judge Thokozile Masipa said it did not absolve him of guilt.
"The accused asked for a firearm while in a restaurant full of patrons," she added.
"He may not have intentionally pulled the trigger but that does not absolve him."
She added: "I view the state has proved beyond all reasonable doubt" that Pistorius contravened gun laws."
Pistorius was earlier cleared of another firearms charge.
The incident related to an allegation that the Olympian fired his weapon through a car sunroof in November 2012.
But the judge said prosecution witness Darren Fresco was "poor", and cleared Pistorius of the charge, which he had denied.
She added: "The state has failed to establish that the accused is guilty beyond reasonable doubt and he has to be acquitted."
Pistorius was cleared of murder yesterday over the shooting of his girlfriend Ms Steenkamp, who died at his home on Valentine's Day last year.
He still faces up to 15 years in prison after being found guilty of the lesser charge of culpable homicide, which is the South African equivalent of manslaughter.
The Times chose the provocative headline "Oscar dodges bullet" with a photograph of his dead girlfriend's father, Barry Steenkamp, staring at him in court.
"Oscar Pistorius is a liar - but not a cold-blooded murderer," their report began.
Oscar Pistorius trial: The verdict in pictures

Show all 33
The Pretoria News dubbed the ruling "Oscar's great escape" and featured a large picture on its front page of a stream of snot dripping from the emotional athlete's nose.
A lawyer told the newspaper: "Oscar Pistorius can count himself flippen lucky."
Similarly unflattering pictures were used in the Cape Argus, Cape Times, DFA and the New Age, which headlined its front page "Tears of relief".
A montage of pictures featured Pistorius' defence lawyer, looking satisfied, and a displeased Gerrie Nel, who is the lead prosecutor.
The Citizen made no secret of its disappointment with the headline "Crying shame", following Thursday's front page simply saying: "Jail him!"
Register for free to continue reading
Registration is a free and easy way to support our truly independent journalism
By registering, you will also enjoy limited access to Premium articles, exclusive newsletters, commenting, and virtual events with our leading journalists
Already have an account? sign in
Join our new commenting forum
Join thought-provoking conversations, follow other Independent readers and see their replies