Pessimism grips Congo with elections in disarray
Historic poll in war-ravaged DRC may be delayed as ballot papers go undelivered
Daniel Howden
Saturday 26 November 2011 01:00 Comments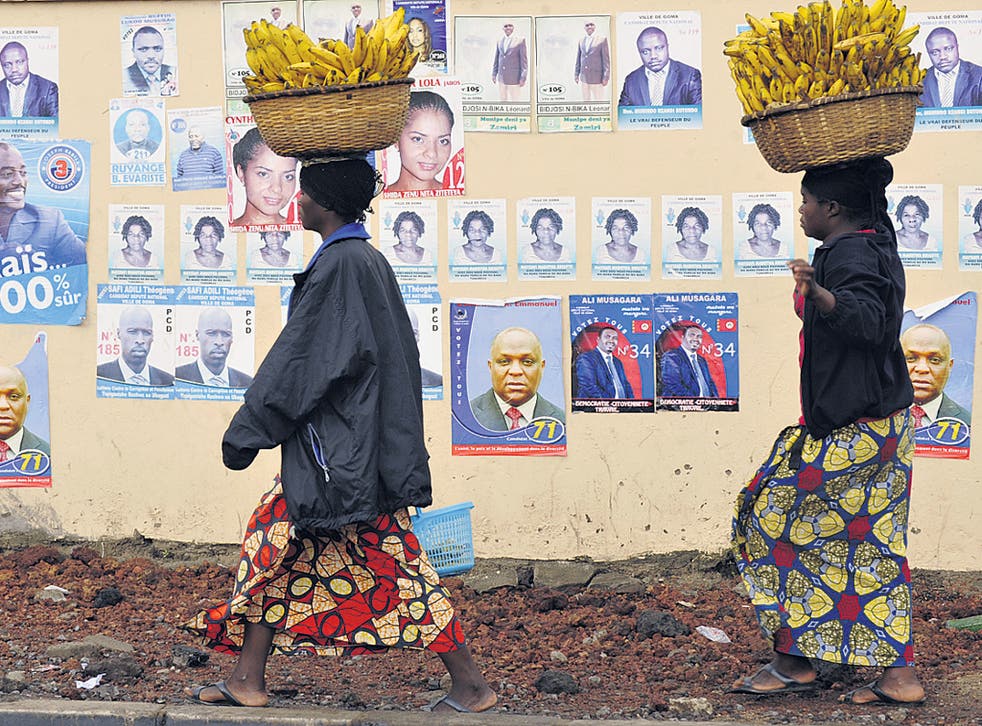 Campaigning in the Democratic Republic of Congo lurches to a riotous and uncertain finish this weekend, with authorities warning that rain could still delay a historic vote in sub-Saharan Africa's biggest country.
Should it go ahead, Monday's vote will pit the young incumbent Joseph Kabila – whose father toppled dictator Mobutu Sese Seko – against elder statesman Etienne Tshisekedi, hailed as the "father of Congolese democracy" and standing for president for the first time.
The prize is control of a war-ravaged swathe of central Africa, home to $24 trillion (£16 trillion) of mineral reserves and a population that lives mostly in abject poverty. Preparations for the $700m election are, by common consent, in disarray with ballots still undelivered to many of the 60,000 polling stations. In what was seen as a prelude to a possible voting delay, the electoral commission cancelled a press conference yesterday blaming the weather.
Some international observers have still not deployed to the interior, with many believing a last-gasp delay will be announced which will be blamed on heavy rains. The international community has spent billions of pounds trying to stabilise the country – providing half the national budget – and the opposition has demanded that elections be held on time. The frenetic contest has seen candidates spend so freely that the Congolese franc has devalued by 10 per cent against the dollar in the past week, while accusations of hate-speech and vote rigging have been rife.
Mr Kabila, enriched by recent mines deals, has been by far the biggest spender. Fleets of mobile cranes jammed the main avenue of the capital, Kinshasa, yesterday in a kind of construction parade as he sought to underline that the country was being rebuilt under his watch. The orange trucks – part of a vast and opaque £4bn barter deal with China involving minerals for infrastructure – were draped in pro-Kabila banners and a brass band wailed from the back of one of them.
In Place Onatra, where people gather to read photocopies of newspapers they can't afford, the headlines were angrily partisan: "Tshisekedi will crucify Kabila" predicted the Alerte Plus.
"Kabila has been completely negative for this country," said civil servant Gabriel Etsou, who said he has not been paid for four months, despite working for the national budget office. "The state doesn't operate, there are no jobs, people are murdered and women are raped in the east."
The former Belgian colony was left shattered by two wars that spilled over the border from Rwanda and ripped open Congo's complex wounds, costing five million lives prior to a 2003 peace deal. An unofficial war continues in eastern Congo, where more than a dozen militias compete for territory and mining riches. The brutality of that conflict has been underlined by the continuing presence of rebel commander, Ntabo Ntaberi Sheka, on the ballot.
Known as "Mai Mai Sheka" and accused of leading the rape of nearly 400 people last year, he handed himself in to the army on Thursday.
Rather than arrest him they have offered him protection as an election candidate.
The high stakes were underlined this week when one opposition candidate, Marius Gangale, was shot dead in front of his wife while stuck in one of Kinshasa's epic traffic jams. But the tension hasn't stopped 400 political parties and 18,300 parliamentary candidates from running, while there are 11 men in the race for the presidency.
Among the would-be MPs is 40-year-old Darius Mufwansoni, who has left his job as a transport official to run as an independent in the poor Mont-Amba district of Kinshasa, where 1,534 candidates are competing for 11 seats. "Only a small group is enjoying the benefits of power," he said. "They want to stay in power so they're giving out money at bars, in churches, everywhere."
While most diplomats expect Mr Kabila to win after he scrapped the run-off and removed the need to win a majority, the DRC is stepping into the unknown. There has been no credible opinion polling and the crowded ballots have added to the uncertainty.
A heart attack suffered by opposition leader Leon Kengo wa Dondo this week may force him to withdraw and unite much of the opposition around Mr Tshisekedi. And from his cell at The Hague, where he is on trial for alleged war crimes, Jean Pierre Bemba, the man Mr Kabila beat last time, called on his supporters to vote out his rival.
Register for free to continue reading
Registration is a free and easy way to support our truly independent journalism
By registering, you will also enjoy limited access to Premium articles, exclusive newsletters, commenting, and virtual events with our leading journalists
Already have an account? sign in
Join our new commenting forum
Join thought-provoking conversations, follow other Independent readers and see their replies