3,000-year-old statue of Egyptian Pharaoh Ramses II raised from muddy ditch in Cairo
The parts will be pieced together and restored at the Egyptian museum
Monday 13 March 2017 17:40 Comments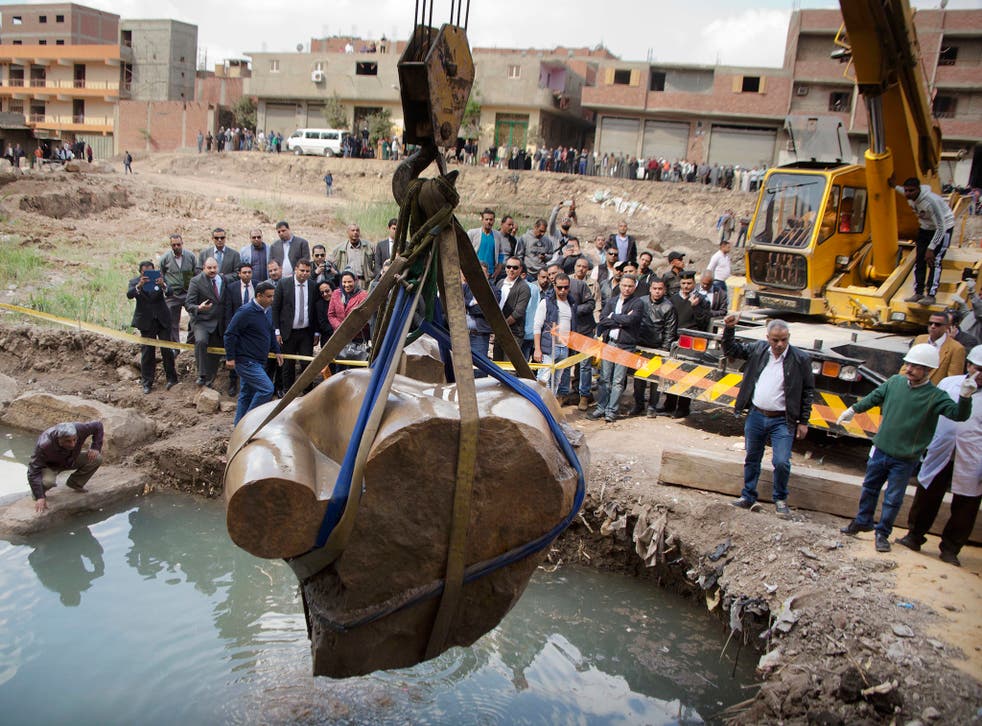 The three-ton torso of a massive statue that may be of one of Egypt's most famous pharaohs was lifted from mud and groundwater where it was recently discovered in a Cairo suburb.
Thought to represent Ramses the Great, it was pulled up by a crane as dozens of workers supported it. It was then covered with a white fabric.
The first part of the colossus — a large portion of the head — was pulled up last week.
The country's Ministry of Antiquities said the statue's parts would be pieced together and restored at the Egyptian museum in central Cairo.
It will then be moved to the yet-to-open Grand Egyptian Museum near the Giza Pyramids.
Ramses II took the throne in his early 20s and ruled Egypt for 60 years more than 3,000 years ago. He is credited with expanding ancient Egypt's reach as far as modern Syria to the east and modern Sudan to the south.
World news in pictures

Show all 50
The expansion earned him the title "Ramses the Great."
The statue was discovered last week by a German-Egyptian archaeological team in the working-class Cairo district of Matariya.
The sun temple in Heliopolis was founded by Ramses II, lending weight to the likelihood the statue is of him, archaeologists say.
It was one of the largest temples in Egypt, almost double the size of Luxor's Karnak, but was destroyed in Greco-Roman times. Many of its obelisks were moved to Alexandria or to Europe and stones from the site were looted and used for building as Cairo developed.
Antiquities Minister Khaled al-Anani said he had been called last week "to announce the big discovery of a colossus of a king, most probably Ramses II, made out of quartzite."
The joint expedition also found the upper part of a life-sized limestone statue of Pharaoh Seti II, Ramses II's grandson, that is 80 centimetres long.
Register for free to continue reading
Registration is a free and easy way to support our truly independent journalism
By registering, you will also enjoy limited access to Premium articles, exclusive newsletters, commenting, and virtual events with our leading journalists
Already have an account? sign in
Join our new commenting forum
Join thought-provoking conversations, follow other Independent readers and see their replies