Plumpy'Nut: The lifesaver that costs... well, peanuts
A nut paste used as a home-grown weapon in Africa's struggle against acute child malnutrition goes global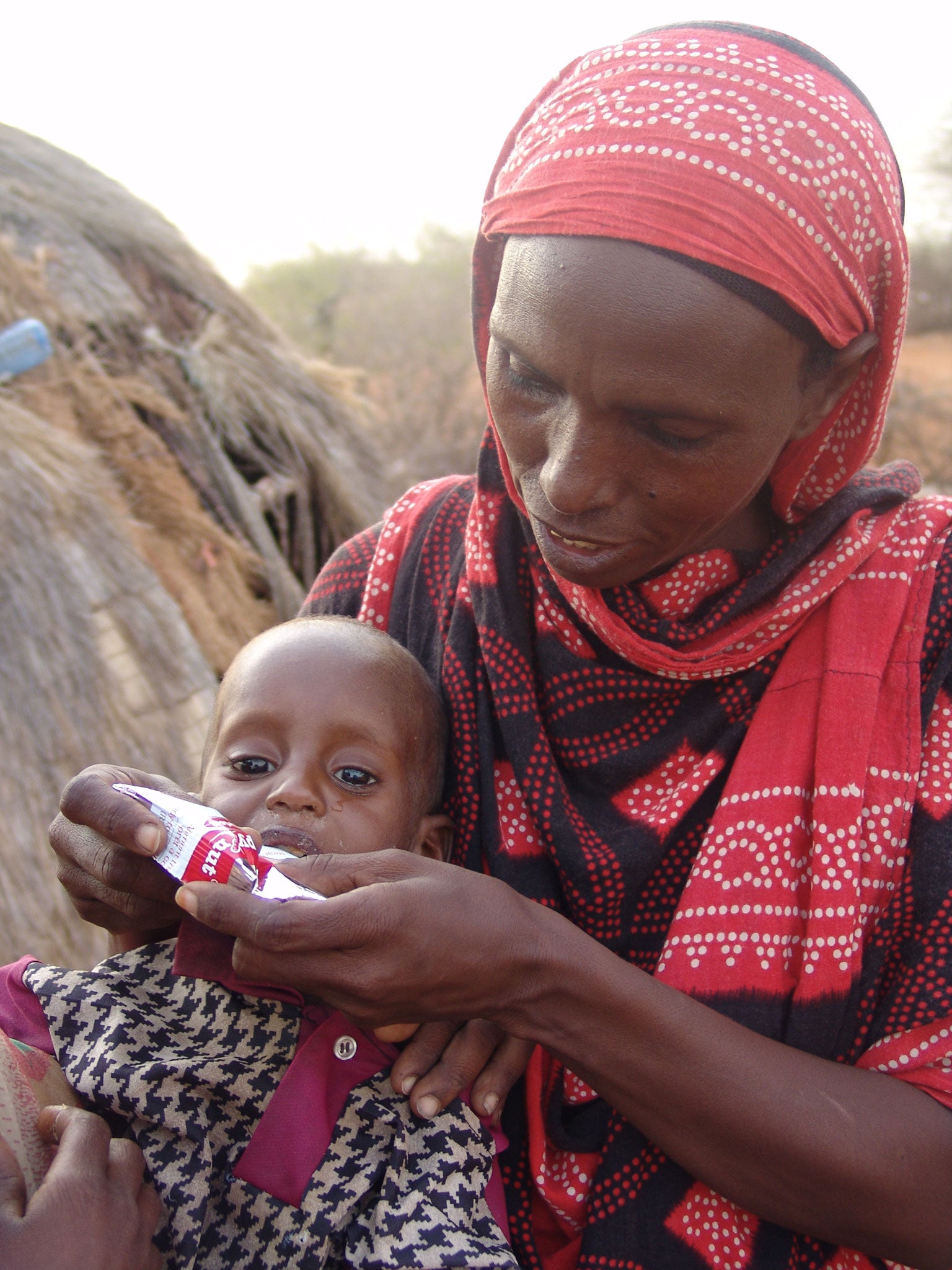 It was dubbed the wonder product that "may just be the most important advance ever" when it comes to battling acute child hunger. Now the life-saving peanut paste, first trialled during a famine in Niger eight years ago, is reaching two million of the world's most severely malnourished children a year.
The beauty of Plumpy'Nut, which was once said to be as important as the discovery of penicillin, is in its simplicity. The high-energy peanut-based paste, invented by a crusading French paediatrician, includes skimmed milk powder, sugar, vegetable fat and vitamins and minerals. It does not need clean water to swallow; it does not need to be cooked or refrigerated, and it stays fresh after opening. It can also be given to any child in the most advanced stage of malnutrition, anywhere, by anyone.
Experts say the paste has "radically" changed the care of severely malnourished children in developing countries. Importantly, it has allowed them to be treated in their homes, rather than in hospitals, and it has "drastically" reduced their mortality rates. Now, with increased supply in the developing world, experts suggest that Plumpy'Nut, alongside generic versions of the product, could become Africa's "home-grown" cure for severe acute malnutrition. It could even, they add, be used to prevent it. This is no small feat: malnutrition is a major killer of children under five, accounting for around one million deaths annually, but affecting an estimated 20 million children worldwide.
Unicef, the world's biggest buyer of high-energy peanut paste, bought enough last year to feed two million children, a 15-fold increase over the past eight years, and the highest amount on record. Nearly half of that came from African suppliers.
For Jan Komrska, a contracts specialist at Unicef's nutrition unit, reaching the two-million-children-a-year mark was a "milestone". He added that the actual figure is likely to be even higher, as Unicef and other NGOs account only for 80 per cent of total sales. "It's the highest number of children we have ever reached and we want to keep it at that level," he told the IoS. He added that Unicef had been working to "motivate manufacturers to open sites in Africa", so that the product can be produced in the countries where it is used.
There was just one supplier producing the paste in 2005; now, there are 19 Unicef-approved producers in countries with some of the highest rates of malnutrition in the world – including Sudan, Haiti, Burkina Faso, Ethiopia, India and Niger. Six of the factories in Africa are franchises of the French company Nutriset, producing Plumpy'Nut, while five produce generic versions. Three were approved in 2012 alone.
Things have changed radically since 2005, when the Plumpy'Nut paste was marketed by Nutriset. It was first given to around 60,000 children with severe acute malnutrition during the famine in Niger. Ninety per cent recovered completely. Within two years, the World Health Organisation gave the product its seal of approval.
During the famine in the Horn of Africa two years ago, around 240,000 children were fed Plumpy'Nut. Now, the product is patented in 38 countries across the world. And despite patent battles – two American NGOs unsuccessfully fought for the right to overturn the company's patent in 2010, arguing that it hindered them from making a similar and cheaper paste – the supply is increasing.
Nutriset set up a franchise and now works with producers in 11 countries in Africa, Asia and America. Just over 40 per cent of its product now comes from abroad. And while the company argues that its patent supports local production and "protect[s] them from major competitors", generic pastes have also been made in countries such as India and South Africa.
Ismael Barmou, 32, is the deputy executive director of the only Plumpy'Nut factory in Niger, which opened three years ago. It is estimated that this year, the factory, which employs more than 90 people, will produce enough paste to treat 300,000 cases of severe acute malnutrition. Mr Barmou said that having a locally made product is essential to combating malnutrition.
"If you import peanut paste to Niger, it takes about three months to reach us. We look at the projections of what is needed for children, and we work to that," he said. "This peanut paste is incredible. It can turn the balance from a negative curve to the kid being back almost to normal; that is amazing."
For Meera Shekar, the World Bank's lead health specialist for Africa, the paste could very well be a "home-grown solution" to severe acute malnutrition, so long as local ownership and production increases and the advantages of economies of scale are seized. It currently costs around $50 (£30) to treat a child for up to two months. If the price is lowered, Ms Shekar believes it could be used as a "preventative" as well as a cure.
Join our commenting forum
Join thought-provoking conversations, follow other Independent readers and see their replies