Pope Francis to visit mosque in Bangui at end of African tour
In the Central African Republic, the pontiff will meet mutually suspicious Muslim and Christian communities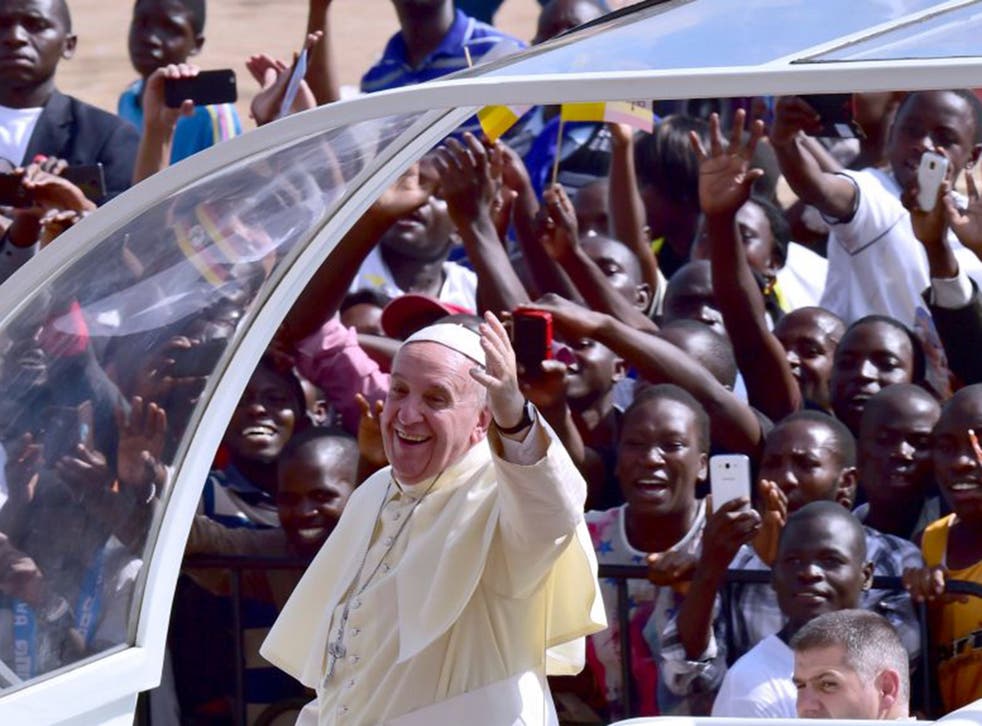 Pope Francis embarks on his most dangerous trip yet when he arrives today in Central African Republic (CAR), a former French colony riven by ethnic and religious conflict. The visit will be the last leg of the pope's first African tour, which has also included Kenya and Uganda, and will be the first by a pope to a war zone.
Pope Francis said Mass for a crowd of 100,000 on a hill in Namugongo, 10 miles outside the Ugandan capital, Kampala. He paid tribute to 19th-century Christian martyrs, who historians say were targeted after protecting young boys in the royal court from abuse by the king.
Gay activists had been hoping the Pope would speak out against homophobia in the country of 14.1 million Catholics, where homosexuality is punishable by life in prison.
Security permitting, the pontiff will visit the mosque in PK5, a besieged Muslim enclave in Bangui that is emerging as a faultline of the conflict in the CAR capital amid mounting evidence of atrocities around the country, including "witch" lynchings, burning of villages, rape and killings.
Scores of people have died in the latest round of tit-for-tat violence that started in September, aid agencies say. In more than two years, the conflict has left thousands of civilians dead, and nearly half a million uprooted from their homes.
Fighting began when the Seleka, a mainly Muslim rebel group, staged a coup in 2013, installing a Muslim president and terrorising Christians. Christian forces, known as the anti-balaka, launched reprisals.
The conflict has effectively torn the country in two. The minority Muslim population is increasingly confined to enclaves such as PK5, where 130,000 Muslims once lived, but only 15,000 remain. Christian militias have set up barricades in an attempt to stop supplies from going in, and Muslims from coming out.
"Nobody can leave PK5 … without being stoned, kidnapped or killed by armed groups," Aziza, a young Muslim, told Agence France Presse. Both sides have committed atrocities which the 12,000 UN peacekeepers have been too thinly spread to prevent. A chilling reminder of this came in a leaked UN report last week documenting the burning of "witches" by Christian militias earlier this year, allowing rebels to raise funds by extorting bribes from victims in exchange for their lives.
In pictures: Pope Francis' first public appearance in Vatican

Show all 12
In this tense atmosphere, the Pope, who will also visit evangelical Christians and a camp for displaced people, expressed the hope that his presence would contribute "to dressing the wounds and opening the way to a more serene future for Central African Republic and all its inhabitants". Analysts warn, though, that there is no international strategy for what happens after elections in late December. "The disintegration [of the state] started a long time ago," said Thierry Vercoulon of International Crisis Group, "but it has now reached the end of the road."
Register for free to continue reading
Registration is a free and easy way to support our truly independent journalism
By registering, you will also enjoy limited access to Premium articles, exclusive newsletters, commenting, and virtual events with our leading journalists
Already have an account? sign in
Register for free to continue reading
Registration is a free and easy way to support our truly independent journalism
By registering, you will also enjoy limited access to Premium articles, exclusive newsletters, commenting, and virtual events with our leading journalists
Already have an account? sign in
Join our new commenting forum
Join thought-provoking conversations, follow other Independent readers and see their replies