President Xi Jinping in Africa: Robert Mugabe rolls out red carpet for Chinese premier in hope of securing further funds for Zimbabwe
Investment by Beijing has been crucial in underpinning Zimbabwe's fragile economy in recent years
Alistair Dawber
Tuesday 01 December 2015 20:16 Comments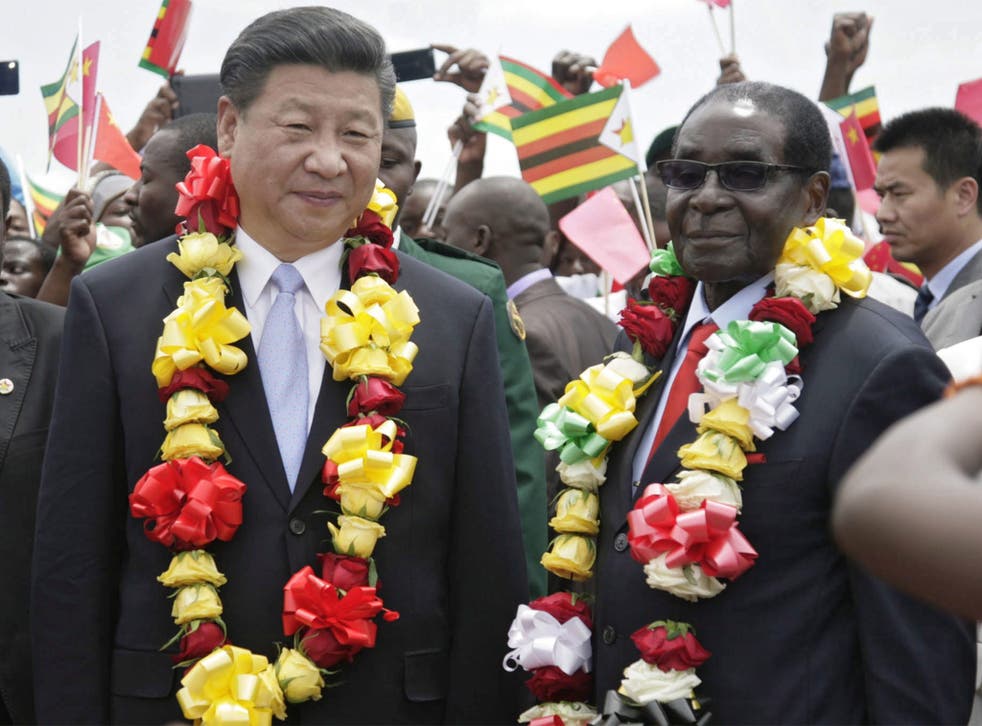 Xi Jinping arrived in Harare on Tuesday on the initial leg of a five-day trip to southern Africa, marking the first visit to Zimbabwe by a Chinese premier in almost two decades.
Investment by Beijing – a long-term supporter of Zimbabwe – has been crucial in underpinning the country's fragile economy in recent years. Following a series of authoritarian moves by the 91-year-old president, Robert Mugabe, Zimbabwe has effectively been viewed as a pariah state in many Western capitals.
Mr Mugabe went to Harare's airport to personally greet the Chinese president and thousands of children waving Chinese and Zimbabwean flags lined the six miles of road to the city centre. The two men met before a state dinner at which Mr Xi was expected to announce a number of trade deals. "We already have more than 100 Chinese companies who have invested in Zimbabwe and there is a lot of interest in all sectors of the economy from Chinese investors," said Zimbabwe's finance minister, Patrick Chinamasa.
Challenged at home by the faltering economy and widespread rumours of plots to succeed him, the visit is nonetheless a political coup for Mr Mugabe, who went to Beijing last August to ask for loans to help prop up Zimbabwe's finances. Writing in Harare's The Herald newspaper ahead of the visit, Mr Xi said that the two countries had stood together, "rain or shine".
"The extraordinary development of China-Zimbabwe relations shows that our friendship is rooted in the cultural tradition of our two countries that values sincerity and friendship," said Mr Xi, who will travel on to South Africa on Thursday. For all the declarations of mutual affection, officials in Harare will be hoping that despite Chinese investment in Africa falling by 40 per cent in the first half of the year, Beijing is still willing to spend hundreds of millions of dollars in Zimbabwe. In 2013, China spent $601m on infrastructure projects in the country – more than anywhere else in Africa.
"The visit to Zimbabwe is very important for Mugabe, but less so for the Chinese, who are more concerned with the South Africa leg," said Stephen Chan, professor of international relations at Soas, University of London. "President Xi is going to Harare out of political good manners. China has already made it clear that while there may well be developmental support, Beijing is not prepared to stabilise the Zimbabwean economy," he said.
Drought and falling commodity prices have hit the Zimbabwean economy hard in recent years. The situation has improved since a decade-long recession led to inflation peaking at 80bn per cent in 2008, but government predictions of 2.7 per cent growth next year have been met with widespread scepticism.
World news in pictures

Show all 50
Mr Mugabe has already been declared as his party's candidate in the next presidential election in 2018, by which time he will be 94. In a recent speech his wife, Grace, who is also a cabinet minister and one of the favourites to eventually replace her husband, said he would rule until he was 100.
"China couldn't care less who succeeds Mugabe, but it wants an orderly process," said Professor Chan.
Ahead of President Xi's visit, Zhang Ming, one of China's vice foreign ministers, promised additional Chinese aid for Africa would be announced on Friday.
Register for free to continue reading
Registration is a free and easy way to support our truly independent journalism
By registering, you will also enjoy limited access to Premium articles, exclusive newsletters, commenting, and virtual events with our leading journalists
Already have an account? sign in
Join our new commenting forum
Join thought-provoking conversations, follow other Independent readers and see their replies