Professors at University of Ghana demand removal of 'racist' Gandhi statue from campus
Petition calls for statue to be pulled down and replaced with one of 'our African heroes or heroines'
Adam Withnall
Africa Correspondent
Thursday 22 September 2016 14:44 Comments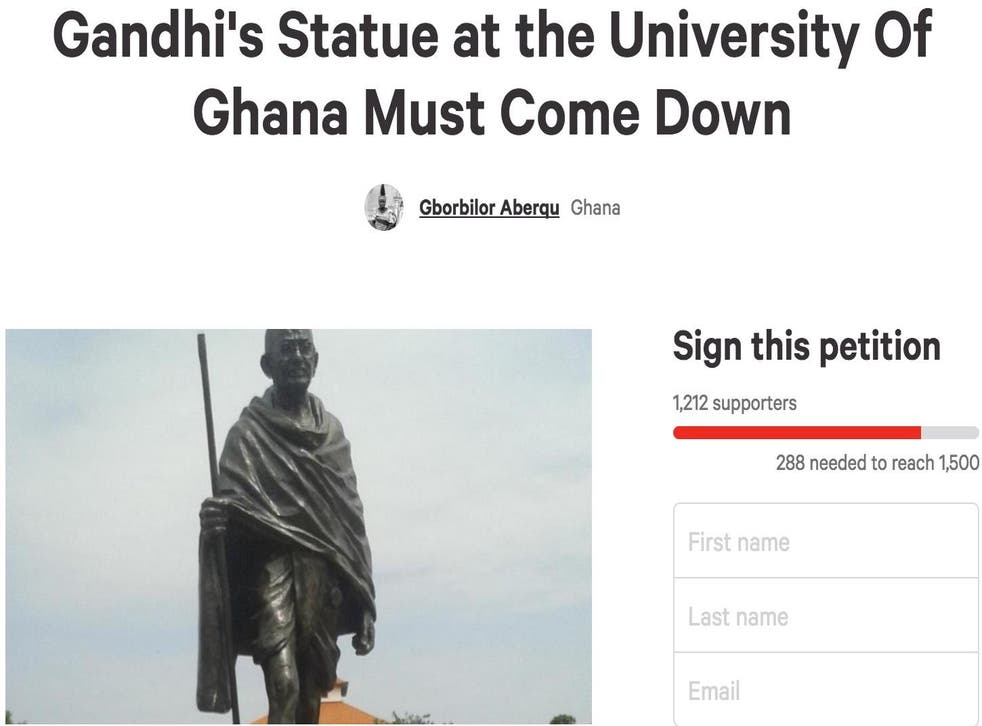 Professors and students at the University of Ghana are calling for the removal of a statue of Mahatma Gandhi from the campus grounds in Accra, on the basis of the Indian leader's "racist identity".
More than 1,200 people have signed a petition demanding the Gandhi statue be pulled down, citing comments he is claimed to have made that are offensive to black Africans.
The statue was paid for by India and unveiled by the Indian President, Pranab Mukherjee, during a visit to the University of Ghana in June this year.
But the petitioners say calls for its removal began almost immediately "after it came to the notice of members of the university community and the general public".
Though he is revered in India as the leader of its movement to freedom from British colonial rule by non-violent means, Gandhi's legacy elsewhere in the world is more controversial.
Last year in South Africa, where Gandhi lived when he was young and described Africans in his writings as "savages or the Natives of Africa", protesters splashed white paint on his statue in Johannesburg and the hashtag #Gandhimustfall was circulated on social media.
That hashtag has resurfaced in the wake of the Ghana petition, which cites a series of quotes from Gandhi based on his writings as collated on the website Gandhi Serve.
One is an open letter to the Natal Parliament that Gandhi wrote in 1893, in which he used the term Kaffir, a derogatory and offensive term used in South Africa to refer to a black person.
He said: "I venture to point out that both the English and the Indians spring from a common stock, called the Indo-Aryan.
"A general belief seems to prevail in the Colony that the Indians are little better, if at all, than savages or the Natives of Africa.
"Even the children are taught to believe in that manner, with the result that the Indian is being dragged down to the position of a raw Kaffir."
The students and professors at the University of Ghana have likened their calls to the #RhodesMustFall movement, demanding statues of the apartheid leader Cecil Rhodes be removed from universities around the world including Oxford.
They say that "if there should be statues on our campus… they should be of African heroes and heroines, who can serve as examples of who we are and what we have achieved as a people".
"We can do the honourable thing by pulling down the statue," the petition says. "It is better to stand up for our dignity than to kowtow to the wishes of a burgeoning Eurasian super-power.
"Some harm has already been done by erecting the statue. We have failed the generation that look up to us, namely our students.
"However, to allow the statue to remain on our campus will do even more harm and make us appear to hold double-standards. We should not bury our head in the sand and expect that the storm will die down."
Register for free to continue reading
Registration is a free and easy way to support our truly independent journalism
By registering, you will also enjoy limited access to Premium articles, exclusive newsletters, commenting, and virtual events with our leading journalists
Already have an account? sign in
Join our new commenting forum
Join thought-provoking conversations, follow other Independent readers and see their replies