13-year-old girl forced to marry her 'rapist' step-brother
'When it's a child, we can't talk of consent. It's rape,' says child protection agency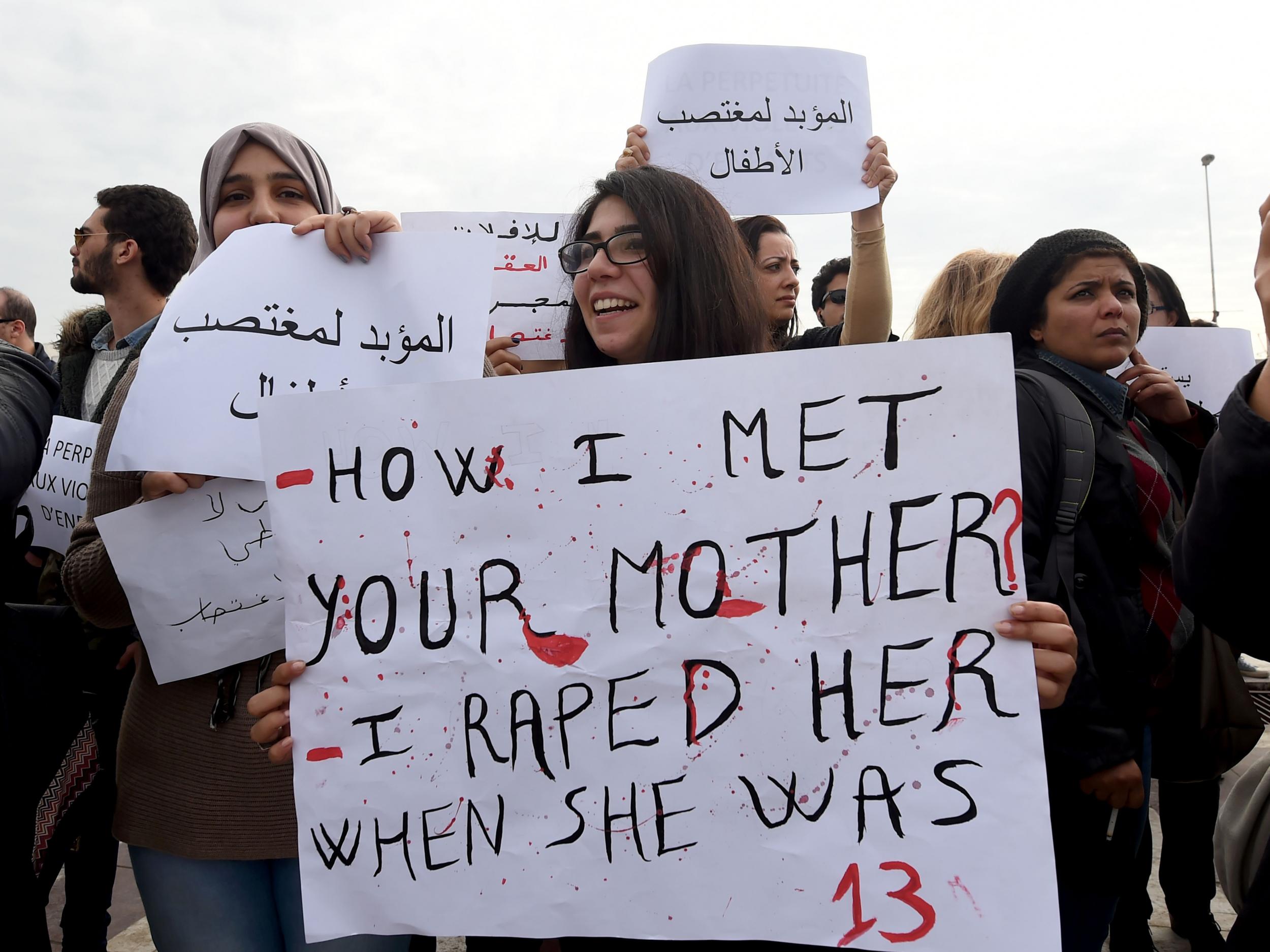 A man in his 20s has married his 13-year-old step-sister after making her pregnant.
The marriage took place in the northwest region of Kef in Tunisia, in the presence of their parents who had previously attempted to stop the wedding.
Although having sex with someone under the age of 15 is punishable by up to six years in prison under Tunisian law, according to article 277 of the country's criminal code, if no force was used during the attack an alleged rapist can halt his prosecution by marrying his victim.
Chokri Mejri, a spokesperson for the court, claimed the girl "was not raped".
"We interviewed the girl and after verifying all the details, we considered her fit for marriage," Mr Mejri said.
The North African country has lead the way on advancing women's rights within the Arab world, yet gender stereotypes and archaic laws remain ingrained in its justice system.
The court's decision has enraged Tunisians who demonstrated outside the country's parliament on Wednesday holding placards bearing messages such as: "How I met your mother? I raped her when she was 13."
Tunisia's prime minister said on Friday discussion of a bill to change the law should be a "priority" ahead of a review of "all articles concerning the fight against violence targeting women".
A bill to counter violence against women was drafted in 2014 but is still waiting to be discussed in parliament.
"Our country can no longer refer to laws that are old-fashioned and which do not reflect the spirit of rights and liberties," Youssef Chahed told Mosaique FM radio, vowing that 2017 would be "the year of the child".
He said he would work to form a plan to improve the lives of children in the country, with a particular emphasis on education.
A planned wedding party for the girl involved in the case has been cancelled after the government's child protection office called for the marriage to be annulled.
"When it's a 13-year-old child, we can't talk of sexual relations with consent. It's rape," representative Houda Abboudi said.
"The court's decision didn't take into account the interests of this child [...] who will marry her rapist." she added.
The President of the Tunisian Association of Democratic Women, Monia Ben Jemia, demanded the repeal of article 227, telling Le Parisien it was "scandalous" that a judge could consider a 13-year-old girl "willing", particularly since Tunisian schools do not provide any sex education.
Women in the country are discouraged from filing complaints of rape and are often feel made to feel as though they are bringing shame on their families by speaking about their sexual abuse, according to a 2015 report by Amnesty International into women's rights in Tunisia.
The countries with anti-women laws
Show all 5
In October a Tunisian talkshow host sparked controversy after he said a 14-year-old rape victim should marry her alleged attacker to "close the case" and "contain the situation".
A similar draft bill in Turkey that would have allowed a child rapist to go free if he married his victim was thrown out after demonstrators took the streets.
In Lebanon, women in wedding dresses have protested a law stipulating that a seven-year-jail term for rape can be avoided if a rapist marries his victim.
Join our commenting forum
Join thought-provoking conversations, follow other Independent readers and see their replies