Rebels wreak revenge on dictator's men
Atmosphere uncertain amid fears of more fighting if anti-Gaddafi factions fall out in power struggle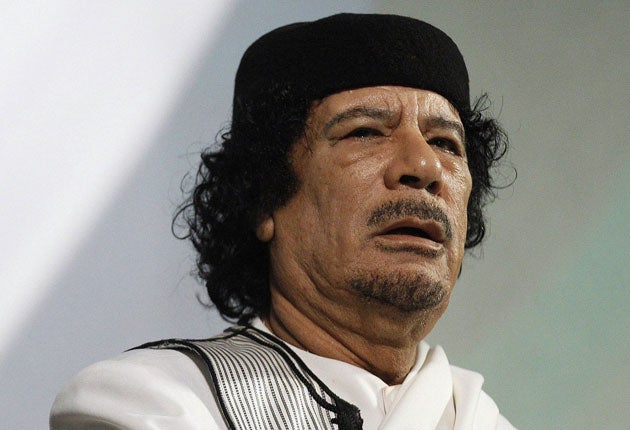 The rotting bodies of 30 men, almost all black and many handcuffed, slaughtered as they lay on stretchers and even in an ambulance in central Tripoli, are an ominous foretaste of what might be Libya's future. The incoming regime makes pious statements about taking no revenge on pro-Gaddafi forces, but this stops short of protecting those who can be labelled mercenaries. Any Libyan with a black skin accused of fighting for the old regime may have a poor chance of survival.
The atmosphere in the Libyan capital is frighteningly uncertain a week after the sudden collapse of Gaddafi's forces. Nobody knows who is in charge. Some dozen members of the Transitional National Council based in Benghazi gave a late-night press conference at the Radisson Blu Hotel to announce they were taking over, but appeared strained and nervous after landing by plane on a makeshift airstrip in the mountains. Their neat business suits and ties looked out of place amid the khaki uniforms and battered weapons of the militiamen standing nearby. But what the council does is important, because a new regime will only stabilise when Tripoli, where a third of the six million Libyans live, develops its own leadership.
The new regime is taking over areas held by the remaining Gaddafi loyalists, such as those holding the important border crossing to Tunisia. There was less fighting in the capital yesterday, and the rebels are advancing on Gaddafi's home town of Sirte, but the improvement is gradual. Overnight there were continuous bursts of machine-gun fire.
The crucial question for Libyans is whether the war will now truly end. Alternatively, will there be a repeat of what happened in Baghdad in 2003, when the victors fell out among themselves, failed to organise an effective state machine, and became the target of low-level guerrilla attacks?
Most people in Tripoli are preoccupied with more immediate questions of survival. The city has no fresh water; big bottles cost 4.5 dinars (£2.40), in the few shops that are open. In my hotel, the last water was on Friday morning when I used a dribble to shower. Since then, journalists have been flushing toilets with water from the swimming pool.
A Libyan engineer who used to work for Tripoli municipality told me that pro-Gaddafi forces had captured vital water wells deep in the Sahara to the south and have switched off the pumps. The engineer had spent the past three years in Malta, and returned with a team of expatriates to help their homeland, but, in the event, the group was spending all its time trying to house and feed themselves.
Gaddafi's state was ramshackle at the best of times. Nothing much ever happened without the quirky assent of the leader or, in recent years, his sons. The first time I came to Libya, about 30 years ago, I stayed in a hotel full of frustrated experts, mostly Soviet military officers, who spent much of their time trying to get rooms and meet Libyan officials who failed to turn up. Gaddafi's lackadaisical style was replicated by his ministers.
In the early 1990s, when there was a possibility that the US would invade, I was in Tripoli along with numerous other foreign journalists. One morning, we all got calls from our news desks saying that a prominent American correspondent in Tripoli had written a piece saying the country was girding itself for war: bulldozers were building tank traps at the top of beaches and ministries were being turned into fortresses with gun-emplacements and heaps of sand bags.
We thought the story untrue or hopelessly exaggerated, but it was difficult to disprove. The Libyan coast is 2,000km (1,243 miles) long, and we could not definitively say there were no newly built tank traps on it. A friend from the Los Angeles Times and I decided to test the story that fortified ministries were filled with fighters by marching in confidently and telling the guards we wanted to see the minister. Almost without exception, they let us through, before admitting that the minister and his deputy were away and they did not know when they would return. In the Justice Ministry, we were shown round empty offices by an embarrassed minor functionary who turned out to be the gardener.
Gaddafi's highly personalised rule means there is no effective administration for the rebels ("We would prefer to be called revolutionaries," one of them complained to me) to take over. Libya has some advantages over Iraq, Afghanistan or Lebanon. There is a largely undamaged physical infrastructure and, while there is no water in Tripoli, there is electric power. Potentially, there is money when Libyan funds are unfrozen, although the same was true of Iraq and did it little good. There is no long legacy of civil wars, but the past six months of fighting has left deep wounds.
The killing of so-called mercenaries in Tripoli is a case in point. Since February, the insurgents, often supported by foreign powers, claimed that the battle was between Gaddafi and his family on the one side and the Libyan people on the other. Their explanation for the large pro-Gaddafi forces was that they were all mercenaries, mostly from black Africa, whose only motive was money. In the early days of the conflict, some captured Gaddafi soldiers were shown off at press conferences as mercenaries. Amnesty International investigators discovered that all had subsequently been quietly freed since they were, in fact, undocumented labourers from Chad, Mali and West Africa. But the effect of this propaganda has been to put in danger many African migrants and dark-coloured Libyans.
All wars, particularly civil wars, produce real and invented atrocities. Gaddafi forces also killed prisoners in Tripoli at the moment of their defeat. But it is the rebels who now seek to rule. Militias may be brave in attack, but are often lethally undisciplined in mopping up when they suspect every house of holding a sniper.
Libya is not a very cohesive country, and the same is true of the rebels. Disparate groups were united by opposition to Gaddafi. They are likely to split as they move to exercise power. For Libyans, most important is whether this inevitable struggle for power is peaceful or leads to another round of warfare.
Sky reporter's fear: 'We thought wewere going to die'
Sky News reporter Alex Crawford, whose coverage of the attack on Tripoli has won international praise, told the Edinburgh International Television festival she thought she and her camera team "were going to die – several times over".
The first reporter to broadcast live footage of the advancing rebel convoy, Crawford witnessed the bloodshed as rebels retook Zawiyah: "They were bringing in people with half their heads blown off, people with their legs blown off. One of them was the same age as my son. We were getting ready to die. One of us called their sons to say goodbye.
"We report it as we see it. We saw Gaddafi fighters who were tied up and executed. It's war. This is what happens. Rebel retaliations here are really upsetting."
Sky News has been praised for its "superior" coverage of the Libya conflict. Criticisms of complacency have been directed at the BBC. One reason, according to Crawford, was that: "Sky broke a lot of rules by doing things differently. People are drawn to Sky because it has a go-getting attitude. We started as rebels in the industry, and it attracted people who are non-conformists."
A three-times winner of the Royal Television Society Journalist of the Year award, Crawford described how she believed female reporters brought a different view to the role: "Women correspondents may have a different type of empathy, especially if they're mothers themselves."
Eleanor Dickinson
The hunt for the Gaddafi gang...
The leader: Muammar Gaddafi
Despite yesterday's reports that a convoy of six black Mercedes cars had been spotted crossing into Algeria, Colonel Gaddafi's home town of Sirte is a more obvious refuge. Sirte, 280 miles east of Tripoli and resolutely loyal, has both a civilian and military airport. Rebel efforts to find him are focused here. Less likely but possible hiding places are an as yet undiscovered underground bolthole in Tripoli or the deserts of the south.
The wife: Safia Farkash al-Barassi
Persistent rumours among security service sources say Gaddafi's wife fled to London months ago and is living at a secret address on the outskirts of the capital. She is being guarded around the clock by a team of private security contractors led by a former member of the SAS. It is thought she came to London months before being added to the UN sanctions list in June.
Farkash, his second wife, has been married to Gaddafi for 40 years and is mother of six of his seven sons and one of his daughters. She controls a multibillion dollar fortune including 20 tons in gold reserves. Her daughter Aisha is thought to be with her.
The powerful son: Saif al-Islam Gaddafi
The best known of Gaddafi's sons, who became embroiled in scandal last year over claims of plagiarism and outside help with his PhD thesis – about a democratic future for Libya – that saw him awarded a doctorate by the London School of Economics. Described by the International Criminal Court as "the most influential person" in Gaddafi's inner circle, with "the powers of a de facto prime minister".
He was reportedly captured by rebels last week, but hours later, he emerged on to the streets of Tripoli, grinning for the cameras. Has taken a hard line since the uprising began, repeatedly proclaiming his defiance in the face of rebel attacks.
The daughter: Hana Gaddafi
Mystery surrounds Gaddafi's adopted daughter. She reportedly died as a baby in 1986 when the US bombed Gaddafi's Tripoli compound, but is thought to be pictured here at age 13. In recent weeks, a flurry of reports have claimed she is, in fact, alive and working as a doctor, in Tripoli. A certificate found by reporters in Gaddafi's ransacked home this week shows that she apparently finished an English language course with the British Council in 2007. She was awarded an A grade.
She is likely to have fled the country months ago, along with other female members of the family.
The soldier son: Mutassim Gaddafi
Army officer and security adviser to his father, he is still thought to be fighting the rebels. He once paid $1m for Beyoncé to perform at a private New Year's party. And in April 2009, he held talks with the US secretary of state, Hillary Clinton, in his role as Libya's national security adviser.
His other brothers are all still at large: Hannibal, boss of Libya's oil export business; Saadi, drug and alcohol abuser, one-time footballer, and the man who allegedly ordered the shooting of unarmed protesters in Benghazi; Muhammad, the eldest son who headed the state telecoms firm; and Khamis, who runs a special forces unit.
The convicted bomber: Abdelbaset Ali al-Megrahi
The whereabouts of the convicted bomber, released in 2009 on the grounds that he had only months to live, are unknown. He is not at his former address, and Scottish authorities admit they have lost contact with him. Some security experts believe a US special forces team may be in Libya searching for him. Nick Day, formerly of the Royal Marines and MI5, who set up Diligence Inc, a private intelligence company, said: "The CIA would have been flashing the cash, getting people to co-operate." There is a pending indictment against Megrahi in a US district court, which, the Justice Department insists, is not superseded by Megrahi's conviction in Scotland.
The alleged killer: Abdulmagid Salah Ameri
Within hours of the news that Ameri had been named in a new witness account as the possible killer of policewoman Yvonne Fletcher in 1984, the British Government was pledging to pursue the case "in every way we can". But it is unclear whether even a friendly administration in Tripoli will be able to help close a murder investigation that started outside the Libyan embassy in St James's Square, London. Scotland Yard detectives fear that Ameri may already be dead. Stories to this effect might be a ruse to shield him from justice but, in the chaos and blood-letting that has gripped Libya for months, Ameri has yet to be found.
Are embarrassing secret deals about to come out?
Some European politicians and business leaders who struck, or facilitated, deals with the Gaddafi regime are anxiously waiting to hear if Tripoli's abandoned ministries contain embarrassing documents or allegations. At least one figure is rumoured to have been paid £100,000 to make a single telephone call to Colonel Gaddafi to smooth a lucrative business deal.
Meanwhile, western banks could be complicit in corruption, claimed Robert Palmer, a campaigner at pressure group Global Witness. He said: "What concerns us is the personal control that the Gaddafi family had over Libyan state assets. We're worried that there is high risk that this money might have been abused for personal gain and that by taking this money, companies and banks might possibly have been complicit in that."
He added: "The way our financial system is structured, it's very easy to hide your identity and assets behind a web of shell companies and tax havens, trusts and private bank accounts."
David Randall
Join our commenting forum
Join thought-provoking conversations, follow other Independent readers and see their replies