Man found hiding in car's glove box in desperate attempt to enter Europe
Refugee in his 20s was one of four people found in dangerous conditions in vehicles at Morocco border
Chiara Giordano
Wednesday 29 May 2019 12:10 Comments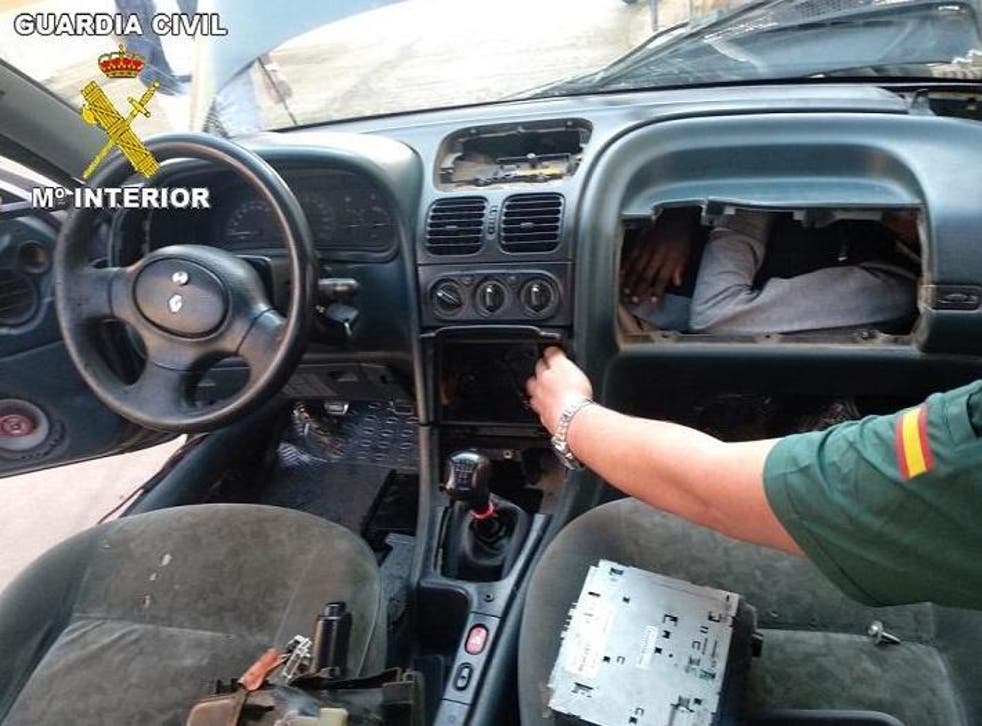 A refugee was found hiding in a car glove box in a desperate attempt to cross the border from Morocco into Europe.
Found squeezed behind the dashboard of the vehicle, the man in his twenties was trying to enter the Spanish enclave Melilla, on the north African coast.
He was one of three people found within three hours of each other inside separate vehicles at the border in Beni-Enzar, Morocco, on Saturday morning, the Spanish Civil Guard said.
A fourth person, a 20-year-old man of African origin, was found earlier that day hidden in a dangerous position in the base of a dump truck, where he was at risk of being crushed.
The civil guard believe he was an opportunist and that he was not helped into his hiding place by the truck's driver.
Man found hiding in car's glove box in attempt to enter Europe

Show all 6
Officers shared a picture of a man hiding behind a car's dashboard, while another person was found behind a car's rear seats.
Two men, aged 20 and 21, found in the other vehicles had to be treated for asphyxia, disorientation and joint pain caused by the conditions they were travelling in.
A 15-year-old girl was also among the refugees.
Three male drivers from Morocco, aged 19, 30 and 31, have been arrested.
The fourth was released since the stowaway could have climbed into his hiding position unaided.
In January, two men were arrested by border guards after they were found hidden inside mattresses strapped to the top of a van as it attempted to cross from Morocco into Melilla.
Register for free to continue reading
Registration is a free and easy way to support our truly independent journalism
By registering, you will also enjoy limited access to Premium articles, exclusive newsletters, commenting, and virtual events with our leading journalists
Already have an account? sign in
Join our new commenting forum
Join thought-provoking conversations, follow other Independent readers and see their replies