A revolution betrayed? Two years after Mubarak, Tahrir Square rises again
Protesters clash with police across Egypt, calling for end to Morsi's Islamist government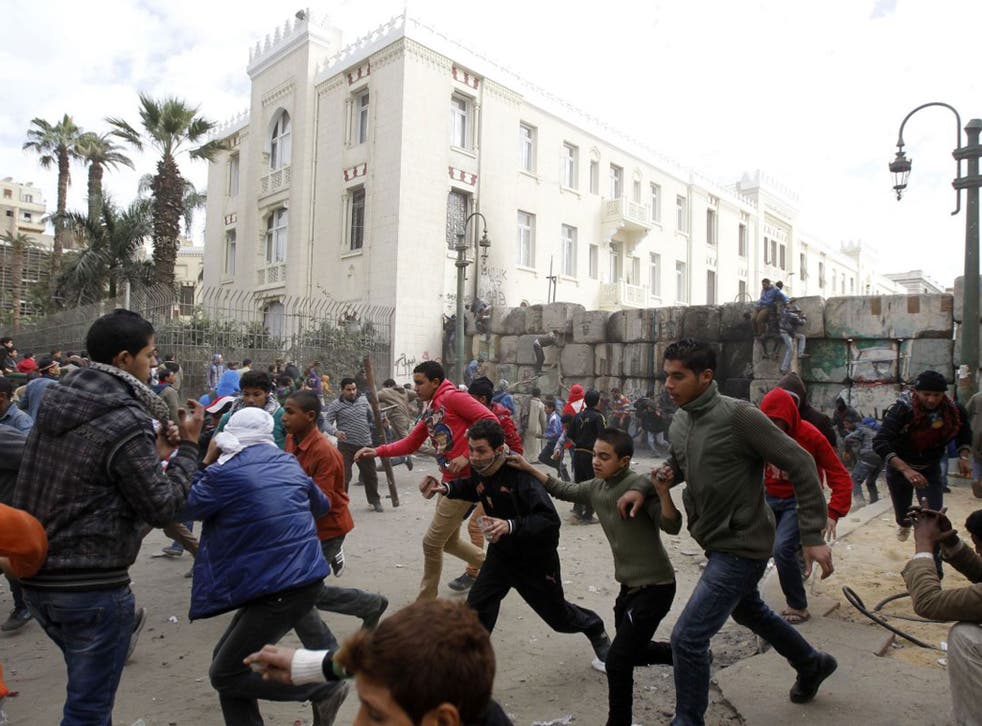 Tens of thousands of boisterous protesters streamed into Tahrir Square in Cairo yesterday denouncing Egypt's Islamist government on the second anniversary of the revolution that ousted President Hosni Mubarak.
The day was marred by clashes around the square and elsewhere around the country, particularly in Alexandria where protesters burnt tyres and clashed with police who fired tear gas to control the crowds. In the city of Ismailia the offices of President Mohamed Morsi's Muslim Brotherhood were set alight. Four people died in clashes between police and protesters in the city of Suez. More than 370 were injured nationwide, according to the Health Ministry, including five in Suez with gunshot wounds, raising the possibility of a higher death toll.
The mass rallies were organised by the liberal and leftist opposition parties ostensibly to press for the fulfilment of the main demands of the revolution: bread, freedom and social justice. Egyptians have been hit by the economic crisis which has brought higher prices, media freedom is under attack, and President Morsi has been accused of betraying the revolution by ramming through a new constitution at the end of last year.
Apparently seeking to avoid violence between the Islamists and their political opponents, Mr Morsi's Muslim Brotherhood ordered its supporters to stay away from Tahrir Square and to demonstrate their love of the homeland by engaging in civic projects.
Echoing the same slogans that brought down Mubarak two years ago when the people lost their fear of his brutal security forces, the protesters who jammed Tahrir Square in the bright afternoon sunshine chanted "the people want the downfall of the regime". Egyptian flags were being sold at the entrance to the square, where demonstrators included fewer women than during the 2011 uprising. There have been several cases of sexual harassment against Egyptian and foreign women in the square.
Among the anti-government marchers were the Communist Party and researchers from Al Azhar university. One banner read: "Save Egypt from the Brotherhood", while another just said "Go away, go away". Some marchers called out to Egyptian spectators: "Don't just stand there – join us!"
Hussein Gohar, of the new Social Democratic Party, said that his party was not seeking the resignation of the democratically elected Mr Morsi. "But he has to behave like the real president for all Egyptians, and not just for the Muslim Brotherhood."
Mr Gohar's party is part of the National Salvation Front set up to give the liberal and secular parties a fighting chance against the Muslim Brotherhood's Freedom and Justice Party, in parliamentary elections expected in the spring. But observers say that the Islamist party is still likely to deliver a win for the Brotherhood and the ultra-orthodox Salafists.
More unrest is feared today when the verdict is due on the deaths of football supporters from Egypt's top team Al Ahly after a match last year in Port Said. Violence was also reported there yesterday. The fans, known as the Ultras, came to prominence in the 2011 opposition fight-back against Mubarak's security forces. Their slogan is "all cops are bastards."
Join our new commenting forum
Join thought-provoking conversations, follow other Independent readers and see their replies