Herd of rhinos shot and killed by poachers despite majority already lacking horns
Animals targeted in two separate incidents at the Wildschutsberg Game Reserve in South Africa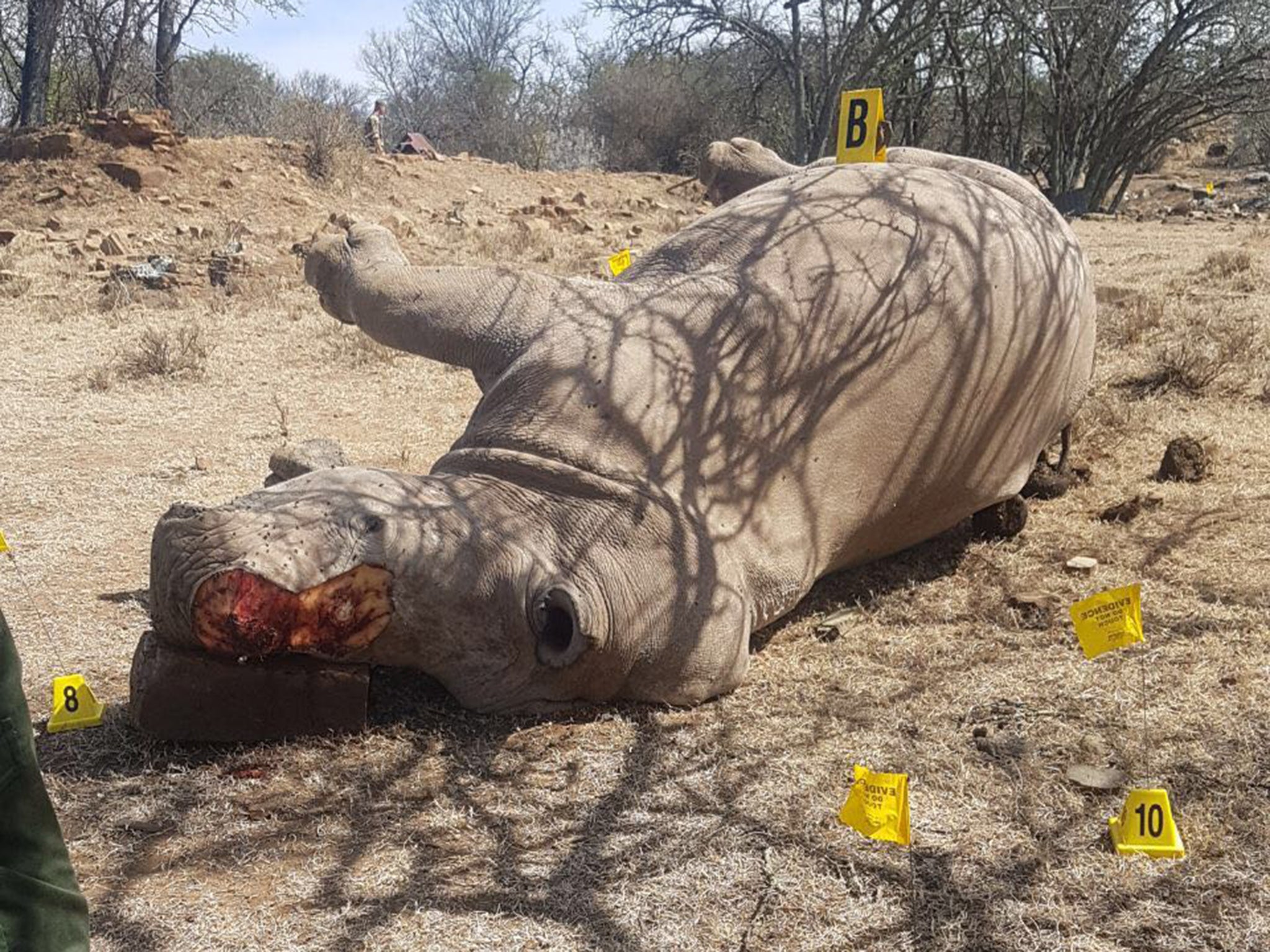 An entire breeding herd of rhinos has been shot and killed by poachers despite the majority having already had their horns removed.
The five rhinos, three males and two females, were killed in two separate incidents at the Wildschutsberg Game Reserve in Eastern Cape, South Africa in the past three weeks, after they were tracked down by poachers.
The poachers are believed to have escaped with only minimal amounts of horn as four of the five animals' horns had already been shorn off as part of an anti-poaching drive.
The incident is similar to another attack on the same reserve in 2015 when two white rhinos were shot dead with high-powered hunting rifles, the South African Herald reported.
Reserve owner Greg Harvey told the Evening Standard: "It is just madness. I had five rhinos of breeding age and they are gone in the blink of an eye. My entire rhino population wiped out.
"Four rhinos were dehorned as a counter-poaching measure earlier this year leaving only little stumps of horn so it was an absolutely pointless slaughter. They still cut out the small bits that remained but would have got very little."
Despite the best efforts of animal conservationists and anti-poaching groups, rhinos are among several wild animals that are vulnerable to poachers looking to sell their horns abroad.
In April this year, the South African high court ruled that rhino horn could be sold locally by traders who held permits, The Guardian reported.
Some rhino breeders and conservationists say regulated trade in the horns will deter poachers as it will lead to a dramatic drop in the price.
As a rhino's horn will grow back, breeders say they can cut it off animals under anaesthetic and no more will need to die.
Rhino horn is made mostly of keratin, the same component as human fingernails, and is believed to have medicinal and aphrodisiac properties in several Asian countries, such as China and Vietnam.
At least 1,054 rhinos were killed in South Africa last year – down slightly from a year earlier.
Join our commenting forum
Join thought-provoking conversations, follow other Independent readers and see their replies