The rape and murder story that went viral - and turned out to be an elaborate hoax
Khuthi Makananise reportedly fabricated the story to 'show people how bad it is to live in South Africa'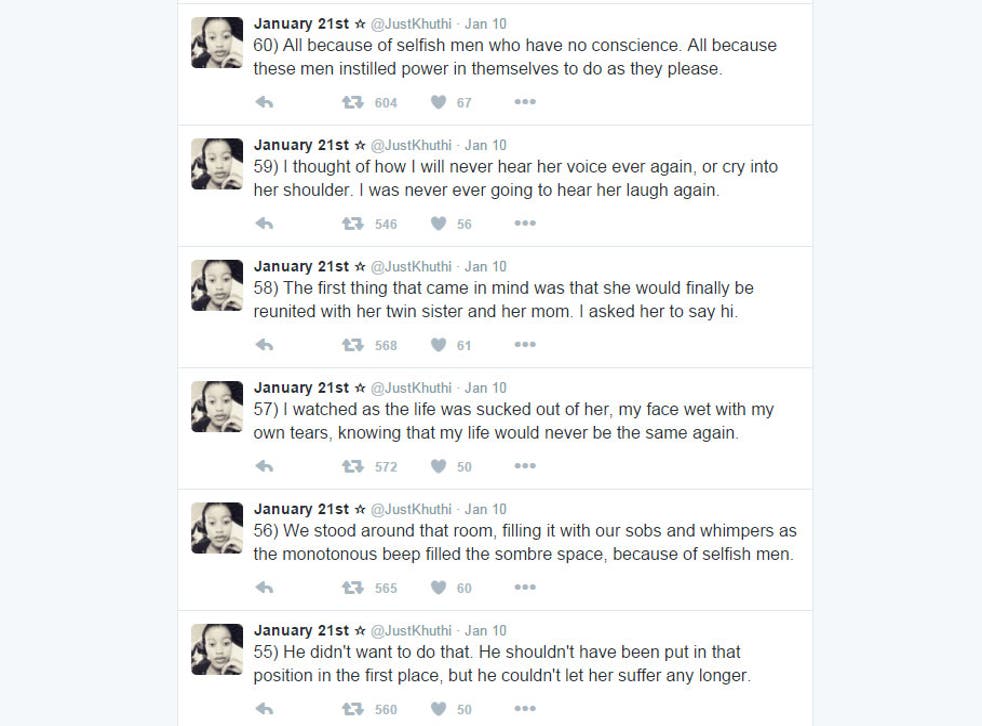 The rape and murder of a woman in South Afrca whose story went viral after her ordeal was relayed in a series of tweets by a friend has turned out to be completely made up - with the teenager responsible being widely praised for the elaborate hoax.
The violent tale about Kamogelo Peterson - or "Kamo" - began when @JustKuthi posted the first handful of 70 tweets on 10 January.
As the tweets continue, JustKuthi describes her friendship with Kamo; how the two treated each other like sisters, especially when Kamo's father and real twin sister were suddenly killed in a car accident.
She talks about how they gradually drifted apart but became close again in December 2015, particularly when "Khuthi" was taken ill and admitted to hospital.
Over the couse of the day, the tweets describe how Kamo then went missing on 7 January during a visit to the hospital. In the frantic search that followed, her car was found with its windows smashed and the driver's seated stained in blood.
The next day police found Kamo, who they confirmed had been abducted and raped.
The story quickly picked up momentum and #RIPKamo started trending on Twitter.
The Department of Women even commented on it, saying it "reflects a sad reality of women in our country".
A South African newspaper, The Star, then picked up the story and published it - before it was discovered to be fake.
The Star's editor, Kevin Ritchie, told News 24 that it had "slipped through on deadline" and they had not checked the story with the police.
He said: "We are red-faced and not happy with this at all. We are doing whatever we can to learn from this because this is not the journalism we pride ourselves on practicing… It is a huge lesson for us and the [media] industry."
Police confirmed they were not aware of the case.
But Ms Makananise, after being reportedly tracked down by The Star, admitted to fabricating the story based on "a story I read on the internet" but remained repentant.
She said: "It made me feel like I didn't want to live in South Africa anymore, so I made up my own story to show people how bad it is to live in South Africa.
"Anybody who knows me knows that I love books and I always tell stories.
"It's just that this time so many people responded, I just left it. I apologise for misleading everyone," she was quoted as saying.
However, condolences and tributes had already poured in on Twitter hoping "justice" would be found for Kamo, which were retweeted by Ms Makananise.
When people found out they had been duped, outrage at Ms Makananise's deception was widespread.
But it also sparked a debate on the reality for women in the country, and the after-effects of trauma.
South African writer Zukiswa Zimela wrote in Destiny Collect Magazine: "If the tale is indeed made up, why did so many people unquestioningly believe it could really happen?"
She quoted Sonke Gender Justice spokesperson Mbuyiselo Botha as saying the story was not difficult to believe: "As South Africans, we know that we count among the highest in the world when it comes to women being sexually violated every day.
"As a result, there is a groundswell of support for survivors of sexual assault," he said.
The Department of Women, who previously believed Ms Makananise's story, said: "Khuthi's story may be fictional but the story is a reality for a lot of women and children in our country and that's why we fell for it.
"Violence against women and children is real. Khuthi's story may be fake but in reality there are many Kamo's out there.
"Khuthi may not be aware but her story helped raise awareness of the scourge."
Rape and sexual abuse is prevalent in South Africa, although figures released by the authorities in 2015 showed a 3 per cent decrease in rape reports that year, amounting to 46,253 cases.
However, The Medical Research Council has said only one in nine rapes that occur are reported to the police, therefore the actual number of rapes is much higher, according to fact-checking organisation Africa Check.
Join our new commenting forum
Join thought-provoking conversations, follow other Independent readers and see their replies