Robert Mugabe: Legal action to remove Zimbabwe President to be initiated by war veterans
Court action seeks to legalise military action after army seized power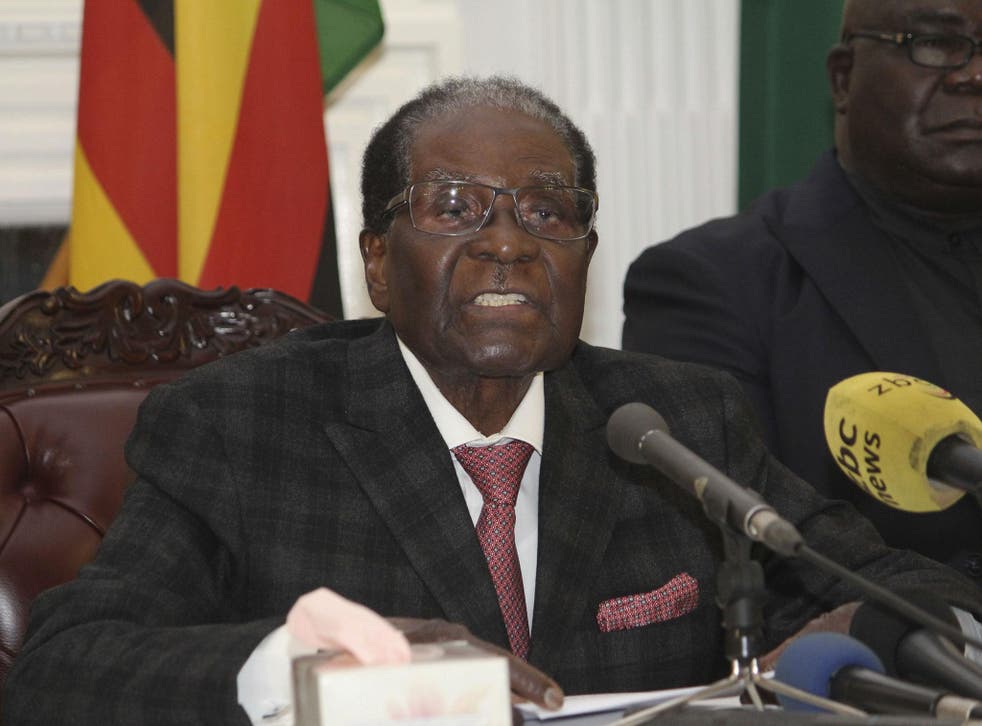 The leader of Zimbabwe's war veterans has said they will initiate legal action in the country's high court to remove President Robert Mugabe.
Chris Mutsvangwa said the court action will argue the military takeover in Zimbabwe was legal because Mr Mugabe was derelict in his duties.
He went on to call on the Southern African Development Community (SADC) and its chairperson, South African President Jacob Zuma, to assist in removing the 93-year-old president.
Mr Mugabe defied expectations he would resign in a national address on Sunday night, during which he was flanked by military generals.
Mugabe fails to resign in state broadcast
Mr Mugabe has reportedly agreed to stand down and his resignation letter has been drafted, CNN said, citing a source familiar with his negotiations with the generals who seized power in Harare last week.
Under the terms of the deal, Mr Mugabe and his wife Grace would be granted full immunity, CNN said.
Mugabe's first public appearance since Zimbabwe military takeover

Show all 9
Mr Mugabe was dismissed as head of the ruling Zanu-PF party and replaced by Emmerson Mnangagwa, the deputy he sacked earlier this month.
Members of the ruling party's Central Committee danced, cheered and sang as Mr Mugabe was recalled.
Grace Mugabe, the country's unpopular first lady nicknamed "Gucci Grace," was also expelled from the party and recalled as head of the women's league.
Without the military's intervention, Ms Mugabe was expected to have replaced Mr Mnangawa as vice president, putting her in a position to succeed her husband.
Join our new commenting forum
Join thought-provoking conversations, follow other Independent readers and see their replies