Robert Mugabe's MPs warned not to embarrass him by asking questions about Zimbabwe's collapsed economy
Farmers are again going unpaid and the government coffers are empty
Alistair Dawber Comments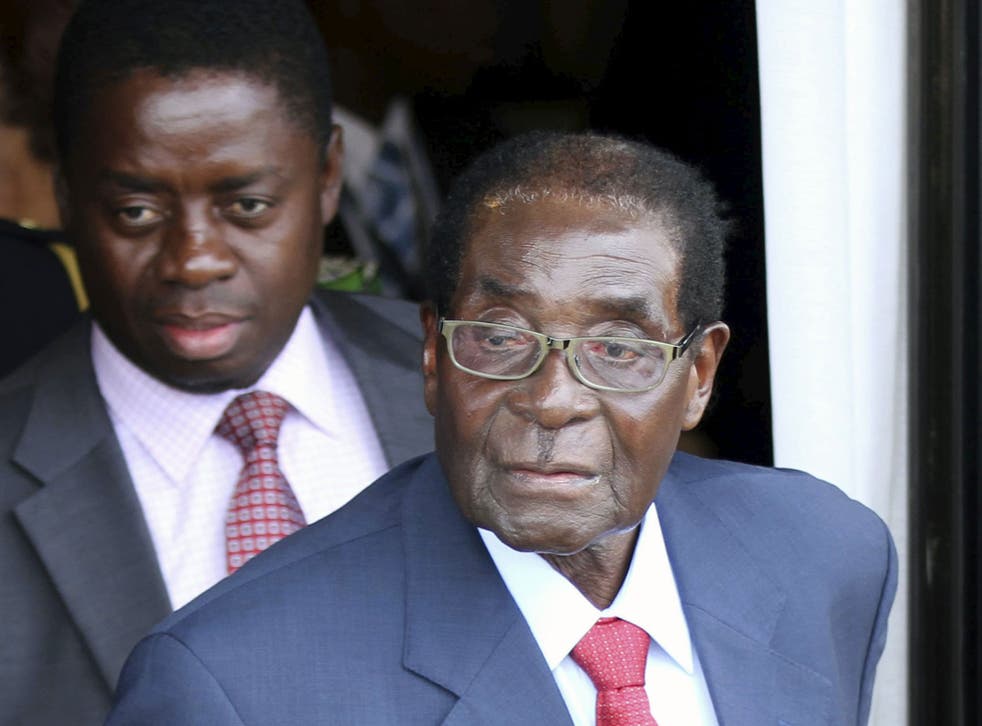 Members of Zimbabwe's governing Zanu-PF party have been ordered not ask questions about the perilous state of the country's economy, for fear of embarrassing President Robert Mugabe's government.
A decade on from crippling hyperinflation and the introduction of a Z$100bn note before the currency was abandoned altogether, farmers are again going unpaid and the government coffers are empty – according to MPs, who were told last week at a party meeting in Harare that the situation is increasingly desperate.
Zimbabwe, once known as the breadbasket of Africa, last week sought financing from international donors. Bodies such as the IMF, the World Bank and the African Development Bank have previously refused to fund the Zimbabwean government directly over concerns Mr Mugabe had rigged elections, stifled the opposition and adopted populist policies that have crippled the economy.
At a meeting with donors last week, Patrick Chinamasa, Zimbabwe's Finance Minister, attempted to persuade them that "as we go forward and as we successfully build trust among ourselves, we can in future channel development assistance through the [budget] so that we are able to plan more effectively and more efficiently".
Despite his encouraging words to an international audience, an anonymous Zanu-PF MP told the News Day newspaper that on the same day Mr Chinamasa "pleaded with us not to ask questions which would expose the failure of government on delivery". The source added: "They gave an example that we should avoid asking questions such as 'when will the government pay farmers who would have delivered their crops to GMB [Grain Marketing Board]?' because this would expose the government's empty purse."
Since removing white farmers from the land, Mr Mugabe has adopted a series of economic measures designed to shore up support among his traditional base. The policies, including a law stipulating that all businesses with more than US$500,000 (£32,000) in assets must be at least 51 per cent owned by black Zimbabweans, have led to a new collapse in the country's economy, experts warn.
"The harsh facts in Zimbabwe are that government imposed easily identified policies that were directly responsible for severe decreases in business activity," John Robertson, a Zimbabwean economist, told The Independent.
"The worst of the policy choices include the nationalisation of farmland, which destroyed its collateral value, and the indigenisation policy, through which government demands the surrender of 51 per cent of the shares in every business owned by a non-indigenous person or company."
Falls in the prices of minerals extracted from Zimbabwe's mines have exacerbated the situation, and the hundreds of millions of dollars paid in remittances by workers abroad are also threatened by the backlash against Zimbabweans living in South Africa.
According to Reuters, international donors have promised US$468m this year, which is paid directly to health and agricultural projects via UN agencies, rather than to the government – down from US$737m last year.
In a policy document published in December last year, the UK Government said that it will provide £76m, again to projects organised by charities and aid groups, this year and next.
Local economists argue that ordinary Zimbabweans may not welcome any extra aid that is paid directly to the government in Harare. "Bad behaviour has fuelled massive corruption and greatly enriched just a few Zimbabweans," Mr Robertson said.
Register for free to continue reading
Registration is a free and easy way to support our truly independent journalism
By registering, you will also enjoy limited access to Premium articles, exclusive newsletters, commenting, and virtual events with our leading journalists
Already have an account? sign in
Join our new commenting forum
Join thought-provoking conversations, follow other Independent readers and see their replies