Russian plane crash: flight brought down over Sinai by bomb in 'terror act'
Egyptian authorities arrest two Sharm el-Sheikh employees after Vladimir Putin offers £33m bounty to 'find those responsible'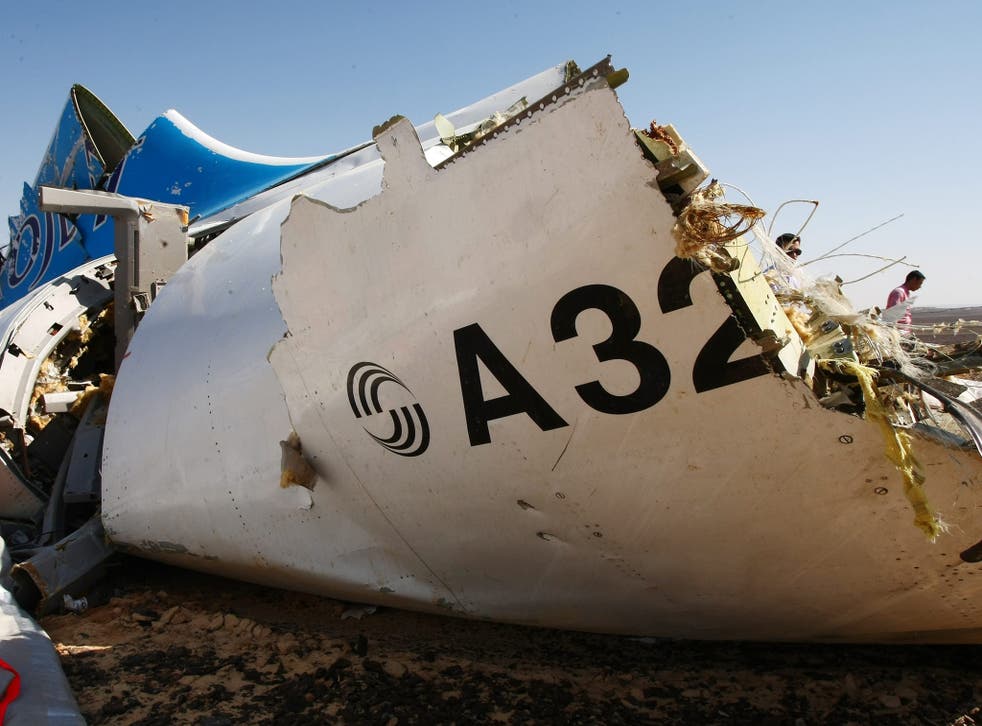 Russian security officials have confirmed that the plane which crashed over Sinai at the end of October was brought down by a bomb, after explosive traces were found on the wreckage.
According to Russian media, security officers believe the bomb was most likely planted inside the hold of the plane by a Sharm el-Sheikh baggage handler.
Egyptian authorities said on Tuesday morning that they had detained two Sharm el-Sheikh airport employees on suspicion of helping to plant a device on the airliner.
Improvised explosives equivalent to 1.5kg of TNT were used to bring the plane down, killing all 224 people on board, the head of Russia's security service, the FSB, has said.
Alexander Bortnikov met with President Vladimir Putin to brief him on the findings of investigators, and according to state media said: "We can definitely say this was an act of terror."
Mr Putin has responded by ordering Russian special forces to "find and punish" those responsible for the crash, and announced a reward of $50m (£33m) for information leading to arrests.
Mr Putin also pledged to increase Russia's military involvement in Syria in response to the news. According to RT, he said: "Our military work in Syria must not only continue. It must be strengthened in such a way so that the terrorists will understand that retribution is inevitable."
The $50m offered represents the highest bounty ever placed on a terrorist or terrorists, and is exactly double the figure placed on the head of al-Qaeda leader Ayman al-Zawahiri by the US.
He said: "We should pursue them without any statute of limitations and should know all of them by name. We will be looking for them wherever they would try to hide. We will find them in any part of the world and punish."
While UK and US intelligence officials have previously pointed to intercepted militant "chatter" suggesting the crash was caused by a bomb, Russia had urged caution until the findings of investigators in Egypt were released.
Russian passenger plane crashes in Egypt

Show all 20
The discovery of explosive traces on the wreckage represents the first concrete evidence from the crash site itself that a bomb was used. According to Mr Bortnikov, experts analysed personal items belonging to passengers as well as parts of the plane itself.
The Isis militant group has claimed responsibility for bringing down the Airbus A321 jet, which was on route from Sharm el-Sheikh to St Petersburg when it crashed on 31 October.
Egypt: Russian crash investigators search Sinai for victims' belongings
In video, audio and written statements, Isis claimed the attack was retaliation for Russia's military campaign in Syria, and challenged investigators to "prove we did not do it".
Isis has also claimed responsibility for shootings across Paris on Friday night which killed 129 people and wounded 350 others. France, like Russia, has vowed to escalate its operations in Syria as a result.
Register for free to continue reading
Registration is a free and easy way to support our truly independent journalism
By registering, you will also enjoy limited access to Premium articles, exclusive newsletters, commenting, and virtual events with our leading journalists
Already have an account? sign in
Register for free to continue reading
Registration is a free and easy way to support our truly independent journalism
By registering, you will also enjoy limited access to Premium articles, exclusive newsletters, commenting, and virtual events with our leading journalists
Already have an account? sign in
Join our new commenting forum
Join thought-provoking conversations, follow other Independent readers and see their replies