Russian plane crash: Airlines selling cheap flights to Sharm el-Sheikh with 15,000 tourists still stranded in resort
Thomas Cook is offering an all-inclusive week, departing on Saturday, for £373 – a 49% discount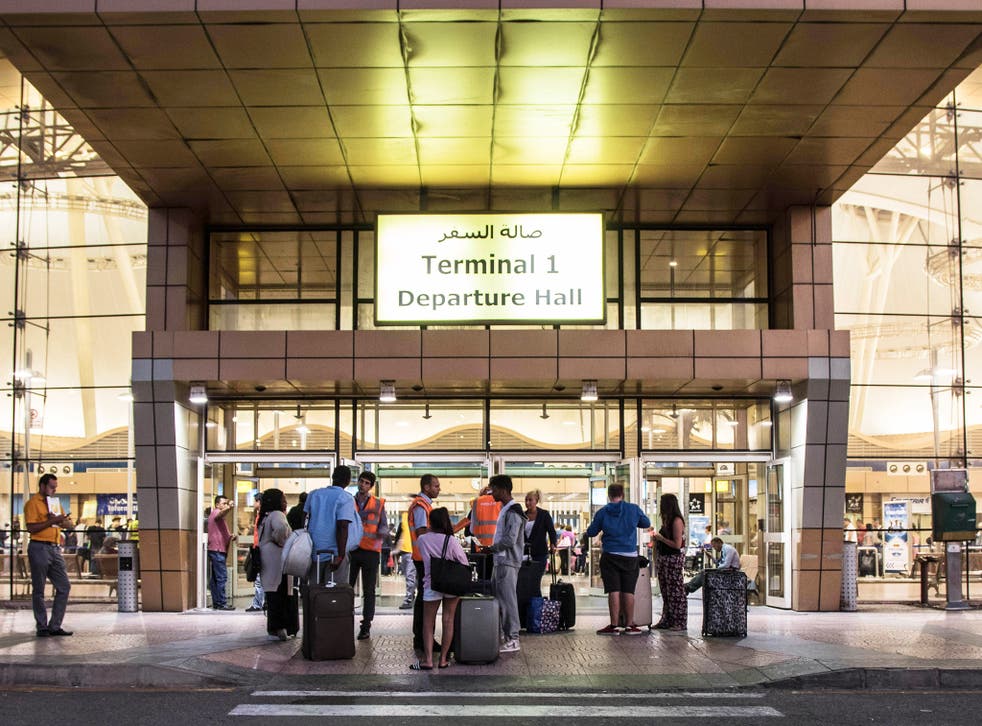 Airlines and tour operators are selling cheap last-minute flights and half-price holidays to Sharm el-Sheikh – even though an estimated 15,000 British holidaymakers are still stranded in the resort.
Monarch is planning to restart flights on Friday 13 November. The Independent bought a ticket from Gatwick to Sharm el-Sheikh with the airline for Saturday, at a fare of £139.
The two main tour operators, Thomas Cook and Thomson, are selling package holidays from next weekend onwards. Thomas Cook is offering an all-inclusive week, departing on Saturday, for £373 – which it claims is a discount of 49 per cent.
Anyone tempted by the late-notice deals could find themselves touching down at an airport that thousands of British passengers are trying to leave.
The official Foreign Office travel guidance advises against "all but essential travel by air to or from Sharm el-Sheikh".
Tight restrictions on the number of rescue flights have angered UK airlines. Only eight flights were permitted from the Egyptian resort to the UK today, bringing to 25 the total since the operation started on Friday. An estimated 5,000 passengers have been brought back, but at the present rate it could take a week to 10 days to clear the backlog.
Russian passenger plane crashes in Egypt

Show all 20
The airlines are furious that their willingness to throw resources at the problem has been rebuffed. They could operate at least 25 flights a day between them, they say.
The biggest scheduled airline to Sharm el-Sheikh, easyJet, flew two planes from the resort to Luton. It is telling passengers still stuck in Sharm el-Sheikh: "Over the next week we had been scheduled to operate up to six flights a day so this will make it very difficult for us to get people home as quickly as we and they would like.
"We will operate as many flights as we are permitted to do so to get passengers back to the UK."
Monarch, the second-largest airline, said: "We recognise this is a very frustrating situation and apologise for the inconvenience this is causing our customers."
No large luggage is allowed on repatriation flights, and a reported 100 tons of baggage has accumulated at Sharm airport. The UK government aims to return it to the owners within a week – probably by truck to Cairo, then on cargo flights.
Parents of young children have had to leave buggies behind. The tour operator Thomas Cook has been meeting returning passengers at Gatwick, Birmingham, Manchester and Glasgow with a supply of buggies, which are given free to families.
The flight restrictions will figure in discussions taking place today about holiday capacity to Egypt's Red Sea coast for the rest of the winter. At present Sharm is regarded as safe by the Foreign Office – only the airport is seen as risky. But 10 years ago a terrorist attack within the resort killed 88 people. Travel bosses are concerned that, in the event of a repeat attack, an emergency evacuation could be hampered.
While the short-term security stipulations are expected soon to be eased, airlines and tour operators expect a sharp drop in sales for holidays in Sharm el-Sheikh.
British Airways will this week announce the closure of its route from Gatwick to the resort.
There are also vocal demands from customers who booked before the Russian jet crashed that they be allowed to switch to other destinations without penalty. At present, most operators are applying their normal terms and conditions. Thomas Cook will announce today its policy for customers with future bookings, and its rivals are likely to follow shortly.
Register for free to continue reading
Registration is a free and easy way to support our truly independent journalism
By registering, you will also enjoy limited access to Premium articles, exclusive newsletters, commenting, and virtual events with our leading journalists
Already have an account? sign in
Register for free to continue reading
Registration is a free and easy way to support our truly independent journalism
By registering, you will also enjoy limited access to Premium articles, exclusive newsletters, commenting, and virtual events with our leading journalists
Already have an account? sign in
Join our new commenting forum
Join thought-provoking conversations, follow other Independent readers and see their replies