Russian plane crash: Sharm el-Sheikh airport security concerns raised after tourists 'pay £20 to skip bag checks'
'The airport's not safe. The staff I saw were arrogant, complacent, and a danger to the public'
Alexandra Sims
Friday 06 November 2015 09:06 Comments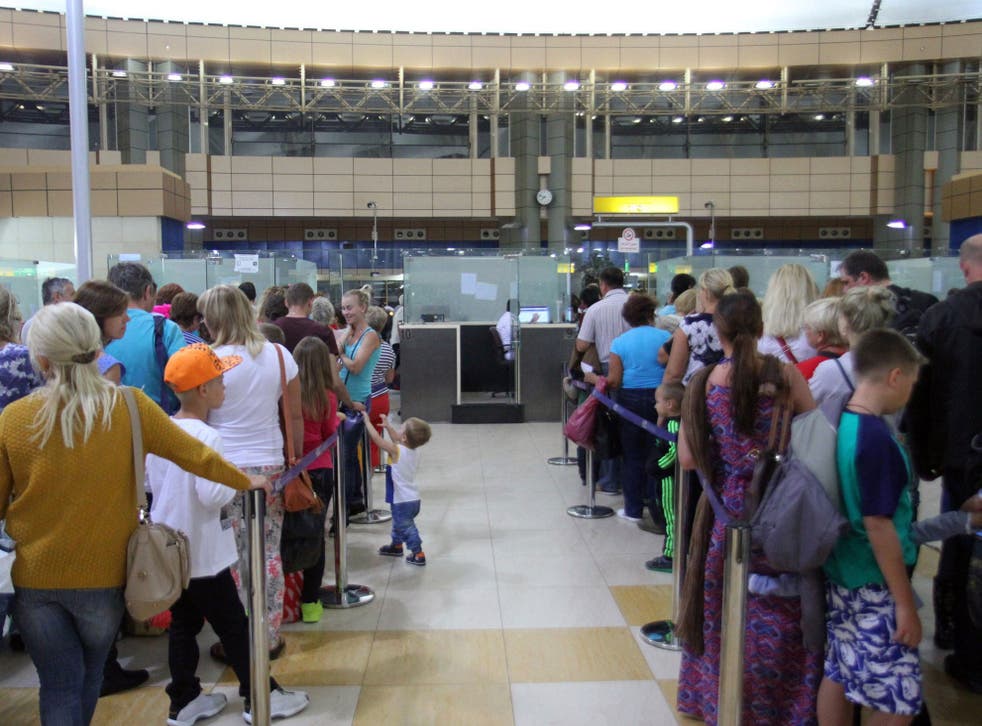 Security concerns have been raised at Sharm el-Sheikh airport after a British holidaymaker claims he was "offered the chance to pay £20 to skip queues and baggage checks".
Dale Parkyn, who visited the Egyptian resort with his wife earlier this year, told Sky News they were approached by a man in military uniform and asked if they wanted to avoid the long queues.
The 47-year-old from Harrogate, Yorkshire said: "What we did is we discussed it and he then produced a £20 note and said, 'Have you one of these' and you can avoid the queue."
Russian passenger plane crashes in Egypt

Show all 20
Mr Parkyn claimed the couple were able to walk through security gates and security procedure, avoiding all queues.
He added that after putting his case on the conveyor belt and being checked in, his baggage "did not go through any scanner".
Passengers stranded at Sharm el-Sheikh airport
"When I think now, it was bizarre," Mr Parkyn said, "At the time it was quite amusing that for us, for £20, we'd avoided all the queues".
He said he realised the "gravity" of the situation upon hearing the Government's announcement to suspend all flights to the holiday resort.
Brendan De Garis, from Maidstone, told the Sun razors were missed in one queue-jumper's luggage.
David Cameron suspended air links on Wednesday amid fears an "explosive device" was used to crash a Russian passenger plane in Egypt, killing all 224 people on board.
A Number 10 spokesperson said the delays had been brought into place because "more information has come to light".
The spokesperson added that a team of UK aviation experts are being sent to Sharm el-Sheikh to make an "assessment of the security arrangements in place at the airport and to identify whether any further action is required."
UK investigators now believe the explosive device may have been planted in the aircraft's baggage compartment prior to the flight's departure.
Mr Parkyn said: "David Cameron did the right thing. The airport's not safe. The staff I saw were arrogant, complacent, and a danger to the public."
Security has since been tightened at the airport following the suspension of flights, including a ban on carrying hold luggage, Press Association reports.
Register for free to continue reading
Registration is a free and easy way to support our truly independent journalism
By registering, you will also enjoy limited access to Premium articles, exclusive newsletters, commenting, and virtual events with our leading journalists
Already have an account? sign in
Join our new commenting forum
Join thought-provoking conversations, follow other Independent readers and see their replies