Zimbabwe satirist abducted, stripped and forced to drink sewage amid crackdown on opposition
Political satirist's colleague says she was dumped in 'the bush'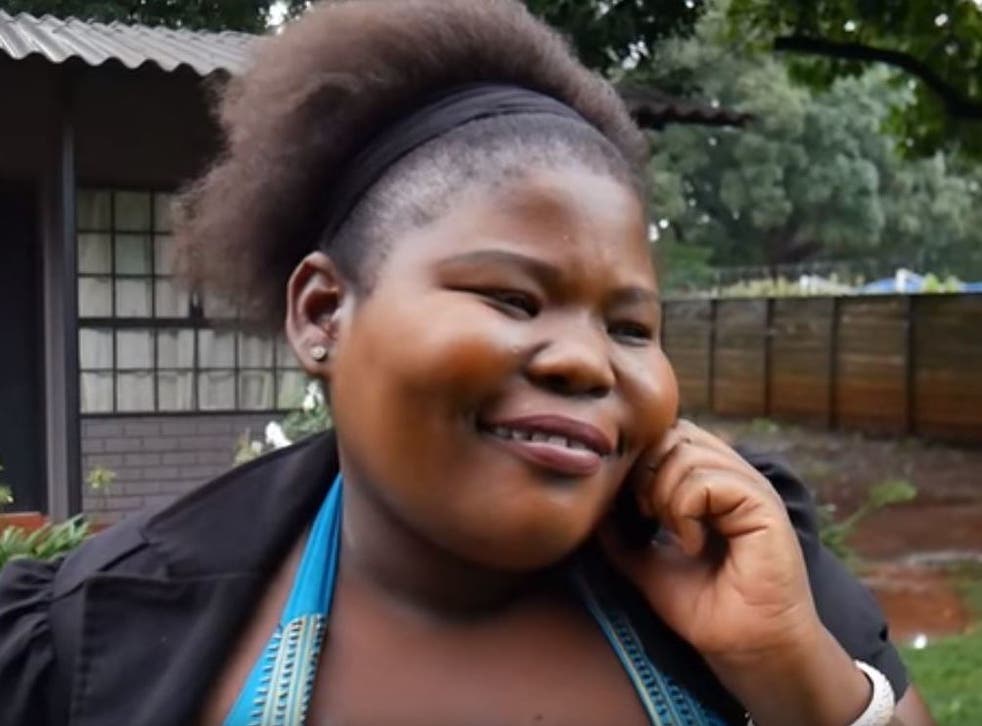 A prominent Zimbabwean comedian has been forced to go into hiding after being abducted from her home by a group of unidentified armed men and beaten, stripped and forced to drink sewage.
Samantha Kureya, one of Zimbabwe's most famous comedians who is known by her stage name "Gonyeti", was beaten by masked gunmen in the capital of Harare, her relatives and colleagues say.
Jonathan Gasa, the political satirist's brother, told the BBC about six armed masked men stormed her home on Wednesday night, took her away, stripped and assaulted her.
He said they accused Ms Kureya of undermining the government in her sketches.
Her colleague Lucky Aaron told the broadcaster that she was dumped in "the bush" in the suburbs of the city.
World news in pictures

Show all 50
The comedian, who has criticised the government and the police in her skits, was taken from her home, beaten and forced to drink sewage before being dumped, he also said.
Opposition Movement for Democratic Change (MDC) leader Nelson Chamisa branded Ms Kureya's abduction a "barbaric human rights violation" on Twitter.
Neither the police nor the authorities have commented on the comedian's abduction.
The attack on Ms Kureya appears to be one of a series aimed at critics of Zimbabwe's president Emmerson Mnangagwa and the ruling Zanu-PF party in recent weeks.
Human rights campaigners believe Zimbabwe's security services to be responsible, but authorities have denied any involvement.
"Gonyeti's case is consistent with what we have seen in Zimbabwe under president Emmerson Mnangagwa over the past year," a spokesperson for Amnesty International told The Independent.
"There has been a ruthless attack on human rights, with the rights to freedom of expression increasingly restricted and criminalised.
"The authorities have shown blatant contempt for basic freedoms and they have demonstrated that there is no space for dissent in the so-called 'new dispensation'.
"Time and again they have resorted to the same brutal tactics that were used by President Mnangagwa's predecessor Robert Mugabe to clampdown on human rights."
Ms Kureya was one of two comedians arrested for public nuisance earlier this year after appearing in a comedy sketch wearing a police uniform.
The saga comes after Zimbabwe's police attacked opposition protesters with batons and fired teargas at crowds gathered in the centre of Harare last week.
More than a hundred supporters of the MDC gathered in Africa Unity Square ​to show their opposition to the government's handling of the economy and its repressive crackdown against activists.
The African country of 15 million is facing one of the worst economic crises in the last decade. According to the UN, about five million are in need of food aid.
Zimbabweans are being forced to endure widespread power cuts, often lasting up to 19 hours a day, and water, bread, fuel and medicine shortages. Inflation is running at triple figures.
Register for free to continue reading
Registration is a free and easy way to support our truly independent journalism
By registering, you will also enjoy limited access to Premium articles, exclusive newsletters, commenting, and virtual events with our leading journalists
Already have an account? sign in
Register for free to continue reading
Registration is a free and easy way to support our truly independent journalism
By registering, you will also enjoy limited access to Premium articles, exclusive newsletters, commenting, and virtual events with our leading journalists
Already have an account? sign in
Join our new commenting forum
Join thought-provoking conversations, follow other Independent readers and see their replies