Seats to spare – but Fifa won't let South Africans fill them
There's an obvious way to fill the World Cup's empty stands, says Daniel Howden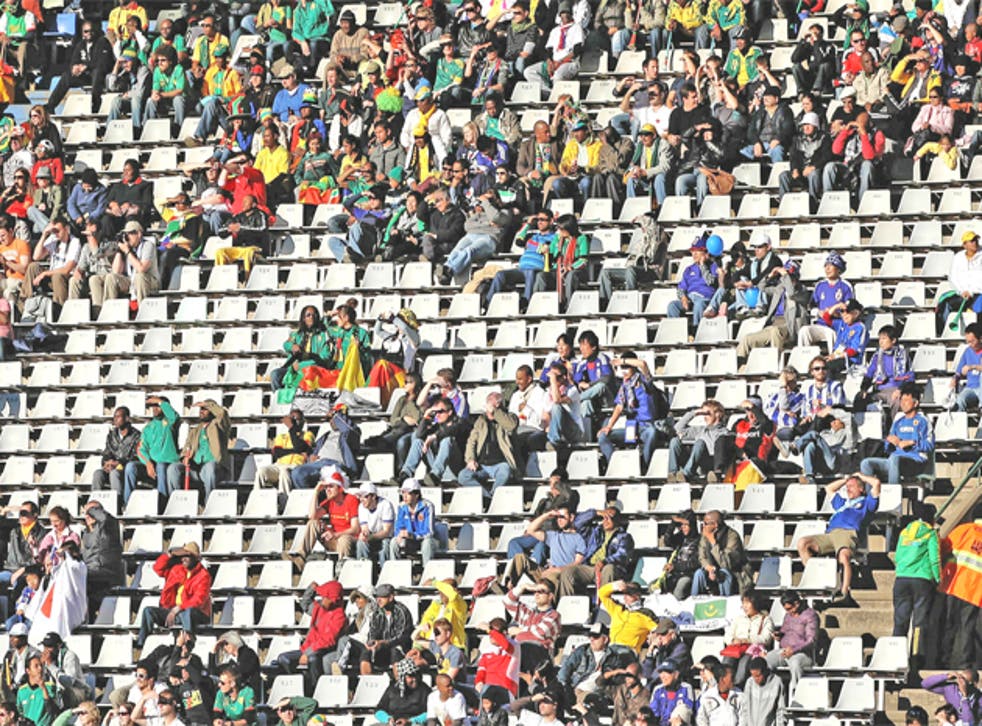 Broadcasters have been able to mute the wailing of the vuvuzelas but there's another World Cup controversy that has been far harder for organisers to obscure: the mystery of the empty seats. The opening raft of matches have been as notable for patchy attendance as they have been for low scoring.
Supporters already in South Africa have found themselves unable to get in to supposedly sold-out games, only to see banks of unused seating showing on television pictures.
World football's organising body, Fifa, continues to insist that ticket sales for the tournament in South Africa are higher than any previous finals except for the USA '94.
In staging the first World Cup on African soil, Fifa had vowed to fill the stadium, and set up a four-tier pricing system to ensure that tickets would be affordable to ordinary South African football fans and priced attractively enough to lure Africans from the rest of the continent to make the trip. The South African government insisted that it would bus in schoolchildren, if necessary, to watch matches rather than see empty seats, but has so far been powerless to do anything about this as Fifa red tape has blocked the release of tickets.
A total of 3 million tickets were made available for the month-long tournament, and organisers are insisting that only one week in, it is too early to judge whether mistakes have been made with ticketing. "So far we are happy," said the Fifa spokesman Nicolas Maingot. "You need to look at the bigger picture. We now have the second-highest attendance average since USA in 1994. Of course, it's not nice to see empty seats at stadiums, and especially not at a World Cup."
The big picture will have been of little consolation for frustrated Portugal fans like Tia Estefan who tried repeatedly to buy tickets for their opening game in Port Elizabeth with Ivory Coast. Along with half a dozen friends she had tried to buy tickets a month before the tournament kicked off, but was told the game was sold out. Having watched the game on the big screen from the nearby fan fest, she said: "I was so surprised to see empty seats at the stadium because I've been hustling for tickets since forever."
Thousands of Portugal and Brazil fans are trying to get tickets for their potentially decisive clash in Durban, but sales of seats for the game have been suspended for nearly a month. Fifa officials refused to reveal why the tickets were not being released, but confirmed that it wasn't sold out.
The Portugal fan Tania Gomes, recently arrived in Johannesburg, is planning to travel with her cousin to the coastal city for the 25 June game, despite only having one ticket between them. "I will be very angry if I can't get in and then there are more empty seats – it's a mess."
In spite of official reassurance the numbers simply don't add up, and Fifa has been forced to launch an investigation into at least two separate matches: Greece vs South Korea in Port Elizabeth, where 10,000 tickets were left unused on match day, and Denmark vs Holland in Johannesburg, where corporate boxes were practically deserted. Local organisers are saying that there are on average 850 more fans per game in South Africa than there were four years ago in Germany. The figures for the first four games of the tournament showed average attendances at 53,019 after 11 games, compared to 52,167 at the same stage in Germany in 2006.
Fifa said that only three matches so far have suffered from disappointing attendances, those between Argentina and Nigeria at Ellis Park, Algeria and Slovenia in Polokwane, and Japan and Cameroon in Bloemfontein. The Fifa spokeswoman Delia Fischer said "some international (and local) customers did not show up ... In Bloemfontein, about 1,000 foreigners did not pick up tickets."
Explanations for empty seats abound. Organisers have blamed the global downturn for a shortfall in corporate sales; and claimed that transport problems in and around venues have seen some fans with tickets stranded and unable to attend; awful weather in Cape Town also dissuaded hundreds of ticket holders, according to organisers.
Ticket touts have not been a big feature of the finals so far, but traditionally appear in bigger numbers in the knockout stages.
Instead, the finger is beginning to be pointed in the direction of the "Fifa family". A huge horde of tickets is distributed to national football associations, Fifa officials and their entourages, confederations and sponsors.
In private, ticket officials admit that thousands of unwanted corporate tickets have come back late from the Fifa family and are now sitting on their digital system unclaimed.
Also South Africa, which is in its southern hemisphere winter, has proved less of a draw than had been hoped.
Original estimates of the number of foreign visitors expected for the World Cup were as high as 750,000. As recently as two months ago the government was projecting that 470,000 tourists would come. Before the tournament kicked off that estimate had gone down to 373,000. Other analysts are now saying that the real influx could be as small as 250,000.
By far the smallest proportion of those arrivals will come from other African countries. While awarding the finals to the biggest economy in sub-Saharan Africa, Fifa has failed dismally to make the mega-event accessible to people from the continent.
The African football author Steve Bloomfield said the organisers were guilty of an "enormous blunder" in this regard.
"Fifa likes to talk about this being Africa's World Cup, but they have done very little to encourage Africans to come. It would have been relatively straightforward to sell a few thousand tickets for each Ghana match over the counter at a bank in Accra."
The organisers' insistence on the use of credit cards and the internet to purchase tickets has discouraged people in countries where access to these means of payment is relatively less. "Africa's growing middle class and its rich elites could comfortably afford the flights and the tickets, just like their European counterparts."
Seating problems...
Japan v Cameroon
Free State Stadium Attendance: 31,600, stadium capacity: 48,000
South Africa v Mexico
Soccer City Attendance: 84,000, stadium capacity: 94,700
South Korea v Greece
Nelson Mandela Bay Stadium Attendance: 31,500, capacity: 48,459
Italy v Paraguay
Green Point Stadium Attendance: 62,869, stadium capacity: 69,070
Algeria v Slovenia
Peter Mokaba Stadium Attendance: 35,000, stadium capacity: 46,000
Register for free to continue reading
Registration is a free and easy way to support our truly independent journalism
By registering, you will also enjoy limited access to Premium articles, exclusive newsletters, commenting, and virtual events with our leading journalists
Already have an account? sign in
Register for free to continue reading
Registration is a free and easy way to support our truly independent journalism
By registering, you will also enjoy limited access to Premium articles, exclusive newsletters, commenting, and virtual events with our leading journalists
Already have an account? sign in
Join our new commenting forum
Join thought-provoking conversations, follow other Independent readers and see their replies