Russian plane crash: Egyptian foreign minister claims allies not sharing intelligence on possible Isis bomb plot
David Cameron said British intelligence showed that a bomb was 'more likely than not' the cause of the disaster
Lizzie Dearden
Saturday 07 November 2015 12:30 Comments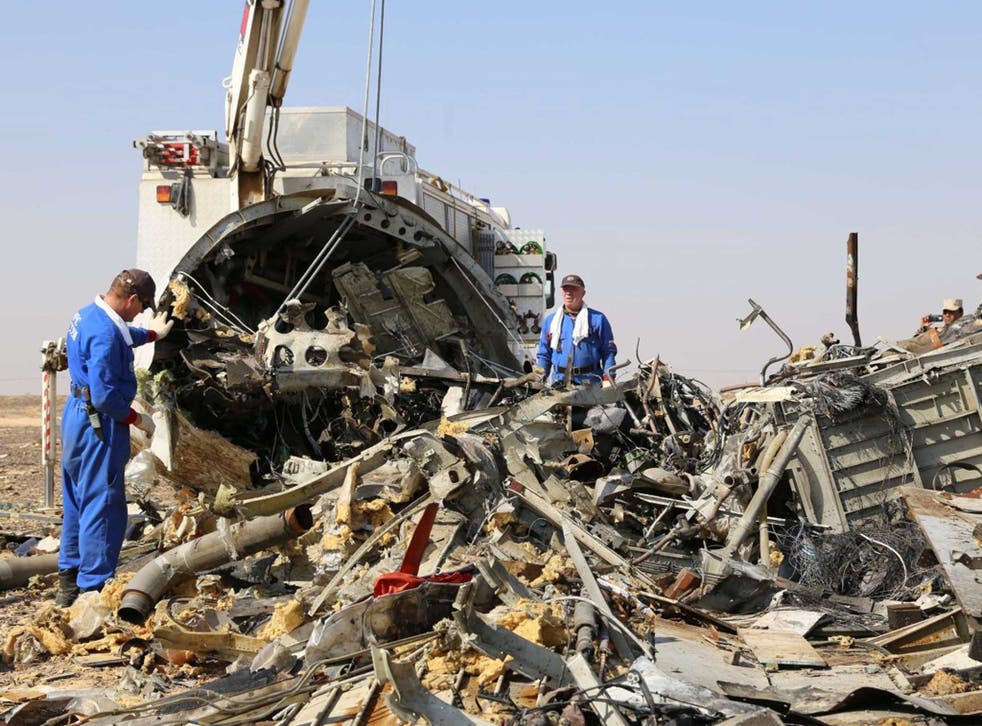 Egypt's foreign minister has claimed the UK, US and other countries are not sharing intelligence about the Russian plane crash in Sinai.
David Cameron said British intelligence showed that a bomb was "more likely than not" the cause of the disaster that killed 224 people last Saturday, while anonymous officials in the US said initial American investigations came to the same conclusion.
Meanwhile, Vladimir Putin has remained tight-lipped but cancelled all flights between Russia and Egypt as Isis' claim of responsibility gained traction.
Spy agencies reportedly intercepted "chatter" between suspected militants suggesting a bomb had been hidden amid luggage in the hold and detonated to bring down the plane.
Sameh Shoukry said no other countries had given the Egyptian government access to their information.
"The information we have heard about has not been shared with Egyptian security agencies in detail," he told a news conference.
"We were expecting that the technical information would be provided to us."
Mr Shoukry did not confirm the British Government's assertion that a bomb was probably planted in the hold of Metrojet flight 9268 and detonated just 25 minutes into its journey from Sharm el-Sheikh to St Petersburg.
Anonymous officials analysing the plane's black boxes told French media that an explosion can be heard in the recording and that data showed the disaster could not have been caused by a technical fault or human error.
An Isis affiliate fighting an Islamist insurgency in the region, Wilayat Sinai, claimed responsibility for downing the plane immediately after the crash, posting a video online appearing to show an explosion and a falling aircraft that many dismissed as fake.
Russian passenger plane crashes in Egypt

Show all 20
The attack marked the one year anniversary of the militant group formerly known as Ansar Beit al-Maqdis pledging allegiance to Isis, a leader claimed in an audio recording.
Philip Hammond, the Foreign Secretary, said it was a "significant possibility" that Isis was responsible.
"We have looked at the whole information picture, including that claim but of course lots of other bits of information as well and concluded that there is a significant possibility," he said.
The UK stopped all flights to and from Sharm el-Sheikh as evidence mounted on Wednesday but the first flights arrived bringing an estimated 20,000 British tourists home last night.
But only eight of the 29 scheduled planes took off on Friday because of chaos at the Egyptian airport caused by restrictions forbidding passengers to put luggage in the hold.
Passengers stranded at Sharm el-Sheikh airport
Mr Putin originally criticised Britain's decision but staged a U-turn 24 hours later, suspending all flights between Russia and the whole of Egypt, based on FSB intelligence.
Of around 79,000 Russians stranded in the country, more than 1,200 have been taken home according to the tourism ministry, and 46 more planes are being sent today.
The Foreign Office has changed its advice to urge against all but essential travel by air to Sharm el-Sheikh.
The resort itself is considered safe but the rest of the Sinai peninsula is designated a no-go zone or for essential travel only.
The Independent has contacted the Foreign Office for a comment.
Register for free to continue reading
Registration is a free and easy way to support our truly independent journalism
By registering, you will also enjoy limited access to Premium articles, exclusive newsletters, commenting, and virtual events with our leading journalists
Already have an account? sign in
Join our new commenting forum
Join thought-provoking conversations, follow other Independent readers and see their replies